Beware the Illusion of China-ASEAN South China Sea Breakthroughs
We need to be clear-eyed about both progress made and the challenges that remain.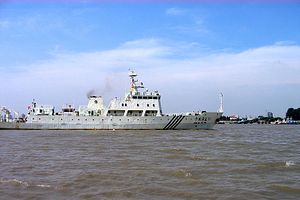 On Tuesday, Chinese media reported that China and ASEAN had made "several breakthroughs" on the South China Sea following another series of meetings on the issue held in Inner Mongolia. As promising as these advances are at first glance, a closer look suggests that they need to be kept in perspective.
According to China Daily, the 13th senior officials' meeting on the implementation of the Declaration on the Conduct of Parties in the South China Sea ended with Beijing and ASEAN nations agreeing to "several breakthroughs." These included approving guidelines for a ASEAN-China hotline for use during maritime emergencies, a joint declaration applying the Code for Unplanned Encounters at Sea (CUES) to the South China Sea, and finishing the draft framework for a code of conduct (CoC) for the South China Sea by mid-2017.
To be sure, advances in confidence-building measures in the South China Sea ought not to be dismissed as they often are by skeptics. As I have argued elsewhere, claimant states and interested parties alike, including China, ASEAN and the United States, ought to use the months following the July 12 arbitral ruling as an opportunity to deescalate tensions (See: "US South China Sea Policy After the Ruling: Opportunities and Challenges"). This is also an opening for ASEAN and China to make some headway on the South China Sea issue so they can build trust to boost other dimensions of their wide-ranging partnership, especially since 2016 marks the much-awaited 25th anniversary of the establishment of their dialogue partnership.
That said, we also need to be clear-eyed about the progress that is made and the challenges that remain to manage expectations and inform policy. In that vein, several caveats need to be added to these so-called breakthroughs that we have seen thus far.
First, China's conduct over the past few years suggests that caution is warranted before any real breakthroughs are declared. As I have pointed out before, we have gone through several cycles where temporary bouts of charm by Beijing have been followed by another round of coercion in the South China Sea (See: "Will China Change Its South China Sea Approach in 2015?"). Seven months after unveiling a new strategy for ASEAN-China relations as part of a new charm offensive in Southeast Asia, China moved an oil rig into Vietnam's exclusive economic zone in the summer of 2014. And in spite of hopes that China may change its South China Sea approach in 2015 – which Beijing had initially declared "the year of ASEAN-China maritime cooperation" – the Asian giant ultimately sped up its island-building activities while continuing to intrude into the waters of other Southeast Asian states and stonewall negotiations on a binding code of conduct (COC). Though this time might be different, history suggests that this would be a bad bet to make.
Second, contextually, following the ruling, China has an interest in making it seem like breakthroughs are occurring even if they are in fact much smaller steps. From what we have seen so far, Beijing's post-ruling approach to the South China Sea has been focused on ignoring the actual outcome while convincing the international community that it can defuse tensions without the interference of outside actors like the United States, be it bilaterally with the Philippines or multilaterally with ASEAN. China wants to create the appearance of calm in the South China Sea, whether as a temporary reprieve as it focuses on preparing for the upcoming G-20 summit it is hosting and continues to take incrementally assertive steps in the South China Sea, or as part of a more meaningful change of approach that some observers continue to hope for. That means that one ought to take attempts by Beijing to sugarcoat progress with a grain of salt until there are clearer indications to the contrary.
Third, turning to the meeting this week, none of the items which were agreed are all that new or groundbreaking. Close observers will immediately recognize that the two measures that have grabbed headlines – the hotline for use during maritime emergencies and the application of CUES to the South China Sea – had been formally announced as deliverables for ASEAN-China relations in 2016 as early as last year. They had also been reiterated in ASEAN statements over the past few months, including the one that was ultimately not issued in Kunming in May. In that sense, they constitute par for the course rather than a dramatic breakthrough, especially relative to some of the other bolder and more contested items under discussion like a joint exercise for maritime search and disaster relief in the South China Sea. This is particularly the case when we still do not have the full details on the agreements reached, such as whether the application of CUES would cover not just naval but coast guard vessels as well as Southeast Asian countries like Singapore and Malaysia have called for.
Fourth, as is often the case in ASEAN-China relations, it is far from clear whether commitments will actually be realized in a timely manner. This is especially true in the case of the COC, whose genesis can be traced back all the way to China's occupation of Mischief Reef claimed by the Philippines back in 1995. More than a decade after ASEAN and China settled for a non-binding Declaration on the Conduct of Parties in the South China Sea (DOC) rather than a binding COC, China has continued to drag its feet on concluding the COC to the frustration of Southeast Asian states (Indeed, among Beijing's delaying tactics has been focusing on the implementation of the DOC first rather than moving forward with the COC). Given that we have been through multiple bouts of renewed optimism on the COC that ultimately proved to be short-lived, we should be cautious about declaring breakthroughs on this score before they actually occur.
Fifth, even if these important measures do materialize, they are ultimately peripheral to resolving the real problem in the South China Sea. Of course, rules and norms are important to provide a common set of guidelines for all actors, and hotlines are useful when crises break out (provided, of course, that the phones are actually answered, as previous instances in the U.S.-China relationship have demonstrated). But the fundamental challenge in the South China Sea has not been the shortage of rules or the absence of crisis management mechanisms, but the rise of a bolder, more assertive China that is so committed to changing the status quo in its favor that it is willing to break existing rules and risk a crisis in the process. In that sense, hotlines or codes of conduct are of limited utility unless they are accompanied by a change in Beijing's calculations and resulting approach.
Sixth and finally, even if we end up seeing a few more 'breakthroughs' of this ilk as well in the coming months, we need to keep in mind that this might ultimately prove to once again be the relative calm before the storm. The items of agreement we have seen this week ought not to be divorced from the other worrying developments we have seen since the ruling, whether it be China's stated unwillingness to abide by the ruling or its destabilizing actions including joint drills with Russia, an increased naval presence near Scarborough Shoal, and moves to militarize the Spratly Islands. Indeed, we should not be surprised if we see Beijing tout its cooperation with ASEAN but then continue with its South China Sea assertiveness and even ultimately cross what Washington has clearly indicated are red lines – such as reclamation on Scarborough Shoal or declaring an air defense identification zone – following the G-20 meeting or even after the U.S. presidential elections in November. China has demonstrated time and time again that it is comfortable alternating bouts of charm with periods of coercion, and it may well do so once more.