Indian Activist Irom Sharmila Ends 16-Year-Long Hunger Strike
Irom Sharmila's remarkable 16-year hunger strike comes to an end as she looks to enter politics instead.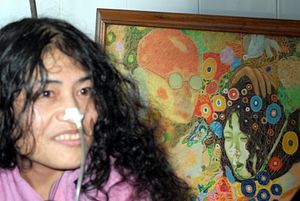 The Armed Forces Special Powers Act (AFSPA) is an extremely controversial piece of legislation in India which disproportionately empowers the Indian army to act out against possible insurgency in areas declared "disturbed." It allows forces to shoot on sight or arrest on suspicion without a warrant and, among other provisions, allows personnel to be entirely immune from criminal prosecution. In the Indian state of Manipur, activist Irom Sharmila Chanu has been one of the strongest activists standing for the repeal of AFSPA. She has been fasting for 16 years now to this end.
Sharmila began her fast in November 2000, after 10 civilians were killed during an unwarranted attack by the Assam Rifles battalion. This marathon fast attempted to send the message that there could be no normal life for an individual under AFSPA and is one of the longest (entirely non-violent) hunger strikes in the world. The government did not take too kindly to this and charged her with attempt to commit suicide and imprisoned her in a ward of the Jawaharlal Nehru Institute of Medical Sciences (JNIMS) in the city of Imphal, where she was kept alive by being force fed through a Ryles tube in her nose. She has even been accused of supporting anti-India militancy by certain factions, despite the fact that she has never called for secession or violence and has remained focused on her sole burning desire to repeal AFSPA. Although briefly released in 2014, she was re-convicted almost at once and has effectively seen no home outside her ward for the better part of the last 16 years.
Sharmila has now, however, decided to opt for a change in tactics – taking her family, her fellow activists, and the country by surprise, she announced her decision to end her hitherto fast unto death on August 9. Babloo Loitongbam, the Director of Human Rights Alert in Imphal and a long time supporter of Sharmila, said that while he was certainly surprised by the suddenness of her decision, she had for a long time been very disillusioned by the lack of political impact and support her lone crusade received. Her brother, Irom Singhajit also said that he had no knowledge of such a looming decision, especially since she firmly rebuked all his efforts to dissuade her in the early years of the fast. In the wake of her announcement, security around Sharmila has been severely tightened and no one has had a chance to meet her in isolation – so she has not directly interacted with either of them.
In Sharmila's own public announcement, she said that she is ending her fast, but not her fight. She will instead be contesting the next Assembly Elections in Manipur and attempt to continue her battle, but from within the system this time. She also said that she was uncomfortable with how constantly she was made out to be a "goddess" figure by the people who sympathized with her cause and wishes to reclaim some of the normalcy she has been fighting for, by contesting the elections and also marrying her long-time boyfriend.
During her brief release in 2014, the Aam Aadmi Party approached Sharmila with a request for her to contest elections and she turned them down. Now she will be contesting as an independent. Her decision has in equal parts been welcomed and vilified. On one hand, several feel that her brave and arduous protest eventually fell on deaf ears. While it did bring the limelight and provoke intense discussion on the AFSPA stipulations, they were never close to repealed. In fact, the writ of AFSPA has even been expanded in some spaces since her strike began. Both the sheer refusal to heed to her protest and her own inability to directly engage with those in power, by virtue of her isolation, suggest that a change in strategy involving head-on engagement might just be welcome. Her strong presence and appeal may certainly stand her in good stead during her campaign.
On the other hand, several worry that this may destabilize the movement against the AFSPA. For years, Sharmila's struggle has been the face of the movement and with its conclusion, they worry that the movement will lose strength. The activist group Meira Paibis, which is among Sharmila's core support group, has expressed uncertainty at this decision. The declaration of her intention to get married has stirred up groups who believed that her boyfriend, Desmond Coutinho, was attempting to wean her away from her cause.
While Sharmila's battle has been solid and remarkable, it has not paved the route for the political outcome she desired. In so many ways, her decision to move on from it without giving up her cause is a stellar attempt to grasp at normalcy in a state which has seen over 1,500 AFSPA-related deaths in the duration of her fast. Sharmila's change in tactics, far from jeopardizing the movement, may well strengthen it if she gains the ability to use the goodwill and support she has garnered over her lengthy struggle to find space within the political system to push the cause forward.
It is perhaps patently unfair to expect her to continue down an admirable, but ineffective path, for fear that the movement loses its martyr. While she collected several awards in the course of her struggle, the government remained adamant in its implementation of AFSPA. Rather than starve her strength while the system looked on unconcerned, Sharmila's decision may feed the fury of 16 years of relative inactivity, making way for a better political outcome.