Indonesia, Malaysia Pledge to Solve Maritime Dispute (Again)
Leaders give envoys a fresh mandate to resolve a difficult issue.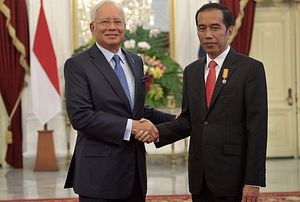 Indonesia and Malaysia agreed Tuesday to redouble their efforts to resolve their knotty maritime boundary dispute in the Sulawesi Sea during a consultation between their two leaders in Jakarta this week.
As I have noted previously, the two Muslim-majority Southeast Asian neighbors have an unresolved maritime dispute in the Sulawesi Sea (See: "Confronting Threats in the Sulu-Sulawesi Seas: Opportunities and Challenges"). Despite multiple rounds of consultations by the two countries over more than a decade, the dispute has still not been resolved.
During Indonesian President Joko "Jokowi" Widodo's first visit to Malaysia back in February 2015, he and Malaysian Prime Minister Najib Razak had said they would appoint special envoys to explore negotiations over the dispute. The envoys, Malaysia's Mohammad Radzi Rahman and Indonesia's Eddy Pratomo, have met three times thus far, with little progress made up to this point.
Nonetheless, after their first meeting under the annual consultation mechanism, Najib and Jokowi said that they had both given the two envoys a "fresh mandate" to tackle it and reach a comprehensive solution (See: "Indonesia, Malaysia To Boost Ties with Najib Visit").
"We take note that there is a bit of progress reported by the two envoys but it is still too far from any comprehensive solution," Najib said in a joint press conference with Jokowi at the Presidential Palace, according to The Star, a Malaysian daily.
"We agree that the two envoys be given a fresh mandate to resolve the claims which can be accepted by both countries as soon as possible."
How exactly this will affect the prospects for resolving the dispute, however, remains unclear. As The Star noted, talks between the two sides stretch back to 2005, and around 30 technical team meetings have been held since then.
As I noted in my earlier piece, during his visit to Indonesia, Najib is also attending the 12th World Islamic Economic Forum for the rest of the week, which will include a series of bilateral meetings and engagements as well.