Kazakhstan's Weightlifter Breaks Record at Rio
His Azeri celebration dance goes viral, but doping cloud hangs over the Kazakh team.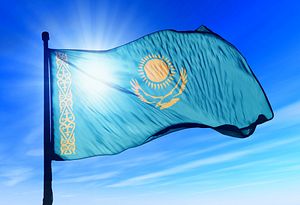 Nijat Rahimov broke a world record last week in Rio: hefting 214 kg in the clean and jerk. He not only beat out the favorite in the 77 kg weight class, China's Lü Xiaojun (who lifted 202 kg), but shattered the world record (207 kg) set in 2000.
Rahimov, 23, was born in Baku, Azerbaijan. He won gold in the 2010 Summer Youth Olympics and silver at the 2013 Junior World Weightlifting Championships. His promising career was interrupted by a two-year ban imposed in June 2013 after he tested positive for anabolic steroids. In 2013, a total of 18 Azeri weightlifters were busted and temporarily banned for steroid use.
Rahimov then moved to Kazakhstan and became a naturalized citizen in order to compete under the Kazakh flag in Rio. Kazakhstan is not the only country with team members born elsewhere, but some of its most prominent athletes were not born in the country. The 2012 Olympics was marked by sparing between Kazakhstan and China over the nationality of Zulfia Chinshanlo and Maia Maneza, a pair of China-born female weightlifters who competed for Kazakhstan. In examining the issue, RFE/RL quoted the  coach of Kazakhstan's weightlifting team in 2012, Mendikhan Tapsiruly, as saying,"We brought in these Chinese athletes to raise the competition level inside Kazakhstan."
Several Kazakh weightlifters have also been swept up in the recent international doping scandal, though their stories have gotten less attention than the doping troubles of Russian team.
Earlier this summer, Ilya Ilyin, Zulfia Chinshanlo, Maia Maneza, and Svetlana Podobedova–all gold medal winners at the London Games–were provisionally suspended after retests of London urine samples came up positive. The Kazakh weightlifting team squeaked by a complete ban from Rio by virtue of time alone, it seems. The International Weightlifting Federation (IWF) was apparently not able to complete retesting of samples from London and Beijing in time, allowing the Kazakh team to compete, though without some of its former stars. Ilyin and the others are likely to lose their medals.
Rahimov's performance surprised many. Lü — the gold medalist in the same event in 2012 — began celebrating early, only to be disappointed when Rahimov broke the record and snatched the gold. While Lü and Rahimov tied across the two weightlifting components — the snatch and the clean and jerk — with combined scores of 379, Rahimov weighed in at a slightly lower weight, giving him the gold.
Rahimov credited his success to training. "When normal people were asleep, we were training. When the snow was deep — you know how it is in Kazakhstan — we went out for training at 11 or 12 (at night)," the AP reported him saying.
Egypt's Mohamed Mahmoud, who took the bronze, cast doubts on Rahimov: "Maybe after some doping controls, some things will change." He was unconvinced that training pushed Rahimov to his surprising win, saying, "in a very short time it cannot happen like that."
One announcer commented as Rahimov lifted that the weight was "7 kilos beyond his own personal best, 4 kilos more than any human being has lifted at this weight."
For the time being, Rahimov's celebratory Lezgian dance and world record dominate coverage. The Washington Post ran this headline: "Weightlifter wins gold, reminds the world that the lezgi is cool" piggybacking off Slate's headline, packed with a few more attention-grabbing keywords: "This Central Asian, Eagle-Mimicking Dance Is the Best Celebration of the Rio Olympics." The Lezgian dance comes from the Caucasus (not quite Central Asia, if we're going to get persnickety about it.)