Modi's Visit to Vietnam: What's on the Agenda?
The Indian PM will touch on the China factor as well as defense and trade ties in his first trip to Hanoi.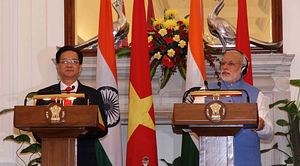 In a bid to boost India's  so-called Act East Policy, Prime Minister Narendra Modi is scheduled to visit New Delhi's strategic partner in Southeast Asia, Vietnam, later this week. The visit will take place on his way to Hangzhou, China to attend G20 Summit. This is Modi's third significant sojourn to the region, implying India's desire to rise up in the strategic calculus of the ASEAN countries. The visit will mark the first visit by an Indian prime minister to Vietnam in the last 15 years and will celebrate 25 years of bilateral diplomatic ties and 10 years of strategic partnership between these two nations.
This trip is particularly critical as it comes in the wake of the final award by the Permanent Court of Arbitration disqualifying China's historic rights to the South China Sea and Beijing's escalating militarization in this body of water, where Vietnam is also a major claimant. Meanwhile, China endeavored to block India's bid to join the Nuclear Suppliers Group (NSG) earlier this year. Clearly the China factor along with trade and defense ties will remain the focal points of dialogue in Hanoi.
A discussion about China will definitely be a significant point of consideration on Modi's agenda. Both India and Vietnam have a history of border disputes with the People's Republic of China. Vietnam is one of the Southeast Asian nations that have overlapping maritime claims with China in the South China Sea. India, for its part, is seeing a deteriorating bilateral relationship with China over an unsettled border, Beijing's endorsement of Pakistan on issues relating to terrorism and Pakistan-occupied Kashmir (PoK), China's move to block India's bid to secure membership in the NSG, China's rising footprint in the Indian Ocean Region, and (most importantly) Beijing's escalating military ties with the nations in South Asia. Given India's desire to gain recognition as a significant player in the Asia-Pacific and a balancing power by the Southeast Asian nations, New Delhi has resorted to multilateral diplomacy and its Act East Policy. India and Vietnam find themselves on the same page with regard to respect for international law, advocacy of freedom of navigation, and their stand against China's escalating militarization in the land and sea domains.
As it is to Vietnam, the South China is of critical interest to India. Fifty percent of India's trade passes through this waterway and the country possesses oil exploration interests in the territorial waters claimed by Vietnam. It is at this crossroads of India's Act East Policy and Hanoi's westward-looking policy that the Indian and the Vietnamese leadership could find prospects for cooperation.
India and Vietnam may also endeavor to forge greater collaboration in the defense industry. It is expected that New Delhi will propose to export a variety of military equipment to Vietnam, including the anti-submarine torpedo Varunastra and the BrahMos supersonic cruise missile. India has especially upped its efforts to sell the BrahMos missile, a joint venture between India and Russia, to Vietnam, as it would mark a significant shift in the country's approach from being the world's largest importer of arms to an exporter of military equipment. India's bid to export the BrahMos missile and Varunastra torpedo to Vietnam in particular stems from its objective of thwarting Beijing's "string of pearls" strategy in South Asia, which sees China arming Pakistan and courting Sri Lanka. In addition to arms sales, India and Vietnam will use track two diplomacy, confidence building measures, and joint military exercises to foster deeper ties between the two nations.
Modi may also urge his Vietnamese counterpart to endorse India's bid for permanent membership in the United Nations Security Council and the Asia-Pacific Economic Cooperation forum. Further, as members of the East Asia Summit and the Mekong Ganga Cooperation, both India and Vietnam could seek to use these platforms to promote solidarity among the Southeast Asian nations and India to counter the rising militarization of China in the region. Such an arrangement would be highly advantageous to India, as the country strives to obtain the status of a balancing power vis-à-vis China in Southeast Asia.
With respect to trade and investment, Vietnam secured "Most Favored Nation" status from India way back in 1975 and India at present ranks among the top ten trading partners of Vietnam. Stepping up trade ties will remain an important subject of deliberation at the meeting. The Vietnam-India strategic partnership has greatly facilitated commercial ties between the two countries. Bilateral trade has sharply increased from $500 million in 2008 to $5.18 billion in 2015. Moreover, with Vietnam's membership in the ASEAN Economic Community and the country being a signatory of various free trade agreements such as the Trans-Pacific Partnership, Vietnam has evolved to be an even more attractive investment destination for Indian companies. It is likely that Modi will underscore the importance of investment opportunities in the country as Vietnam could act as a major gateway to direct exports into larger markets like the United States, the European Union, and Japan.
Therefore the leadership may deliberate on amplifying trade ties with respect to the comparative advantage of the two nations. Whereas Vietnam may increase exports of goods such as machinery, mobile phones, electronic hardware, chemicals, and rubber, India may amplify trade in fishery products, steel, pharmaceuticals, machinery, and cotton.
The two sides are also likely to deliberate on science and technology. Vietnam and India may conclude agreements bolstering oceanographic research, biotechnology, information and communication technology, and medical research. Further, it is expected that the two countries would strive to enhance their cooperation in upping regional security by countering non-state threats such as drug trafficking, terrorism, and transnational crime.
Finally and most importantly, given their shared membership status in various multilateral forums such as the United Nations, Mekong Ganga Cooperation, World Trade Organization, East Asia Summit and Asia Europe Meeting, both nations will likely pledge to initiate discussions about China's rising assertiveness in the region in the above mentioned platforms. Addressing this issue at such diverse forums would create an international consensus against China's growing belligerence. Further, India and Vietnam may resolve to develop solidarity in terms of endorsing each other's position vis-à-vis China. Such a task can be accomplished by highlighting Beijing's recalcitrant behavior and consequently questioning the country's claim of being a responsible stakeholder in the international arena.
Shaheli Das is a Junior Fellow at the Observer Research Foundation and a PhD research scholar at the Center for East Asian Studies, Jawaharlal Nehru University.