Pakistan Escalates War of Words With India Over Kashmir
Following weeks of violence in Kashmir, Pakistan and India continue to trade rhetorical barbs.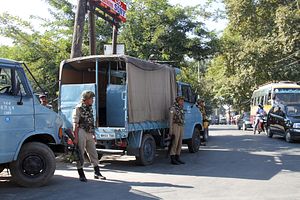 The war of words has, once again, escalated between India and Pakistan, and as usual Kashmir is the focal point. In his address earlier this week to the Home Ministers Conference of the South Asian Association for Regional Cooperation (SAARC) countries in Islamabad, Indian Home Minister Rajnath Singh raised the issue of Pakistani support for terrorism on foreign soil, arguing that "One country's terrorist cannot be a martyr or freedom fighter for anyone."
"I also speak for the entire humanity — not just for India or other SAARC members — in urging that in no circumstances should terrorists be eulogized as martyrs," Singh continued.
Last month, the Pakistani government declared July 19 a "black day" in memory of the slain Hizbul militant Burhan Wani and the Pakistani prime minister did some grandstanding by declaring at a rally, "We are waiting for the day (when) Kashmir becomes (a part of) Pakistan." Indian External Affairs Minister Sushma Swaraj promptly hit back, accusing Sharif of advancing the "despicable design" of destabilizing South Asia by exporting "dirty money and dangerous terrorists." New Delhi was making it clear that sections of the Pakistani establishment can dream on but the country has no locus standi on the issue.
There has already been a face-off at the United Nations (UN). Slamming Pakistan for raising the issue of the killing of Burhan Wani at the UN, India said Pakistan "extols" the "virtues" of terrorists and uses terrorism as a state policy toward the "misguided end" of coveting the territory of others. Indian Ambassador to the UN Syed Akbaruddin was responding to the remarks made by Pakistan's envoy, Maleeha Lodhi, on Kashmir and Wani's killing during a debate on human rights at the UN General Assembly. In her statement, Lodhi not only raised the Kashmir issue but also mentioned the "extra-judicial" killing of Wani, whom she described as a "Kashmiri leader," by Indian forces.
Other senior Pakistani officials have also been using the turmoil to further their agenda so as to take advantage of the tensions in the Valley. The Pakistani prime minister's adviser on foreign affairs, Sartaj Aziz, too had suggested that "India cannot suppress the voice of Kashmiris — who are struggling for their just right of self-determination by using brutal force and committing human rights violations in the Occupied Kashmir."
Indian security forces have been facing turmoil in Kashmir since protests erupted after the killing of Hizbul Mujahideen commander Burhan Wani on July 8. Since then, 51 people have been killed and more than 5,000 wounded, including Indian security forces. Between the curfew imposed by the government and calls for a shutdown by separatist leaders, normal life remains paralyzed. Even as the Indian government has taken steps to ensure a return to normalcy in Kashmir, it has taken a strong stand against Pakistan's role in the ongoing tensions there. Home Minister Rajnath Singh, while visiting Kashmir last month, had addressed Pakistan directly when he said that "you [Pakistan] yourself are affected by terrorism. You had to storm the Lal Masjid to kill the terrorists. But on the other hand, you appeal to Kashmiri youth to take up arms."
It is clear that no Indian government is in a position to allow Kashmir's secession from India for fear of encouraging secessionist movements elsewhere in the nation. India's democracy and secularism would receive a body blow if India accepted the idea that because Muslims are the majority in a state they should secede. In this light, if there has been a success in the India-Pakistan "peace process" in the last few years, it's been a recognition on both sides that territorial changes are strictly out of bounds. Moreover, there would be broader geopolitical ramifications of an independent Kashmir, which would remain dependent on the kindness of its neighbors. India, Pakistan, and even China will try to enhance their own strategic interests and compete for the loyalty of Kashmiris. It is not readily evident that an independent Kashmir would not be as much of a bone of contention between India and Pakistan as the present state of affairs. Islamist extremism would get a boost worldwide even as India, already under assault from rising Islamist fundamentalism, will find it difficult to manage growing tensions between Hindu extremists and Islamist radicals. It would be no exaggeration then that this would be the end of India as the world has come to know it.
It is also important to recognize that the Indian state, for all its faults, is not the only guilty party in this context. The saga of Kashmir is one of competing nationalisms and all versions are equally self-serving. If the Indian government continues to champion Kashmir as a symbol of India's secular democratic ethos and fails to acknowledge that a majority of Kashmiris have ceased to view themselves as Indians, then the separatists who want independence from India continue to refuse to account for the aspirations of the Hindus and Ladhakhis, as if they are not a part of this dispute at all. If in the Indian state's narrative there is no place for those who don't want to be Indians, in the narrative of the so-called freedom fighters there is no place for those who do want to be a part of India.
Pakistan's narrative on terrorism is no longer acceptable to the world at large and, now in danger of losing the Kashmir card, the Pakistani government has gone all out to exploit the killing of a dangerous militant. In the process, India-Pakistan relations, which under Indian Prime Minister Narendra Modi and Pakistani Prime Minister Nawaz Sharif had once seemed on the mend, have once again regressed to the point where a verbal game of tit-for-tat is the new normal. The loss, ultimately, will be borne entirely by ordinary Kashmiris, who may find themselves unable to come out of the grip of violence.