Pakistan: The Rebirth of Jihad
Within Pakistan, banned groups like JeM and JuD campaign openly for jihad against India.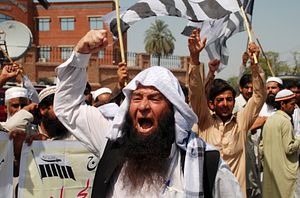 "Bharat ka aik ailaaj, al-jihad" ("The cure to India is nothing but jihad"), the crowd chanted at the start of Jamaat-e-Islami's anti-India rally near Nasir Bagh, Lahore. The rally, which was destined for Wahga, on Pakistan's side of the India-Pakistan border, was filled with a mix of emotions – anger, frustration, and hatred. It was attended by Jamaat-e-Islami's top leadership, including its chief, Siraj-ul-Haq. Accompanying him was Hizbul Mujahideen's chief, Syed Salahuddin.
Earlier in the day, vehicles full of Jamaat-e-Islami and Hizbul Mujahideen volunteers, announcing the rally and singing jihadi tarana, roamed freely around Lahore. Even before the rally, which was scheduled for July 31, camps set up by Jamaat-ud-Dawa and Hizbul Mujahideen could be seen outside the Punjab Assembly building on the Mall Road in Lahore. With full Islamic zeal and zest, the people at these camps chanted pro-Kashmir slogans, encouraging the common citizens to take arms against India.
This was only one of the many rallies and processions organized by Islamist groups in the past few weeks.
It all started after Indian forces in Kashmir killed the young militant separatist Burhan Wani. Wani, who belonged to Hizbul Mujahideen, was known for his tech-savvy methods, through which he preached jihad to the people of the valley. He gathered a huge following on social media platforms through his videos – one of the reasons his death sparked sudden outrage across the valley. According to media reports, around 50,000 Kashmiris attended his funeral prayers.
Following his funeral, Kashmir saw a series of clashes between the Kashmiri population and Indian forces. Around 62 people have been killed so far, with hundreds more injured. A curfew was imposed, mobile and internet services were jammed, and for a a few days, most of the Kashmiri papers were forcefully stopped from being published. This renewed anti-India movement in Kashmir is often described as an indigenous movement, not sponsored by Pakistan. Burhan Wani is said to be the product of the very same movement. However, with Pakistan declaring him a martyr and Syed Salahuddin, head of Hizbul Mujahideen, holding rallies in Pakistan, a few eyebrows have been raised.
Former Pakistani ambassador to the U.S. Husain Haqqani says, "Every time there is unrest in the Kashmir valley, hopes are raised in Pakistan that the solution of the Kashmir issue is near and the jihadists become active." Emphasizing the attempted hijacking of the Kashmiris' struggle, he adds, "If anything, jihadi activism delegitimizes the demands of the Kashmiri people in international eyes. Unfortunately, the jihadists and their backers in Pakistan do not see the folly or failure of their policies."
As the renewed protests in Kashmir erupted, it appeared to be a rebirth of jihadi organizations' activities in Pakistan as well.
Jamaat-ud-Dawa was the first one to take the lead with its "Azadi Caravan." Setting out from from Lahore on July 19, the caravan was destined to arrive in Islamabad on July 20. Stretching for several kilometers, the caravan consisted of buses, trucks, and cars. As the caravan traveled on the Grand Trunk road, it was received warmly in cities on the way, as participants kept joining the ranks. Buzzing with slogans like "Bharat ki barbadi tak, jang jaari rahay gi" ("The war will continue until India is destroyed"), the rally was led by Hafiz Saeed – a founder of  Lashkar-e-Taiba and an internationally declared terrorist.
This rally was the first of the three stages of the movement, which Saeed described at its start in Lahore. The stated purpose was to "wake up the parliamentarians" in Islamabad. The second stage, Saeed announced, would be to march to Chakothi, a small border town on Pakistan's side of the Line of Control (LOC). "And in the third phase, we will march into occupied Kashmir (Jammu and Kashmir) and we will continue marching till Kashmiris get freedom," he declared.
During his speech in Islamabad, Saeed announced that the people of Pakistan were at Kashmiris' side. "Where your blood is spilled, ours will also flow with you," he said. In his 20-minute speech, Saeed targeted the Nawaz Sharif-led civilian government several times, while not bringing up the military leadership even once.
Many journalists and analysts in Pakistan see the free movement of JuD throughout the country as a continuation of state's policy of supporting and sponsoring jihadists to achieve the desired results. Bilal Farooqi, a Karachi-based journalist who keeps a keen eye on the activities of these organizations, thinks the state has yet to learn its lesson: "Even after losing more than 70,000 Pakistanis to the monster of terrorism, our policymakers still don't realize the drawbacks of the doctrine of strategic depth."
Lamenting the free hand given to the likes of JuD and sectarian groups like Ahle Sunnat Wal Jamaat (ASWJ), he says, "After creating a strong base in Punjab, JuD is now working on penetrating the parts of Sindh and Balochistan under the garb of their relief activities."
Pakistan's former president, General Musharraf, banned these organizations under international pressure. But instead of closing them down permanently, his government allowed them to rebrand themselves as charity, or non-violent, organizations. Farooqi, talking to The Diplomat, insisted that by doing so, the state machinery was offering a free hand to the likes of JuD. "When they help the people in need, they spread their message as well – which serves them as a recruitment tool," he explained.
In the past, many such charities were banned by the government, but many of them still remain active. As Jamaat-ud-Dawa has the Falah Insaniat Foundation (FIF), Jaish-e-Mohammed has the Al-Rehmat Trust. Sectarian outfits like Sipah-e-Sahaba also changed their names in a bid to rebrand themselves. When banned, SSP changed its name to Millat-i-Islamia Pakistan and finally to its current name, Ahle Sunnat Wal Jamaat (ASWJ).
After the Pathankot attacks in January, India claimed to have traced a few numbers that were in contact with the terrorists back to Pakistan. The numbers, which were publicly available, could easily be traced on the internet to the Al-Rehmat Trust's social media presence. Speaking to India Today, Prime Minister Nawaz Sharif's adviser on foreign affairs, Sartaj Aziz confirmed that the numbers provided by India traced back to JeM's headquarter in Bahawalpur.
A Joint Investigations Team, which was formed on Sharif's instructions to probe into the Pathankot attack, concluded that there was no evidence of Pakistan's involvement in the attack. India's  National Investigation Agency chief also confirmed that Pakistan wasn't helping JeM plan or execute the attack.
Though Pakistan denied that any of the attackers infiltrated India from Pakistan, a well-positioned official inside a civilian Law Enforcement Agency (LEA) confirmed that there were proofs of JeM's involvement in the Pathankot attacks: "The evidence provided by India, after investigations, revealed that Masood Azhar's closest ally was the brains behind the attack." Masood Azhar is the founder of JeM.
Explaining the reason for Pakistan's inaction, the official said that instructions from the prime minister were clear – to arrest or kill the members of JeM. Initially, Islamabad did just that; the Counterterrorism Department (CTD) raided several seminaries and houses across the country to arrest JeM members. Then, "In a high-level security meeting, PM Sharif was pressured by [Chief of Army Staff] General Raheel Sharif to let the army handle the operations, instead of the CTD," the official told The Diplomat.
"No one knows what happened after that," he added.
While the paramilitary Rangers' operation against "criminal elements" in political parties was in a full swing, JeM's members were seen collecting funds for jihad after the Eid prayers – often in the presence of Rangers. However, Punjab's Home Department recently instructed the police authorities to keep watch on JuD's fundraising activities.
Ayesha Siddiqa, an author, and journalist based in Pakistan, says there has been no change in Pakistan's 15-year old policy. "We fail to change our basic security assessment – for example in Balochistan, where we refuse to see the movement without the lens of foreign intervention," she says. "We refuse to let go of the thinking that only jihadists can help us achieve our strategic goals."
Journalist and author of a book on LeT Arif Jamal is also of the opinion that the policy of using jihadists hasn't changed yet. The only difference that he sees is the tactics. "The fact that the Pakistan Army kept the jihadist infrastructure intact shows that they wanted to revive jihad in Kashmir and Afghanistan at a later time. They slowly started reviving it as an instrument of the defense policy around 2005," he says.
He further adds that former COAS General Ashfaq Parvez Kayani completely revived jihad, and General Sharif (no relation to the prime minister) has continued to do so.
Azaz Syed, a senior journalist who was present during JudD and Jamaat-e-Islami's rallies in Islamabad, holds the establishment to be responsible for these policies.
"After the incidents of violence in Kashmir, the jihadist elements inside Pakistan seem to be reviving and it is impossible for them to be working without the military establishment's consent," he says. More than anything, Syed believes these activities are a serious question mark for the sincerity of the National Action Plan. "Our leadership unanimously approved of this plan after the APS Peshawar attack but unfortunately, it seems to be a failure as JuD holds rallies only few hundred meters away from the parliament," he adds.
"In a country where critics of the establishment can hardly move around unobserved, how are thousands of JuD and HuM supporters able to mobilize and march openly?" asked Ambassador Haqqani.
"The Pakistani military establishment has always viewed groups focused on India and Afghanistan as their assets. Unless and until there is a shift in how the security establishment and its allies view India, they will continue to support jihadi groups and their ideology," Haqqani adds.
Instead, he says, "India must address Kashmiri grievances and Pakistan should stop encouraging jihadis in Kashmir."
"It would be much better for both countries if the situation in Kashmir de-escalates without more violence," Haqqani concludes.
Umer Ali is a freelance journalist based in Pakistan. He reports on human rights issues, social problems and more. He can be reached on Twitter at @iamumer1.