Public Apology as Tainted Meat From China Sold to Hong Kong Public
After over 300 pigs tested positive for banned chemicals, some of the tainted meat made it to market.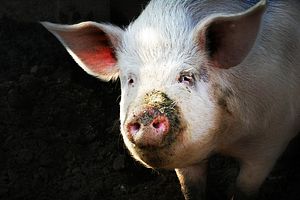 Hong Kong's Food and Health Secretary Dr. Ko Wing-man has apologized for the government's failure to prevent the sale of contaminated pork meat to the public market. Three and a half tons of the meat was seized and destroyed from retailers who had already bought from wholesalers.
The Hong Kong Food and Environmental Hygiene Department (FEHD) are responsible for monitoring the hygiene of imported meats. Last week, the department discovered that 319 pigs that were imported from Jiangxi province in China, had tested positive for salbutamol and clenbuterol. The two drugs are commonly used to treat asthma in humans; however, they are also known to artificially enhance animal growth and promote lean muscle mass.
In spite of the positive test, 59 pigs were sent to the government slaughterhouse operated by meat distributor Ng Fung Hong, with approximately 40 contaminated hogs sent to 27 retailers around the city.
Urine tests samples were taken from pigs by the Agriculture, Fisheries, and Conservation Department (AFCD) at a government lab. Results usually take two to three hours and a test report is usually sent to an FEHD official at the slaughterhouse in the evening, according to the South China Morning Post. The AFCD reported initial test results – positive for drugs – to the slaughterhouse at 10 pm last Thursday. Repeat tests were conducted, but somehow the pork was allowed to enter the market.
"The AFCD sent the test results of the problematic batches of pigs before 10 o'clock that night. In theory, positive tests then need to be verified, but even then, the pigs should be quarantined first." Ko told local television channel TVB. "But on that day, there were some problems with that mechanism and the meat was released into the market. There is a problem with the process, perhaps at more than level. I apologize to the public."
Butchers at the Sheung Wan wet market were understandably upset when more than 1,000 kg of pork and offal was seized and destroyed by the FEHD on Sunday, despite the fact their pork was not sourced from Ng Fung Hong.
"This is the error of the FEHD and Ng Fung Hong, and it is affecting us. We do not sell Ng Fung Hong's pigs," said pork vendor Lai Hon-yuen said. "I have lost about HK$30,000 in cash, but the damage to my reputation is incalculable."
"We completely rely on the FEHD to ensure all pigs have been tested before they reach our stores and are safe for consumption," said Hui Wai-kin, from the Pork Traders General Association of Hong Kong. "The FEHD must give citizens a proper explanation and apologize to the affected businesses."
According to the Hong Kong government's Center for Food Safety, increasing consumer expectations for high-quality meat has led to pig farmers that supply Hong Kong to stretch their farming practices, including the addition of growth-promoting agents such as hormones, antibiotics, and beta-adrenergic agonists, such as clenbuterol. Used over prolonged periods, clenbuterol can promote growth and increase muscle leanness in pigs and cattle. However, consumption of meat or offal containing high levels of clenbuterol can lead to acute poisoning in humans. Home cooking methods generally cannot eliminate its residues, and the drug can cause symptoms such as rapid heart rate, dizziness, headache, nervousness, tremors, and blood pressure changes. People with heart disease and blood pressure disorder are particularly susceptible.
A number of clenbuterol poisoning cases in Hong Kong occurred between 1998 and 2002. Most were related to the consumption of tainted pig offal.