Singapore, Brunei Ink New Defense Pact
Agreement will enhance cooperation in defense technology.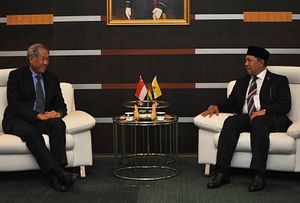 Singapore and Brunei signed a new agreement to enhance cooperation in defense technology on Monday.
The Memorandum of Understanding Concerning Defense Technology Cooperation (DT MOU) was inked by Permanent Secretary (Defense Development) Ng Chee Khern and the Permanent Secretary of Bruneian Ministry of Defense Datin Paduka Hajah Suriyah binti Haji Umar at the Brunei Ministry of Defense.
The DT MOU both expands the current collaboration between the two countries and provides a framework for them to work on capability programs together in the defense technology domain. No further details on the agreement were publicly disclosed.
"The DT MOU marks the start of the official cooperation between both countries for defense technology," Singapore's defense ministry (MINDEF) said in a statement.
The signing of the agreement was witnessed by Singapore's Defense Minister Ng Eng Hen and Bruneian Deputy Defense Minister and First Admiral Abdul Aziz bin Dato Seri Pahlawan Abdul Aziz bin Haji Mohammad Tamit.
As I noted in a previous piece, Ng was in Brunei on a visit to commemorate the 40th anniversary of the Singapore-Brunei defense relationship (See: "Singapore Defense Minister in Brunei Amid Anniversary"). As part of his trip, he met several leading Bruneian officials, including Brunei's Sultan Hassanal Bolkiah and Crown Prince and Senior Minister at the Prime Minister's Office Prince Haji Al-Muhtadee Billah.
Ng also visited Exercise Pelican, a bilateral naval exercise conducted by the Republic of Singapore Navy (RSN) and the Royal Brunei Navy (RBN), the last iteration of which took place in November 2015 (See: "Singapore, Brunei Conclude Naval Exercise").
The inking of the new MoU and Ng's visit were just the latest in a series of defense-related developments in the Singapore-Brunei relationship as the two sides commemorate the 40th anniversary. Just last week, they held a sail training exercise to improve coastal patrol operations and crime prevention between the Singapore Police Coast Guard (SPCC) and the Royal Brunei Police Force (RBPF) (See: "Singapore, Brunei Hold Maritime Exercise"). And during his visit to Singapore from August 15 to August 17, the Commander of the Royal Brunei Land Forces BG Pengiran Dato Aminan was also conferred a prestigious military award.