How China Will Play the Brexit Card
If China and the U.K. can reach a trade deal, both sides would have increased leverage over the EU.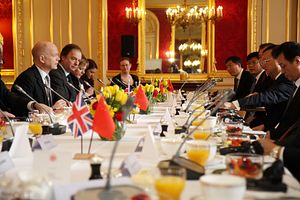 Brexit, and even more a long and messy Brexit, is a golden opportunity for China. To a much lesser extent, the U.K. may also leverage China with the EU.
True, China has lost its most prominent lobbyists in Europe. Only recently then-U.K. Prime Minister David Cameron pressed for an EU-China free trade deal even as Beijing refused to engage in serious economic conversations with the EU, and former Chancellor of the Exchequer George Osborne outdid all competition in his praise of China. Cameron's replacement, Theresa May, has in the short term proven surprisingly open to arguments of national security against opening all doors to China: a U.K. drifting from Europe can little afford to openly displease the United States on major geopolitical issues. Situations matter more than people.
Still, as one who did not favor Brexit, May is well placed to choose opportunity over ideology. Economic necessity will trump geopolitics. A delayed Brexit offers the window to seek trade deals with global partners, and to impress the EU with the risks of being outdone in this game. What the U.K. cannot do while it remains an EU member is to sign its own deals on the dotted line. But who is to prevent it from pre-negotiating them?
Much has been made of the scarcity of experienced trade negotiators in London. But they are also overtasked in Brussels, given the multiple issues that must be dealt with. Even more strikingly, the U.K. has always shared with China an uncanny ability to navigate the European Union. It played non-eurozone or the remaining EFTA states, and it explored the cracks between a protectionist French culture and the German export zeitgeist. This, of course, it did from the inside – gaining ever larger opt-outs as it went. If Cameron hadn't miscalculated his referendum, he would still be busy at it. That talent will now be used in the other direction – to gain opt-ins from the outside, where the U.K. needs them.
To achieve this, the U.K. needs significant trade deals elsewhere. Japan, which under Prime Minister Shinzo Abe has engaged in an EU-wide strategy, seems out. South Korea does not really matter because it already has a free trade pact with the EU. Australia is not enough of a trade partner to impress Europeans with. India is flippant and currently not very proactive over trade deals. But China? It has already played the game of free trade agreements with two states on the EU's margins, Switzerland and Iceland. It already has its own grouping, the so-called 16+1, with the states of Central and Eastern Europe.
The U.K., of course, would be a larger prize. But there may well be an incentive for China to try for it. With the WTO deadline looming in December for ending special anti-dumping treatment of China, the EU looks set to adopt an unexpectedly tough course: deny China market economy status, and crank up trade defense instruments – a move that only three years ago had not passed muster with member states. At the minimum, a legal challenge by China at WTO will ensue, and quite possibly a major trade conflict. In this context, a Brexit card is a good opportunity to weaken the EU's resolve.
In this case, there may well be enough mutual incentive for China and the U.K. to hash out a trade deal. Each will leverage this with the EU. The U.K. will seek to show that it is actually the EU that needs opt-ins for fear of worse. China will compound informal sanctions on other European firms by favoring the U.K. China's Ministry of Commerce has already flagged its interest in free trade talks with the U.K. China has far less to lose than Japan with Brexit – simply because it has never been a significant industrial investor in the U.K. And it has all the carrots in terms of financial investment and lending. By raising issues of national security over coming Chinese investment (Hinkley Point, data centers, etc.), May may in fact be trying to acquire some sticks for a coming negotiation. Otherwise, the risks are all on the U.K.'s side. Even if the U.K. loses its financial access to the EU, literally every financial center in the EU is laying a red carpet to welcome Chinese financiers. China's Brexit card surpasses the U.K.'s China card.
Timing will be the essence of this game. After the conditions for Brexit are set, the U.K.'s China card loses much of its value with the EU. China becomes even better placed to extract terms from the U.K. and to play this with the EU. Timing also implies mutual trust – perhaps the scarcest commodity in relations with China. It usually plays negotiating games to the finish – so how will the U.K. be sure it will stick to some pre-negotiated outline? As in a game of cards, it is very unlikely that China agrees to terms until it sees the U.K.'s hand in negotiations with the EU – something which will happen after rather than before May triggers article 50.
The game therefore has an expiration date on both sides. An open EU-China trade quarrel is the best of time for the U.K. to move ahead with China. The Brexit talks triggered by article 50 offer the best window for China to play both sides. As one significant Chinese policy adviser told me, China welcomes division inside the EU, but is less interested in non-EU members. After the terms for Brexit are agreed, China seems to have all the cards – so much so that one can only see a weak U.K. campaigning for investment and becoming a Singapore on Thames.
There is nothing secret about the above calculations. Days before before he was put in charge of Brexit, David Davis wrote that in order to retain Single Market access, the U.K. should publicize heavily its global options in a pre-negotiation White Paper.
The real question is whether the EU is able to counter both China's and the U.K.'s strategies. Getting the 27 to agree on anything is difficult, and there are many other priorities. Yet trade strategy is the core of the EU's global influence. If it is able to move ahead with global partners, leaving the U.K. with the task of finding terms with the EU, Brussels will have made a very important point for itself. If, on the contrary, the U.K. can take the initiative while the EU appears divided or just bogged down, the EU's international appeal will decline even further.
François Godement is Director of the Asia Program at the European Council on Foreign Relations (ECFR) as well as a senior policy fellow at ECFR.