In Getting Rich, Myanmar Must Not Forget Its Poor
Economic development must not come at the expense of those less fortunate.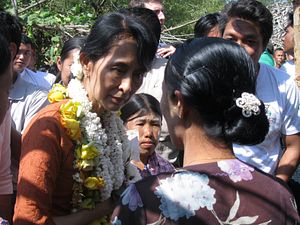 When U Mya Hlaing came home three years ago he found an eviction notice plastered to his front door. It accused him of being a squatter on his own farmland and told him to pack his bags within two weeks or face thirty days in prison. His village would be destroyed to make way for a multi-billion dollar industrial project.
His community was initially given no further explanation and offered no compensation for the loss of their farms and livelihoods. Instead, the government stopped giving them agricultural loans and cut off the water supply used to water their paddies in the hot season. "I think it is a strategy to put us into debt and force us off our land," said U Mya Hlaing, sitting on the creaky floor of a small wooden house about one hour's drive from Yangon.
He is one of thousands of farmers facing eviction to make way for Myanmar's first Special Economic Zone (SEZ) in Thilawa, a mega-project intended to lure foreign investors with tax relief and other economic perks. The former military-backed government that approved the project touted it as an example of Myanmar's economic success and booming job market. But Thilawa has also become emblematic of how large-scale industrial development in Myanmar is being pushed through at the expense of the poor.
U Mya Hlaing and his neighbors were eventually offered a fraction of the market price for their land – only after campaign groups intervened on their behalf. Most of them now face the prospect of swapping their lives as land owners to become manual laborers in one of the myriad factories being built in the industrial zone. For older people and women bearing the burden of domestic care it will likely mean unemployment and poverty.
"We'd agree [to move] if we were given replacement land," said U Mya Hlaing. "If they can't do that they should at least give pay us compensation at the current market price."
With a democratic transition rattling Myanmar, Western governments have been quick to drop economic sanctions and pump investment into the resource-rich nation. Foreign direct investment jumped from $329.6 million in the fiscal year 2009-10 to $9.48 billion in 2015-16. These figures are expected to further skyrocket in the wake of Aung San Suu Kyi taking office in April, encouraged by the budding democratization of Myanmar. Yet we have seen little evidence that her government will implement a significant policy shift in favor of marginalized communities.
Suu Kyi's leadership has repeatedly insisted that Myanmar is open for business and expressed support for economic development – even offering tax cuts for investors interested in Myanmar's conflict-ravaged ethnic minority states. The NLD's long-awaited "people-centered" economic policy, launched in Naypyidaw at the end of July, offered sparse details on how community rights, including land and livelihoods would be protected against encroachment from industrial developers. Instead, it highlighted the need for job creation, one of the many buzzwords favored by investors and international financial corporations, and promised the development of infrastructure, including ports and electricity.
The NLD has publicly recognized the dangers of reckless development, especially in Myanmar's borderlands, where hydropower and mining projects bring violence and conflict to minority communities. The government recently placed a moratorium on jade mining permits in a bid to stem the illegal extraction fueling a long-festering conflict in Kachin State. A nationwide logging ban has been imposed and the government has pledged to resolve land grabbing disputes within a year.
However, its ambitious agenda needs to be backed by new legislation and concrete action. Myanmar currently lacks effective legislation, such as provisions on free, prior and informed consent and customary land ownership rights, while existing environmental regulations are weak and often used to pay lip service to responsible investment. A draft new investment law prohibits projects that would damage human health and the environment, but glosses over Myanmar's land grabbing epidemic and fails to outline resolution mechanisms. Myanmar's SEZ law carves out regulatory exemptions for investors, including the right to skirt minimum wage requirements. Entrenched corruption and a weak judicial system pose additional governance challenges.
Any courtship of business by Suu Kyi's government is likely to be perceived as an open invitation to make money in Myanmar. In June, the United States controversially lifted its reporting requirements for companies looking to invest less than $5 million dollars in the former dictatorship, where most industries remain dominated by the military and its cronies. The Japanese government and international lenders, such as the International Finance Corporation and the Asian Development Bank, have pledged millions in loans to advance large-scale industrial projects, often with partisan agendas attached. The Thilawa project, which awards lucrative contracts to Japanese companies, was pushed through in exchange for Japan dropping most of a $6.6 billion debt owed by Myanmar.
The Myanmar government has signaled that work on the second phase of the project will commence at the end of rainy season. The Japanese International Cooperation Agency (JICA), one the main foreign investors along with the Myanmar government and Japanese companies, is expected to approve its investment as early as October despite a deeply flawed consultation process. Land disputes have gone unprobed and most community concerns have been ignored by the authorities. A new committee set up to oversee the development Myanmar's SEZs has not yet made any explicit references to addressing community grievances. Meanwhile, U Mya Hlaing and his neighbors are living in daily fear of eviction.
Dozens of families have already been displaced as part of the first phase of the project, and their fate should serve as a warning to investors and communities alike. They were handed mediocre compensation, then forced from their homes before the resettlement site had been completed. The drinking water at the new site was a soiled brown color, sourced from a well dug too close to the toilets. Disease quickly spread as heavy rains deluged homes. In many cases the cost of travelling to work and putting food on the table soon outpaced their earnings and families struggled to pay their bills. Within two years 24 families had sold their homes and left.
U Kyaw Win, a 41-year-old former farmer who is now unemployed, was the last person from his village to move, resisting company demands for nearly two years. By the end, he had accumulated 9,000,000 kyat ($7,609) in debt, which the authorities promised to help him pay off if he relocated. Nearly a year later, he is still fending off his debtors. "I regret moving here, there are so many problems. I'm struggling and my debt is only getting bigger," he said.
Unless Suu Kyi's government takes lessons from the disastrous first phase of the project, we are likely to see the same mistakes repeat. Indeed the new administration's handling of Thilawa will become a crucial test of both its economic policy and its commitment to social justice. It must not cower to pressure from unscrupulous foreign investors pushing economic agendas at the expense of the poor.
Hanna Hindstrom is the Myanmar Campaigns Coordinator at EarthRights International, an environmental and human rights organization based in Yangon.