Not So Lonely at the Top: Vietnam's Next Step in Power Balancing
With India, Hanoi has made another step in diversifying its foreign policy. But when do the returns start diminishing?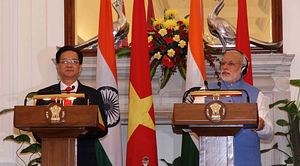 On his way to the G20 Summit in Hangzhou, Indian Prime Minister Narendra Modi visited Vietnam, where he met all the key players of local politics – the so-called four pillars. Modi went through the ceremonial motions, visited Ho Chi Minh's mausoleum, fed the late leader's carps, and spared no compliment to bilateral ties, referring to a mutual history of as long as 2,000 years.
It was no sideline event for the two countries' relations and even less so for Vietnamese foreign policy. Not only did the parties sign a dozen of documents, but they also announced that their relations now carry the title of a "comprehensive strategic partnership" – a level previously achieved in Vietnam only by China and Russia.
For India, the visit was an important element in the Act East policy promoted by Modi. Coming right after a high-level visit to Myanmar, Modi's Vietnam trip is a much-anticipated step in Delhi's involvement in Southeast Asia – a maritime buffer between India and China, as well as a promising area of economic engagement in its own right. Modi opened a credit line of $500 million for the needs of bilateral defense cooperation, which has become an important element in Vietnamese military build-up. In 2014, India set out to provide four patrol boats to Vietnam and appears to be keen on selling the hypersonic BrahMos anti-ship missiles to the Vietnamese Navy. This is apart from the training program that India offers for Vietnamese crews that are to serve on the six Russia-built Kilo-class submarines.
Though the practicalities of Vietnam-India relations show immense potential for bilateral cooperation, the upgrade of the partnership to a comprehensive strategic one is a crucial step for Vietnam's overall foreign policy. With a dramatic history of participating in bloc confrontation during the Cold War, Vietnam is now pursuing a policy of non-alignment and diversification as manifested by the "three nos" principle and the da dang hoa da phuong hoa concept. According to Vietnamese political thinking, a wide network of partnerships is the only way to hedge against overdependence on any one state.
This policy is still in the making. Vietnam is only departing from excessive dependence on China and still suffers from an immense trade deficit. But Hanoi has managed to shift external reliance in other spheres to a number of partners: the United States is the country's largest export market, Russia is the key arms seller, Japan is there for ODA, and South Korea is there for investment. Now India has become the latest addition to the in-group of strategic comprehensive partners and is likely to play an important role in Vietnam's military modernization, cooperate in oil extraction projects, and perhaps serve as another counterbalance to China's overpowering influence.
The big question is whether this strategy will work. China's concern with Vietnam is particularly this kind of 'stray off' and the Vietnamese leadership will have to find a way – using American foreign policy rhetoric – to turn a "pivot" into a "rebalance." As soon as Beijing feels that Vietnam's ties with other major partners may bring an irreversible shift to the strategic environment, Hanoi's policy will become self-defeating. That is why reassuring gestures, like the recent visit by Vietnamese Defense Minister Ngo Xuan Lich to China, are of crucial importance.
What kind of news is that for Russia? Moscow took real pride in how history has led Russia and Vietnam to a special kind of relationship. Now that Russia is not alone at the top of Vietnam's friend list, it is becoming clear that there is a race for influence on Vietnam, a pivotal state in the East Asia power equation. A promising economy, stable political system, well-trained military, and strategic location are drawing attention to Vietnam on behalf of great and middle powers from within and without the region. Bilateral relations have been on the rise, but the competition never sleeps. It's not about how fast you run, but about who's running faster.
Anton Tsvetov is an Expert at the Center for Strategic Research, a Moscow-based think tank. He tweets on Asian affairs and Russian foreign policy at @antsvetov. The views expressed here are the author's own and do not reflect those of CSR.