Philippines to Deepen China Talks Despite South China Sea Differences
The foreign secretary says Manila will move forward with official talks with Beijing.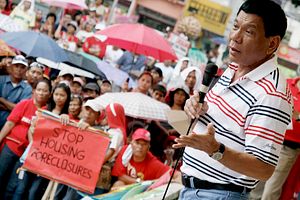 The Philippines will continue to move forward with official talks with China under Rodrigo Duterte in spite of lingering differences on the South China Sea, the country's foreign secretary Perfecto Yasay Jr. told an audience in Washington, D.C.
The Philippines, a U.S. treaty ally that had seen ties with China sour under Duterte's predecessor Benigno Aquino III following Beijing's growing assertiveness in the South China Sea, has been looking to repair ties with the Asian giant in the last few months (See: "The Danger of Duterte's China and South China Sea Approach"). Duterte's special envoy Fidel Ramos was in Hong Kong last month to kick off the process by renewing ties with "old friends" in the country, with sources familiar with the trip saying that it had gone very well.
Asked how talks with China would proceed in the coming months following Ramos' first visit during his engagement at the Center for Strategic and International Studies (CSIS), a Washington, D.C.-based think tank, Yasay said that while differences on the South China Sea remained, he believed that talks on Sino-Philippine relations more generally should proceed on a more official basis to explore ties.
"The next step to my mind should be now to undertake this on an official basis a special envoy with respect to the areas of concern that relate to what we should promote as in our relationship to China," Yasay said.
Emphasizing that the South China Sea dispute was merely "a small portion" of Manila's overall relationship with Beijing, he said that the Duterte administration would continue to explore opportunities to improve Sino-Philippine ties.
"[T]hat area of the disputed territory in the South China Sea is a small portion of our relationship. We would like to continue engaging everyone including China our neighbors in pursuing other interests that include trade, investment, infrastructure development, cultural exchanges, people-to-people contact," he said.
Yasay said that he hoped that talks would "open the doors" for both sides to address the South China Sea disputes unconditionally. However, he also stressed that the Philippines continued to emphasize that it would only be open to talks that were in line with the July 12 arbitral ruling on the South China Sea case Manila had filed against Beijing, contrary to Chinese interlocutors who had suggested that the Southeast Asian state set aside the ruling (See: "The Limits of Clarity in the South China Sea Verdict").
Yasay also assured the United States that even as the Philippines continues to improve relations with its neighbors including China, Manila's commitment to its traditional alliances and partnerships would endure.
"[I]t does not necessarily mean that forging closer relations with one is alienating the other. And this is precisely what he means in the context of saying that we must pursue an independent foreign policy," he said.