What to Expect From the G20 Summit
Jiang Yuechun of CIIS gives an overview of China's most important diplomatic event this year.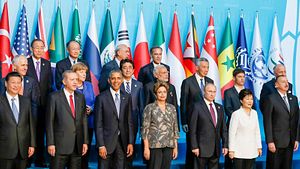 The 2016 G20 Summit, is to be held in Hangzhou from September 4 to September 5, giving China the chance to host this economic event of global importance. What exactly is the function of the G20, and what role does China play within this mechansim? What economic measures will China propose during the summit to revitalize the global economy? And which bilateral meetings with China's president deserve the most attention? To answer these questions, Consensus Net and The Diplomat conducted a joint interview of Jiang Yuechun, director of Department for World Economy and Development at the China Institute of International Studies and administrative council member of the China Academy of International Economic Relations. A Chinese-language version of this interview is available from Consensus Net.
What is the current role of China in G20, beyond the fact that China is the host of this year's G20 Summit?
Jiang Yuechun: The G20 Summit is currently playing a more important role among multilateral platforms. Its 20 member states are the main economies of the world. The problems faced by the global economy are more and more prominent, so the G20 Summit has an increasingly important role.
China is the host of this year's G20 Hangzhou Summit. For China, the summit is the highest-level and most influential homefield diplomatic activity this year. China is supposed to, in this summit, express its own opinions on and offer its own solutions for outstanding problems, so as to give proper "prescriptions" for the continuously sluggish global economy, bring new vitality, and recover economic growth as soon as possible. It is China's desire to be a leader at these levels, if possible. However, the result is still unknown. Based on the past experiences of this multilateral forum, both concerted efforts and competition – and even mutual exclusions — coexist among these 20 member states.
China now attaches great importance to G20 Summits. Is it because China wants the G20 Summit to be a multilateral platform where Beijing has relatively more say, thus increasing its voice on global economic issues?
Certainly, that is what China wants. As the economy moves toward globalization, worldwide countries tend to increasingly depend on each other. A country alone can hardly solve many international issues. Cooperation among countries is necessary. That's how the G20 Summit come into being, as a multilateral forum to cope with financial crisis. Although its resolutions are not mandatory, you can't deny its significant effect on mitigating the latest international financial crisis.
The global economy is now moving into a "new normal" featuring low growth, low interest rates, and low inflation. It has been eight years since the crisis broke out, but the influence is still ongoing. Improvement can be hardly expected in the next two or three years. Therefore, the G20 Summit is apparently getting more important that the past. And China hopes to be a part of that. One reason is that China is getting bigger in terms of its total economy after many years of growth and has already developed itself into the world's second biggest economy, following the United States. Also, Western countries have continuously underlined at multilateral platforms that China should bear its responsibilities as a major power. In fact, China is striving to play its continuous role in the world economy, especially as a responsible power.
In addition to that, China hopes to be a leader in solving world economic problems and has put in a lot of effort for that. In this summit, China may propose new ideas for the recovery of global economic growth, such as "innovative development," "interconnected growth," and "inclusive growth." These new countermeasures by China are expected to tackle new and existing problems in the global economy.
As for whether this can help raise China's voice on the world stage, that's another story. Honestly, every country wants to be heard clearly. China is the largest developing country and seeks a role in line with its economic power from international society. After all, the G20 Summit is a mechanism for dealing with short-term effects, and its position and role are not absolutely authoritative. Accordingly, the influence of the G20 Summit changes with the strength or weakness of the global economy. China hopes that the G20 Summit will change into a long-term mechanism, able to tackle the world's economic issues.
However, it's hard to say whether such a long-term mechanism can be formed. Developed countries as the United States and Japan do not expect China to play a big role here and they restrict China in many ways. If China takes the lead, they will respond accordingly. For example, the United States has proposed the establishment of the Trans-Pacific Partnership (TPP) and Transatlantic Trade and Investment Partnership (TTIP) in recent years. Certainly, the purpose of these policies is to gain dominance in international trade. Nevertheless, these policies also naturally restrict the leading role of China in the Asia-Pacific and global economy. Constraints from developed countries always exist, so China may face certain restrictions and obstacles when trying to play a leading role and transform the G20.
How is China going to cope with mutual concerns, competitions, and other relevant issues among developed and developing countries in G20?
It is complicated. Since G20 members come from different economic systems and the Western and Eastern countries have different interests. They have some common needs; there are also areas of disagreement, so contradictions and differences are hard to avoid. This mechanism was established mainly to solve problems related to the economic crisis. The latest international economic crisis began with the subprime crisis bursting out in the United States in 2007. Back then, China's economy was still running in the fast lane. Hence, Western countries expected the G20 Summit to save their economies; they hoped China could turn the tide to help them overcome the crisis. Therefore, their hopes and requests for China were greater, so there were fewer contradictions.
However, before this, when the financial crisis was not that severe, contradictions between Western developed countries and developing countries with China as the leader were prominent. For example, the Western countries kept emphasizing China's negative role in the world economy. In particular, they strongly accused Chinese export of excessively harming employment in the United States as well as markets in Europe and other developed countries. These countries continuously came up with various schemes to force China to reduce its export. On the other hand, emerging economies also raised their own demands, such as reform of the current international monetary system and a larger voice in the international economy.
As the host country this year and the world's largest developing country, China will play a coordinating role between developed countries and emerging economies at the summit. However, it's hard to predict what the actual results will be. The United States, Japan, and Europe currently have different opinions on the role of China in the global economy. When it comes to the global economic recovery, some think that China indeed plays a certain role, others think China fails to play a proper role, and some even think China plays a negative role. Therefore, I believe China still has a lot to do in consideration of such contradictions.
An important topic of this G20 Summit is the structural reform of the global economy. How will China balance interests of developed and developing countries?
Economic structural reform is a common issue faced by many countries at present, as it deals with structural problems restricting economic growth. However, it is easy to say but difficult to do. China's structural reform is now at a critical and very difficult stage. This is also true for Western countries; it is very difficult to realize true structural reform. Take Japan as an example. All the various ideas for structural reform put forward by prime ministers like Ryutaro Hashimoto, Junichiro Koizumi, and now Shinzo Abe actually haven't really involved the crucial aspects of structural reform. The key to the restriction of Japan's economy lies in the close relationship between Japan's political and financial circles, which leads to a failure to ensure the flow of limited resources to the most efficient fields. Solving this problem involves not only economic reform but also the reform of Japan's electoral system. That's why it is very difficult.
Structural economic reform includes many aspects, but primarily reform of the international monetary system. This has been mentioned repeatedly at G20 Summits; however, no breakthrough has been made so far. Since the current international monetary system was formulated by Western countries led by the United States after WWII, it has brought considerable benefits to developed countries, including the United States. Therefore, they are reluctant to change this system, especially the leading position of the U.S. dollar among global currencies. However, previous economic crises since WWII indicated that this system has already had a lot of negative effects on the international economy and so it must be reformed. Nevertheless, due to its vested interests, the United States has insisted on sustaining this monetary system. Although most countries, including China, hope to reform the existing international monetary system boldly and resolutely, a breakthrough is unlikely in the short term.
What measures will China propose in this summit in order to strengthen the economic recovery of the world?
China's proposals are based on several key phrases:
Innovative development: China believes that the reason why the world economy has lacked vitality for so many years lies in the lack of a new technological revolution, which is needed to truly solve every financial crisis. However, the new technological resolution is still fermenting and is still a ways away. So how can we solve the issues of the world economy before this revolution comes? China proposes innovative development in many fields, which is an important concept.
Interconnected development: The so-called interconnected development refers to good interactions between developed countries and emerging economies. When a country develops, it shall give consideration to other countries' interests in order to form an interactive "community of destiny" and realize coordinated development, which is a development concept much emphasized by China in recent years.
Inclusive development: Since developed countries and developing countries have different starting points and processes of economic development and the development stages of each country differ greatly, it is not wise to use one single standard to dictate the path of economic development for each country. A certain tolerance should be offered. Certainly, it does not mean that developing countries may ignore concepts and rules, including environmental protection and respect for intellectual property. Instead, it means that some tolerance should be offered to underdeveloped countries who are trying to reach the world's common standards.
Further opening up: Since trade protectionism is currently very serious in many countries, especially during an economic downturn, when protectionism is serious in developed countries, China still has to advocate for further opening up and also set an example to stress open development. I believe the most important task of China at this summit is to put forward these new development concepts.
Undoubtedly, China will propose some specific measures as well, for example, in infrastructure construction. Although infrastructure construction is an old problem, it is now facing a new opportunity. Currently, many countries in the world, especially those in the Asia-Pacific region, have especially strong demand for infrastructure and these countries have great potential in economic development. However, the backward infrastructure restricts economic vitality. Therefore, to solve the problems of infrastructure construction is actually to promote regional economic development. In recent years, China has proposed and continuously implemented the "5 connections" (i.e. policy communication, road connection, trade connection, currency circulation, and people-to-people connection), which is China's new idea for foreign economic development.
Will "One Belt, One Road" and the Asian Infrastructure Investment Bank (AIIB) be held up as measures to revitalize the global economy?
I expect that China will not directly talk about sensitive issues such as AIIB. AIIB is a sensitive topic because the United States and Japan disagreed on and even strongly objected to the establishment of this organization – they even slandered it. For example, Shinzo Abe delivered many unpleasant speeches on AIIB, a professional bank capable of bringing vitality to the region's economy. This is not appropriate for a state leader. Japan believed that this bank might change the financial structure of the whole Asia-Pacific region. The president of the Asian Development Bank is always Japanese and therefore Japan saw the AIIB as taking away its slice of the pie. So it was especially conflicted about this situation. Therefore, I guess that China will tread lightly on the issue of AIIB in this G20 Summit, because eventually a consensus-based joint communique will be released. If too many disputes arise, it may not be passed.
Anti-corruption is also an important topic for this summit. What specific steps will be taken to promote anti-corruption cooperation?
Actually, anti-corruption mainly emphasizes international cooperation. Since the interactions among different countries are increasing and corrupt officials tend to go abroad when their corruption is exposed, cooperation among countries is necessary. This cooperation seldom happened in the past. Now, this issue has been mentioned on various occasions. Repatriation is part of fighting corruption. Some countries reject it and some even provide asylum for such criminals at the crucial moment, which makes fighting corruption difficult.
China is now very determined to fight corruption according to the principle of zero tolerance. Therefore, China hopes to obtain international support. Based to the current progress so far, there are a few obstacles in international cooperation on anti-corruption, even including the United States.
Do we need a common standard for corruption? In this case, repatriation would be more feasible.
Yes. So it's necessary to draft a Joint Statement on Anti-Corruption, which represents a consensus among everyone on this issue. However, the name of this document is still under discussion. I think that an agreement and a consensus will be reached concerning anti-corruption. Further, an international anti-corruption center will be established. China will actively promote these steps and not much resistance is expected.
Each G20 summit is a platform for leaders from great powers to meet each other. What will be the highlights in this summit?
There are some highlights to watch for. I think China's meetings with the United States and Russia will definitely be okay. It's somewhat trickier when it comes to China-Japan and China-South Korea.
Since Japan unilaterally "nationalized" the Diaoyu Islands, the relations between China and Japan entered an "ice age." Recently, Chinese fishermen went fishing in traditional fishing ground in the East China Sea and Japan responded very fiercely, with the most protests against China yet. Besides, on the sensitive day of August 15 [the anniversary of Japan's surrender in World War II], Abe sent a ritual offering to Yasukuni Shrine in the name of the president of the Liberal Democratic Party although he didn't visit the shrine in person. The reason why Japan restrained itself over the Yasukuni Shrine issue recently was to avoid an overreaction from China, so as not to affect the Sino-Japanese meeting at the G20 Summit. The meeting of Chinese and Japanese leaders had been a major focus at many multilateral gatherings in the past; Chinese leaders agreed to bilateral meeting of the two top heads of government based on the overall situation in bilateral relations. At this G20 Summit, due to unstable relations and frequent friction between China and Japan, it's difficult to say if Chinese and Japanese leaders will meet one-on-one.
Meanwhile, relations between China and South Korea are now facing a big setback due to the issue of THAAD (Terminal High Altitude Area Defense) deployment. Relations have always developed relatively smoothly. The two countries formally issued a free trade agreement last year and the relations between their leaders were very close. However, the THAAD question, opened a rift recently between the two countries, which adds uncertainty as to whether the two leaders will meet one-on-one at the G20 Summit.
Bilateral meetings between China and Japan and between China and South Korea will be significant points to watch for this summit. Despite the difficulties, bilateral meetings may be finally realized after due efforts from each side. After all, if there is a problem, you must solve it; if you want to solve a problem you must talk about it. This is a sign of the maturity of China's diplomacy.