Why is Australia Investing in Electronic Warfare?
Future military concerns, of course, but also #jobsngrowth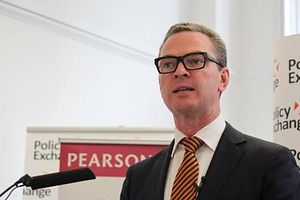 We're late to this story, but the news that Australia is investing heavily in electronic warfare bears looking at. This comes after the announcement of a A$50 billion spend on 12 submarines to be built by France, and a new defence White Paper released earlier in the year. The plan for defence spending is to increase it to 2.5 percent of GDP and this new upgrade is apparently a part of that.
At Oceania we've covered the submarine debate pretty extensively, and looked at the F-35s still on order (can't dogfight an F-16, according to War is Boring, but then do they need to?), so it bears reporting this too given it is these higher tech assets that are involved in EW.
The country is investing A$500 million in improving electronic warfare capabilities. A slightly convoluted press release from the Department of Defence Ministers explains: "Our military's electronic warfare capabilities will be significantly expanded after the Minister for Defence Industry the Hon Christopher Pyne MP and Minister for Defence, Senator the Hon Marise Payne today announced the Turnbull Government has approved a major new joint project worth $500 million over the life of the program, with approximately three quarters of this to be spent locally in a boost to Australia's Defence Industry."
Essentially, more on jobs and growth.
This does not mean the systems on board the ships or planes of the Australian Defence Force (ADF) will be improved, but rather the testing of them and their capabilities will be undertaken at a higher level, and by Australian companies at a special facility in South Australia, where Minister Christopher Pyne is from and where much of the future submarine fleet will be built. This is infrastructure to build the things needed to conduct and counteract electronic warfare
So there is plenty of good news for Australian industry and economy, but what does this mean for the ADF and what is electronic warfare? It is not, as some might think, much to do with cybersecurity, but rather the high-tech electronic capabilities of crafts, from fighter jets to submarines. Weapons systems and military craft are dependent on the electromagnetic spectrum, from radio waves to infrared and ultraviolet waves across the spectrum, and electronic warfare can disrupt these, and use parts of EM spectrum to disrupt the enemy's electronic systems.
"Unimpeded access to the Spectrum and the ability to restrict its use by an enemy form the basis of electronic warfare and are critical components of Australia's military strategies," says a four-year-old defence fact sheet. This higher-tech end of warfare differs much from a lot of what western armed forces have been engaged in this century: lower tech warfare in the Middle East. But given new concerns in the South China Sea and force modernization, better EW capability and the testing of  it also matters.
As does #jobsngrowth