China, Iran, and 'One Belt, One Road'
Will Iran become drawn into China's 'One Belt, One Road' orbit in Pakistan?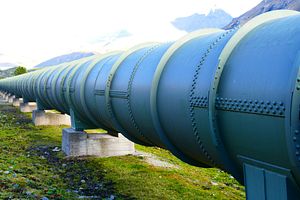 Last week, Chinese Ambassador to Pakistan Sun Weidong, in an interview, welcomed the prospect of enhanced cooperation with Iran on the China-Pakistan Economic Corridor (CPEC).
The flagship project is an integral component of China's "One Belt, One Road" initiative, which seeks to promote greater regional connectivity within Asia and includes the land-based Silk Road Economic Belt and the Maritime Silk Road.
The inclusion of a strategically and geographically significant country such as Iran hints at an important aspect of Chinese economic policy, which is not limited to outsourcing industrial capacity through the CPEC only.
It fits into the rationale of gaining greater access into the oil-rich Middle East, where six of the states in the region are integral members of OPEC and have historically been allied with the United States due to their political, economic, and strategic interests.
For China, the need to offset U.S. economic interests in the Gulf requires more states to become a part of OBOR-related initiatives, with Iran acting as an important stakeholder given its geographical proximity to the region and its fractious relationship with the United States.
China's salient and long-standing principle of respecting territorial sovereignty and forging relationships with states based upon mutual cooperation and peaceful coexistence also acts as an added incentive for Iran.
Iran struck a nuclear deal with the so-called P5+1 in 2015, which involves the waiving of sanctions in return for curbing nuclear enrichment activities. However, future outcomes of that deal will largely depend on the next U.S. president.
It is also noteworthy that Iran had been involved in a trade corridor deal, which includes India and Afghanistan, and also desires stronger relations with Pakistan – the latter being a historically strong and close ally of Saudi Arabia, Iran's rival.
China has also placed importance on resolving outstanding issues bilaterally and Iran's involvement in CPEC allows for greater opportunities to forge and mend ties with Pakistan bilaterally, where unit-pricing issues over the Iran-Pakistan gas pipeline as well as cross-border skirmishes on the Sistan-Baluchestan and Balochistan border have been points of contention between the two states.
China under Xi Jingping also faces greater pressure this year given that strategic dynamics in various regions could change as the United States seeks to challenge its strategic interests.
Given this, the OBOR connectivity framework gains added relevance. While the gains of the OBOR are yet to materialize, one can rest assured that statements from China's ambassador in Pakistan carry considerable merit as both Iranian and Chinese interests can potentially converge.
While China attaches equal importance to its relations with states such as Saudi Arabia, an arrangement that would allow Iran to benefit economically and could simultaneously challenge the regional and ideological hegemony of Saudi Arabia, serves Tehran's interest.
Overall, the long term strategy of the OBOR and the inclusion of strategically significant states could turn out to be less of a zero-sum game in favor of China and more about synchronizing interests.
Hamzah Rifaat was a 2016 South Asian Voices Visiting Fellow at the Stimson Center and has represented Pakistan as a member of the CTBTO Youth Initiative of 2016 in Vienna.