China Navy Fleet Visits Cambodia
Chinese vessels are in the Southeast Asian state for a goodwill visit in a further boost for defense ties.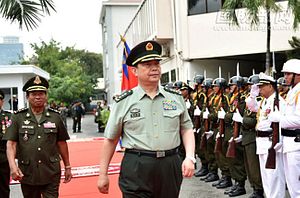 This week, a Chinese naval fleet is visiting Cambodia to boost ties between the two countries.
The 23rd Chinese naval escort task force of the Chinese People's Liberation Army (PLA) Navy arrived at the port of Sihanoukville on Sunday for a five-day visit. It had just returned from its four-month mission in the Gulf of Aden and the waters off the Somali coast and had visited two other Southeast Asian states, Malaysia and Myanmar, before ending up in Cambodia.
On Monday, Senior Colonel Wang Hongli, the commander of the task force, paid a courtesy visit to Cambodia's Deputy Prime Minister and Defense Minister General Tea Banh in Phnom Penh. Banh said that during the five-day visit, Chinese personnel would visit Cambodian communities, share experiences in the area of maritime defense with their Cambodian counterparts, and participate in sporting activities.
"This visit will contribute to strengthening friendly relations and cooperation between Chinese and Cambodian naval personnel," he told reporters after his meeting with Wang according to Xinhua.
The Chinese naval task force will also visit the Ream Naval Base of the Royal Cambodia Navy (RCN), the Chinese defense ministry said in a statement.
The visit, which the defense ministry classified as the fourth port call by Chinese PLA Navy warships "in recent years," comes just days after Chinese President Xi Jinping visited Cambodia. During the visit, China had reportedly pledged $14 million in military aid.
Banh himself had also visited China last week. After his meeting with General Fan Changlong, the vice chairman of China's Central Military Commission, last Thursday, China's defense ministry said in a statement that the two countries had vowed to push their ties to a "new height."
Few details were available, though, on the exact meaning of that phrase. Khmer Times quoted Banh as saying that China would help Cambodia improve its military capacity and provide military technical skills.
"If agreement is possible, China will install and place military equipment in Cambodian national defense units to improve protective capacity," he reportedly said.
Reuters, meanwhile, quoted Banh as saying that Cambodia planned to acquire fighter jets from China in the long term, but that the military was currently focused on strengthening its control of its airspace.