Does Another Election Loom in Japan?
A snap election may be political expedient for Abe, but do Japanese taxpayers need to pay for another election now?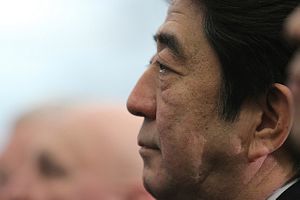 On October 3, Hakubun Shimomura, a former education minister and now a senior official in the ruling Liberal Democratic Party (LDP), signaled that Prime Minister Shinzo Abe can dissolve the House of Representatives (Lower House) for a snap election. Natsuo Yamaguchi, a leader or LDP's coalition partner Komeito, affirmed this prospect in his own speech last week that a Lower House election "could happen anytime." In response, Renho, a newly-elected leader of the opposing Democratic Party of Japan (DP), insisted that her party is "preparing to compete" in the anticipated Lower House election.
The current term of the Lower House does not expire until December 2018. Technically speaking, therefore, Abe does not have to call for another election for another two years. Why, then, has talk of a "snap election" begun to swirl?
One reason Shimomura cited was the ongoing deliberation to redistrict the current electoral districts by a commission established by the Ministry of Internal Affairs and Communication. Aimed at revising the existing electoral districts to make sure that the voters are neither over-represented nor under-represented in any of the districts across Japan, the 7-member commission, none of whom is an incumbent Diet member, is anticipated to submit the recommendations to the Prime Minister by the end of May 2017. Since the redistricting tends to work against the incumbents, Shimomura argued, the incumbents can demand an election under the current electoral district system before the commission's recommendation is issued, so that they can renew their terms for another 4 years.
Another reason that is often cited is Abe's desire to further consolidate his position both in the Diet and within his party. Since the ruling LDP-Komeito victory in the Upper House election held in July this year, a speculation grows on whether the LDP will allow Abe to extend his term-limit as its party leader (under the existing regulation, his term limit will come in September 2018). In recent days, it has been reported that the LDP will move to change its regulation on its leader's term limit either to "three 3-year term, maximum 9 years" or "no term limit," making it highly likely that Abe will be allowed to extend his term limit beyond September 2018. With an extended term as LDP president, many speculate that Abe, with another victory in the Lower House election, can not only remain in the office when Tokyo hosts the Olympics in 2020, but also can turn to his long-held desire of revising the Japanese constitution.
In fact, if Abe wants to solidify his power base, it makes sense for him to dissolve the Diet as many now speculate. The Democratic Party simply cannot seem to stop its decline. Although people had high hopes for the DP when Renho was elected to be its leader and became the first female leader in major political party in postwar Japanese politics, such hopes quickly evaporated as the Renho, already embattled with the criticism associated with her dual nationality with Taiwan, stumbled further in her appointment of the party's leadership positions. The very public process of DP members openly criticizing party leadership decisions on personnel appointment reaffirmed the image of the DP as the political party that cannot even govern itself, let alone be entrusted with the government. As the DP continues to explore the possibility of cooperation with the Communist Party, it is highly unlikely that the DP will do well in the Lower House election particularly if the election is held soon.
However, there is no discussion on how much these election would cost Japanese taxpayers. One analysis estimates that the Upper House election in July 2016 cost Japanese taxpayers approximately 55.5 billion yen. Furthermore, once the election looms as a real possibility, decisions tend to be postponed, as the legislatures grow more preoccupied about their own election campaign.
As we look at today's Japan, many major decisions await its leaders. Even before Abe can turn his eye on constitutional reform, Japan's leaders need to make tough decisions on the Trans-Pacific Partnership (TPP), establishing social infrastructure for working mothers to encourage them to stay in the workforce after childbirth, meaningful economic recovery — these issues need to be tackled as Japan continues to facing crushing national debt, growing questions on the social security and other welfare programs and sluggish economy at home while national security concern rises in its neighborhood.  Some of these issues cannot afford to have legislatures distracted by the prospect of a snap election.
An early snap election at the Lower House is a brilliant political tactic for Abe for sure. Still, a serious question needs to be asked whether it is wise to hold another national election merely 6 months after the last one, further costing taxpayers close to additional 55 billion yen.