Duterte Gambles With the Philippines' Economy
What are the economic implications of Duterte's pivot toward China, and away from the U.S.?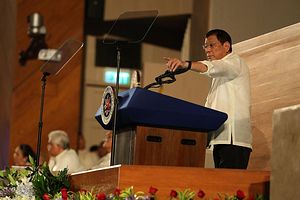 Foreign investors have reacted negatively to Philippine President Rodrigo Duterte's erratic statements, even before his recent trip to Beijing. Can the world's 36th largest economy and Southeast Asia's emerging powerhouse survive the fallout?
In his recent China visit, the provocative Philippine leader announced his nation's "separation from the United States" and said that he might travel to Russia to tell Russian President Vladimir Putin that "there's three of us against the world – China, the Philippines, and Russia."
A hypothetical authoritarian 'axis' combining the three economies would represent a collective gross domestic product (GDP) of nearly $13 trillion. Yet the vast bulk of this is accounted for China's $11.39 trillion and Russia's $1.27 trillion, with the Philippines contributing only $312 billion. By comparison, U.S. GDP exceeds $18.5 trillion, according to the International Monetary Fund.
Duterte's apparent switch of allegiance was rewarded with a reported $9 billion in credit from China, including $6 billion in soft loans. Chinese companies have also pledged to invest in the Southeast Asian archipelago, with China's Baiyin Nonferrous announcing plans to establish a $700 million stainless steel plant in the Philippines.
The 71-year-old Philippine leader reportedly told a Chinese business forum that "I have separated from [the United States] so I will be dependent on you for a long time."
While Duterte later clarified his remarks, saying he was calling for a "separation of foreign policy" rather than a "severance of ties," he did not back track on his earlier comments, which have included calling U.S. President Barack Obama a "son of a whore" and saying "I don't give a [expletive]" about human rights.
Trade Ties
After having ruled the Philippines for half a century until the end of World War II, U.S.-Philippine economic ties remain extensive. More than 2.6 million Filipinos live in the United States, with their remittances accounting for a third of the $17.6 billion sent home by Filipinos working overseas.
Trade in goods between the United States and Philippines topped $18 billion in 2015, while U.S. companies have more than $4.7 billion invested there. During the past decade, U.S. direct investments accounted for nearly 28 percent of the total, marginally higher than Japanese investments.
More than 1 million Filipinos work in call centers and data processing servicing many U.S. firms, an industry expected to generate $25 billion in 2016, helped by the English-language skills of the 102 million Philippine population.
While China is the Philippines' second-largest trading partner, its largest is Japan, and its third and fourth-largest trading partners are the United States and Singapore, respectively. These three nations collectively receive some 43 percent of Philippine exports, compared with the only 10.5 percent sent to China and 11.9 percent to Hong Kong.
Meanwhile, the Philippines currently obtains around 16 percent of its imports from China, with almost all the rest from the United States and its allies, including Japan, Singapore, South Korea and Taiwan.
"So it's not as if there is an especially pressing economic case for the Philippines to realign from the U.S. to China," said Max Boot, senior fellow at the New York-based Council on Foreign Relations, who said the Philippines could be the loser of billions of dollars of natural resources, from fish to oil, in the South China Sea.
Investors Flee
Investors have been voting with their wallets, with foreign direct investment in the Philippines shrinking by 41 percent in June from a year earlier. Last month, the Philippine peso slumped to an eight-month low against the U.S. dollar, making it the worst performing Asian currency after the yuan in 2016, with S&P Global Ratings warning of "rising uncertainties surrounding the stability, predictability and accountability" of the Duterte administration.
Duterte's crackdowns on major industries such as miners and gaming have worried investors, along with concerns over rule of law following his campaign against illegal drugs, which reportedly has killed more than 2,000 people.
"It's unclear how the new president is going to behave going forward," Mark Mobius, executive chairman of Templeton Emerging Markets Group, told Bloomberg News. "If there is a feeling that the rule of law is going out the window in the Philippines, then this would not be good news. But the jury is still out."
Another fund manager told The Diplomat his firm was "less positive" than it had been on the Philippines due to Duterte's ad hoc decision-making, with his decisiveness either "very good or very bad" for economic policy.
According to ASEAN statistics, the Philippines attracted foreign direct investment (FDI) of $5.7 billion in 2015, the same as the previous year, but it was facing increased competition from other Southeast Asian destinations, such as Vietnam.
A study conducted by Standard Chartered found 40 percent of foreign investors in China would choose Vietnam if they were forced to relocate, followed by Cambodia at 25 percent. The Philippines only gained 3 percent support as an alternative investment destination.
The Philippines' Socioeconomic Planning Secretary Ernesto Pernia has flagged new measures to lure foreign investors, including corporate tax cuts, improving power supply, allowing foreign businesses to hold long-term land leases, and increasing the foreign ownership cap to 70 percent from 40 percent.
Yet according to the World Bank's latest "Ease of Doing Business" rankings, the Philippines ranked a lowly 103rd, well below regional rivals such as top-ranked Singapore, China (84th) or Vietnam (90th). Transparency International rated the Philippines 95th in its 168-nation "Corruption Perceptions Index" for 2015, below China (83rd) although ahead of Vietnam (112th) and Cambodia (150th).
In an October 7 report, ANZ Research said negative international media coverage on the Philippines had made foreign investors turn cautious, hitting Philippine asset prices.
"A perception gap has clearly emerged. Amidst the portfolio selling by foreign investors, the Philippines' GDP growth forecasts for 2016 and 2017 have been upwardly revised," the Australian bank said.
"Behind the scenes, the new administration's economic team has put forth policies aimed at speeding up the delivery of the country's infrastructure program. In addition, within the first three months in office, a proposal for the first of four tax reforms was submitted to the Congress. So far, economic policies are aimed at achieving more equitable growth, diversifying away from the national capital region," ANZ explained.
However, it warned: "While the contribution of foreign investment to the Philippines has always been low, negative sentiment could persist, putting pressure on domestic asset prices and [the currency]. In addition, the environmental audit of the mining industry could significantly cut production and export revenues.
"While we see limited impact on growth, the risk is that more suspensions in mining production could lead to a further deterioration in the trade deficit, resulting in a much narrower current account surplus next year. However, we expect ongoing remittances and growth in the business process outsourcing sector to provide an offset."
ANZ Research sees what it once called the "strong man of Asia" posting GDP growth of 6.4 percent and 6 percent this year and next, with the International Monetary Fund expecting gains of 6.4 percent and 6.7 percent for the same period.
Yet with Duterte's rhetoric now making him the apparent new strongman of the Philippines, foreign investors have plenty of reasons to look elsewhere until the "perception gap" is closed.