How Beijing Uses People-to-People Ties as Leverage Over Taiwan
Beijing hopes to convince Taiwanese to pressure their government into more politically accommodating positions.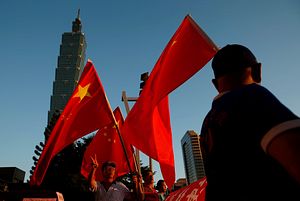 Since Tsai Ing-wen's inauguration in May 2016, her reluctance to endorse the so-called "1992 consensus," a vague understanding that the Mainland and Taiwan constitute "one China," has become an increasingly contentious issue in cross-strait relations, resulting in Beijing's suspension of official communication mechanisms between the two sides. Beijing has also sought to exert pressure against the Tsai government by undermining Taiwan's international space. This has led to the recent rejection of Taiwan's participation in the annual meeting of the International Civil Aviation Organization (ICAO), as well as the deportation of nearly 200 Taiwanese citizens accused of fraud from countries such as Armenia, Cambodia, Kenya, and Malaysia to Mainland China, instead of Taiwan. These continued pressure tactics may also have economic consequences for Taiwan. In recent months, tourism from Mainland China to Taiwan has decreased significantly, and the asymmetric interdependence in cross-strait economic relations could be further exploited if relations were to worsen.
Perhaps less apparent is the fact that the multiple dimensions of Beijing's coercive diplomacy have been complemented by the Communist Party of China's renewed utilization of people-to-people relations in order to advance political objectives.
Although official and semi-official mechanisms of cross-strait relations have been halted, the Chinese leadership has emphasized their intention to maintain and even expand all unofficial ties. While Beijing has followed through with its promise to cut official communications between the Taiwan Affairs Office (TAO) and Taiwan's Mainland Affairs Council (MAC), as well as associated semi-official mechanisms, the TAO has concurrently reaffirmed the importance of people-to-people relations. Even as the TAO's response to Tsai's inaugural address made clear China's dissatisfaction with Tsai's failure to adopt its preferred political base for continued ties, the final paragraph of its official statement set clear limits on Beijing's choice to suspend talks:
The Taiwan compatriots share blood ties with us and there is no force that can separate us. We will further expand exchanges between compatriots on both sides of the Taiwan Straits, advance cross-Straits exchanges and cooperation in various fields, deepen the integrated economic and social development of the two sides, and improve the well-being and strengthen the close bond of people across the Straits, so that the two sides of the Taiwan Straits will build a community of shared future and join hands to realize the great rejuvenation of the Chinese nation.
Beijing has since reinforced this rhetoric with action. Over the past several months, a variety of cross-strait exchanges, mediated through the TAO, have occurred. These meetings are not merely gestures of goodwill, but rather attempts to protect Beijing's interests. Chinese leaders understand well that contemporary cross-strait ties are both broad and deep, and a total cessation of all economic, educational, and social relations would be unprecedented and counterproductive. The TAO's recent initiatives reflect Beijing's hopes that Taiwanese with a stake in smooth cross-strait ties might be convinced to pressure their government into more politically accommodating positions, with a particular focus on local ties, the business community, and youth.
As recent meetings since Tsai's ascension to the presidency show, local-level exchanges seem to offer China's leaders an especially useful platform to undermine the Tsai administration. Jessica Drun of the National Bureau of Asian Research (NBR) astutely points out that exchanges with local-level Taiwanese that make public concessions on the 1992 Consensus give Beijing a chance to counterbalance national cross-strait policies, and provide political currency to Tsai's domestic foes.
On June 24, just days before the TAO confirmed the freezing of official talks, TAO head Zhang Zhijun met a local delegation led by Taiwan's Nantou County head Lin Ming-chen in Beijing, and reiterated that people-to-people exchanges in various fields would continue to advance. Then on August 22-23, at the seventh Taipei-Shanghai City Forum in Taipei, Shanghai City's United Front Work Department head Sha Hailin reminded his hosts of the number of Taiwanese businesses and workers in his city, and upheld the 1992 consensus as the foundation for smooth ties. On September 18, CPC Politburo Standing Committee Member and Chinese People's Political Consultative Conference Chairman Yu Zhengsheng met a delegation of county and city officials from Taiwan in Beijing, stating that any localities that recognize the "true nature" of cross-strait ties would be "warmly received."
In a September 28 press conference, TAO spokesperson Ma Xiaoguang reported that eight cities and counties in Taiwan have formally articulated their continued support for the 1992 consensus; as a result, the mainland is planning to strengthen exchanges and cooperation with them, including through hosting events that promote their tourism and agricultural industries before the year's end.
The TAO has also sought to co-opt Taiwan's business community in its efforts to reestablish the 1992 consensus as the "political basis" for cross-strait ties. In a speech at a trade fair on September 1, Zhang Zhijun called upon Taiwan's business community to "safeguard the peaceful development of cross-strait ties and the political foundation," exhorting them to contribute to the construction of a "cross-strait common destiny" and the achievement of the great rejuvenation of the Chinese nation. In his remarks, Zhang emphasized that the mainland had a "cross-strait family" concept" in mind and would focus on the long-term interests of "compatriots" on both sides. In particular, this would involve the continued promotion of cross-strait economic and trade exchanges and cooperation, as well as the introduction of policy measures to advance industrial cooperation and "optimize" the business environment.
The CPC has long perceived those who materially benefit from close ties with China, such as the "Taishang" (Taiwan's China-based businesspeople), as potential allies, due to their investments in China. The TAO's efforts to encourage participation in exchanges by Taiwanese youth, small and medium enterprises (SME), and "grassroots" farmers and fishermen are framed as "sharing the fruits of the mainland's economic development."
The intensified focus on cross-strait youth exchanges also reflects a strategic effort to promote common ground with the next generation, at a time when Taiwan's people increasingly identify as Taiwanese, not Chinese. On June 20, Zhang received a delegation from the Kuomintang Young Workers Federation in Beijing, where he pointed out that young people are the future of cross-strait relations, expressing his hope that youth from both sides of the strait would increase contact and communication. The delegation also held meetings with the Communist Youth League and the All-China Youth Federation. On July 12, Politburo Standing Committee member Yu met with a visiting delegation of Taiwanese youth and encouraged them to "love their country and love their nationality." On August 18, the TAO established 20 new cross-strait youth entrepreneurship bases and 11 cross-strait youth employment and entrepreneurship demonstration sites, bringing the total to 41 and 12 respectively. At the time, Zhang's remarks emphasized the need for youth from both sides of the strait to bravely shoulder their historical responsibility to uphold the One China principle.
Given the historical record of cross-strait relations, it is not surprising that the CPC has selectively continued people-to-people relations, with an eye to securing Beijing's long-term interests. Indeed, even during more tense periods of cross-strait relations, Chinese officials have continued to meet with those whom they deem suitable to advance China's political goals. For example, during the months leading up to Taiwan's March 2004 referendum on cross-strait relations, which Beijing saw as a precursor to further moves toward independence, the CPC regime's threat signaling apparatus was operating at overdrive. The TAO warned that China's "restraint has a bottom line" and explained conditions for China's use of force against Taiwan; the Central Military Commission reiterated its "willingness and strength" to "guarantee unification;" and President Hu Jintao swore that China "will by no means allow anyone to separate Taiwan." Yet amid the threats, Hu met with 200 Taiwan businessmen to emphasize China's desire for cross-strait exchanges, albeit with a warning against Taiwan independence. It is no coincidence that in late 2003 and early 2004, economic relations were already expanding rapidly, with Beijing's Ministry of Commerce registering 30.7 percent growth in cross-strait trade in 2003.
Looking forward, the CPC's approach to Taiwan under the Tsai administration will likely continue to involve a dual approach — engagement in threat signaling and coercive diplomacy, yet concurrent promotion of selective people-to-people exchanges, with ongoing attempts to deepen Taiwan's asymmetric economic dependence upon the mainland. Whereas the intensified focus on local-level exchanges may reflect an attempt to undermine Tsai domestically, the outreach to Taiwan's business community also reflects a long-term attempt to advance the mainland's influence among those who have an economic stake in the continued stability of cross-strait relations. The high-level emphasis on the importance of cross-strait youth relations also reflects the CPC's attempts to influence the next generation and inculcate a more "Chinese" sense of nationality.
Although the efficacy of these efforts may remain limited, this softer side of the CPC's campaign to reaffirm the 1992 consensus and advance its political interests in Taiwan may prove able to take advantage of the incentives and potential leverage associated with the economic dimensions of cross-strait relations.
David Gitter is the editor and Great Helmsman of PARTY WATCH, the premier weekly intelligence report on the activities of the Chinese Communist Party.
Elsa Kania is a researcher for PARTY WATCH and an analyst at the Long Term Strategy Group.