Seven million. That's how many lives are lost every year because of air pollution. The figure is so shocking that the World Health Organization has called this slow and silent killer the "world's largest single environmental health risk."
According to the WHO, a whopping 92 percent of the world population is living in places where air quality levels are not being met. Change isn't coming quickly enough… but it is coming.
India, which saw over a million lives lost in 2013 because of air pollution and has four of the world's top ten polluted cities, has a long way to go to claim a green crown. But some of its cities are taking seemingly minor measures that are already reaping major rewards.
The small city of Tezpur in the tea region of Assam has become India's cleanest city and its residents are breathing easier because of it. Here, since the last WHO air-quality report in 2014, PM10 pollution, caused by dust particles, has been reduced by close to 85 percent — a vast improvement in a country that has been focusing on rapid urbanization and industrial development.
The residents of Tezpur have only themselves to thank for this. Over the years, they've been making conscious efforts to go green. Trees are being planted, waste is segregated into either organic and inorganic, trucks are being re-routed out of the city center, and residents are speaking up about their environment. But crucially, the local industry has cut back on or switched entirely away from coal to cleaner energy.
CNN's "Eco Solutions" visited the Matiapahar tea plantation during the harvest season and witnessed the change first hand. Here, heavy duty machinery that had been powered by coal now runs on liquefied petroleum gas. Even though LPG is produced from fossil fuels, it produces virtually no particulate pollution compared to burning coal. In other words, it's basically smoke free.
Arabhinda Bhattacharjyam, the manager at Matiapahar Tea Garden, tells us it's a win-win for the environment, the workers inside the factory, and for the product itself. "We have used liquefied petroleum gas since 2002," he says. "Now the quality of the tea is much better. Now we are selling good quality tea in the market."
With cleaner air, the quality of the tea improved and the price of tea jumped from 45 to 67 rupees per kilo – making LPG a sound environmental and business decision. In fact, the move has become so popular that 40 tea gardens in Assam have entirely dispensed with coal, using LPG as their main source of fuel.
These efforts go beyond tea gardens. Stone cutting mills and waste paper mills, some of the main industries of Tezpur, have found ingenious ways of controlling air pollution. In the former, water is sprinkled every six hours to contain dust particles. In the latter, rice husks – which are locally available, 30 percent cheaper than coal, and do not emit a high amount of particulate matter – are being used as fuel.
"Compared to before, the pollution has gone down by 50 percent," says Motilal Sipani of Star Paper Mills. "Every year, the people from the Air Pollution Control Board come to check on the air quality. They bring machines and keep it on for 48 hours [to collect their sample]. From that, they see how much has been released."
At home, residents are making conscious efforts to go green too, helped by subsidies from the government. Tezpur resident Jasmina Begum tells us she used to cook rice and dal with souka (bamboo pieces). Now, with LPG she cooks more quickly and cleanly and already she's feeling the benefits: "When I used souka, my eyes would tear up. I had problems breathing. Now, I have no tears in my eyes and nothing from my nose."
The hope now is that other cities can follow in Tezpur's cleaner footsteps. Arabhinda Bhattacharjya, the manager at Matiapahar Tea Garden, says for that to happen, mentalities have to change.
"I have met people who live in industrially advanced cities like Delhi [or] Kanpur, and I have found that their mindsets are completely commercial, industrialized," he says. "They only want to work for profit. They do not see the use in planting trees. They are not concerned about environmental conservation. But people should consider these places as their homes. You must love your city and your environment, only then the change will come."
A wise reading of the situation from a man that makes a living with tea leaves.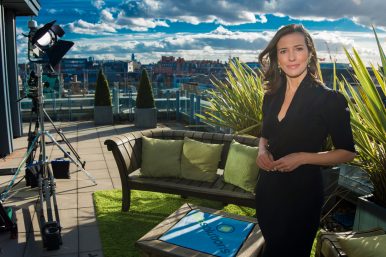 Isa Soares, international correspondent and host of "Eco Solutions" on CNN International.
Each month CNN's Eco Solutions takes an issue from the green agenda and looks at what people are doing to address the issue. From the cities improving the air they breathe to the countries running on renewables, the program talks to people the world over who are taking steps to solve and improve our environmental challenges.