India Uses Public Safety Act for Its Crackdown on Dissent
Khurram Parvez was on his way to Geneva for the UN Human rights council session when he was arrested.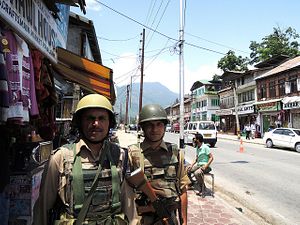 GENEVA — On October 19, UN high-level experts called on the Indian government to release Khurram Parvez, a well-known and outspoken human rights defender in India. The statement was signed by Special Rapporteurs, including the UN Special Rapporteur on the situation of human rights defenders, Michel Forst, and the UN Special Rapporteur on the rights to freedom of peaceful assembly and association, Maina Kiai.

"Mr. Parvez`s continued detention following his arrest just a few days before his participation in the UN Human Rights Council, suggests a deliberate attempt to obstruct his legitimate human rights activism," said the experts.
On September 14, Parvez was on his way to Geneva to attend the 33rd session of the UN Human Rights Council when he was prevented from traveling out of India by airport authorities in Delhi. The UN experts conveyed their concerns to the Government of India, but the official information received so far does not provide clear details on the exact nature of the charges against Parvez, which seem to rely mainly on vague accusations of alleged "anti-India" activities, aimed at disrupting the public order. 
Parvez has been charged under the highly controversial Jammu and Kashmir Public Safety Act, which is a law that permits administrative detention without judicial intervention for up to two years. The international community is concerned about allegations that this law has been arbitrarily applied to target human rights defenders.
According to Human Rights Watch, the law contains vague and overly broad terms such as "security of the state" and "public order." The law also protects officials from legal proceedings for anything "done or intended to be done in good faith," which is inconsistent with the right to remedy for arbitrary detention or other human rights violations. "The law has often been used to detain people on vague grounds for long periods, ignoring regular criminal justice safeguards," says HRW.
In early July, protests began in the Kashmir region following the killing by Indian forces of a leader of the armed group Hizbul Mujahideen. The authorities have detained over 400 people. Although the amendment made in 2012 to the Public Safety Act prohibits the detention of anyone under 18, children under 18 have been detained for participation in protests.
"The use of the PSA to detain people, particularly children, violates a range of human rights, and its increasing use in recent weeks undermines the rule of law and further entrenches impunity in Kashmir," said Sam Zarifi, ICJ Asia Director. "Police should end the use of the PSA; if people are suspected of committing offenses, they should be properly charged and given fair trials."
According to Frontline Defenders, human rights defenders in India face a diverse range of attacks and harassment, including killing, torture, ill-treatment, forced disappearance, arbitrary detention, and judicial harassment. Human rights defenders have also been labeled "insurgents and Naxalites (Maoists), in an attempt to discredit their work and justify their targeting" says Frontline Defenders.
There are dozens of human rights defenders and journalists who are still in prison for their work in India. On March 21, Prabhat Singh, a human rights defender and journalist, was detained. He had been investigating false cases brought against tribal villagers in the areas of Chhattisgarh. He also played a key role in highlighting several cases of police brutality and human rights violations in the Dantewada district of India.
According to Frontline Defenders, while Prabhat Singh was in custody he was beaten and sharp objects were used to cut his hands. Police officers also verbally abused and made death threats against him, forcing him to sign several blank pieces of paper.
Recently, the Observatory for the Protection of Human Rights Defenders, a joint program of the World Organization Against Torture Made and FIDH made an urgent appeal regarding the harassment of Kirity Roy, another Indian human rights activist and founder of human rights organization MASUM (Benglar Manabadhikar Surakksha Mancha) and his associates.
The Observatory expressed its deep concern about the ongoing harassment against the human rights defenders, including judicial harassment, arbitrary detention, ill-treatment and threats. They called upon the Indian authorities to put an end to all attempts to intimidate and criminalize members of MASUM and to guarantee the security and physical and psychological integrity of human rights defenders in India.