Louder Than Words: Actions Speak Volumes for New Zealand-US Relations
As Wellington pursues improvement in its relations with Washington, challenges remain.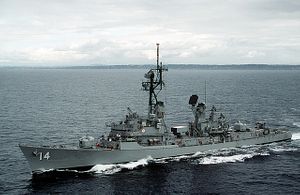 In June, New Zealand Foreign Minister Murray McCully announced that when a U.S. Navy vessel visits Auckland this November, it will not be required to declare its armament. Indeed, that the vessel's presence at the New Zealand Royal Navy's 75th anniversary celebrations was requested by Wellington, rather than Washington, is particularly significant given the history between the two nations.
In 1984, the government of then-Prime Minister David Lange announced the Nuclear Free Zone, Disarmament, and Arms Control Act, banning nuclear-powered or nuclear-armed vessels from entering New Zealand's waters. The law was enforced the following year, when the USS Buchanan was refused docking permission due to the United States' protocol of neither confirming nor denying the armament of its assets. The incident resulted in New Zealand's suspension from the ANZUS Treaty, and a diplomatic deep freeze between the two nations.
However, while some have suggested that U.S. Vice President Joe Biden's recent visit to New Zealand was a sign of an overdue warming in relations, there is ample evidence to suggest that it simply marks the latest port-of-call on a charted course toward a sort of diplomatic normalization that has steadily unfolded over the last decade.
When former Prime Minister Helen Clark visited Washington in 2007, President George W. Bush attempted to put the nuclear issue to bed. In 2012, during the first visit by a U.S. Defense Secretary to New Zealand in 30 years, Leon Panetta announced that New Zealand's Navy would regain access to appropriate U.S. mainland facilities. Further, both the Wellington Declaration in 2010 and the Washington Agreement in 2012 endeavored to restore official defense ties, ultimately realized in 2015. That same year, documents leaked by Edward Snowden revealed joint operations between New Zealand and American intelligence services to hack into the Chinese Ministry for Foreign Affairs in 2013, highlighting New Zealand's role in the controversial Five Eyes intelligence gathering club. Taken together, the trends suggest that the scheduled November visit is simply another point along an existing course towards what could be called strategic normality.
Indeed, the potential upgrading of strategic relations with the United States would appear to enhance New Zealand's own defense agenda, both at home and abroad. Prime Minister John Key stated that New Zealand's "security and prosperity is inextricably linked to events occurring far from our shores," and that the nation's geographical isolation no longer affords it the strategic luxuries of old. At the same time, the country's defense force is currently incapable of operating independently in major global hotspots. Indeed, the NZ$20 billion recently allocated to defense over the next 15 years is directed primarily at upgrading preexisting capabilities and expanding cyber security, naval and air assets in the interests of improving interoperability with larger United Nations coalitions. While the 2016 Defense White Paper barely mentions the United States by name — let alone a pending alliance — it nevertheless reinforces New Zealand's core interests in supporting international institutions and upholding international law, objectives commonly associated with America's international agenda.
Indeed, the symbolic November visit could have much broader ramifications for New Zealand's international relations. Kiwi governments over the years have successfully retained an independent diplomatic mantra, balancing between a strategic relationship with the United States and deepening economic links with Asia, especially China. Wellington's positive international image was also instrumental in its election to the United Nations Security Council between 2015-2016. A reputation as a good global citizen and the utility afforded by this identity is something Kiwi governments would be well advised to maintain. However, given the recent findings on the South China Sea, for Wellington to claim neutrality in its support for international institutions may no longer be sufficient in its relations with Beijing. Indeed, growing strategic ties with America could potentially complicate the China relationship should New Zealand be seen to fall on the wrong side of the dispute. Perhaps the Chinese backlash against Australia's position on the issue may provide New Zealand with an example of how not to approach the situation.
New Zealand shares enviably close relations with China. In 2008 it became the first Western nation to seal a Free Trade Agreement with the Asian economic giant, while securing a strategic cooperation agreement in 2015, the Five Year Engagement Plan. Even so, these relations did not prevent Beijing from making economic threats during Key's most recent visit to China, should New Zealand side with the United States on the South China Sea issue. At the same time, in utilizing its established advantages to reassure Beijing of its neutrality, Wellington will also need to be wary of its international reputation and the growing expectations that will inevitably accompany closer relations with the United States.
In sum, New Zealand is not only challenging its traditionally understated role in global politics, but at the same time is also challenged by such alterations. Indeed, the return of American hard power to New Zealand in November will most likely have significant consequences for Wellington's foreign policy more broadly. While "runs cannot be subtracted" from those already scored with Beijing, the absence of a formal U.S.-NZ alliance should not distort the significance of their hastening rapprochement. After all, actions commonly speak louder than words.
Tom Corben is an International Relations and Asian Studies graduate from the University of New South Wales, Australia.