Meet India's New Patriots and Nationalists, From Bollywood and Business
"Nation comes first." A new euphemistic refrain emerges in India.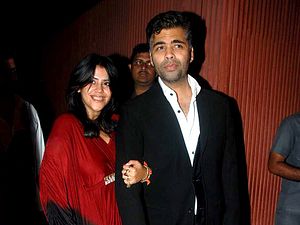 "I'm absolutely clear about one thing — for me, it is always country first," said Mukesh Ambani, the chairman of Reliance Industries and India's richest businessman. Cricketer Gautam Gambhir has uttered similar words. So have Bollywood actors Ajay Devgan and Nana Patekar.
When headlines in India quote this one line or a variant thereof, you know the rest of the story: In the name of love for the nation, someone has just tried to make xenophobia sound cool. It is the story of rising intolerance in India.
Fawad Khan, the handsome Pakistani actor with a massive fan following in India as well, plays a part in a forthcoming Bollywood film, Ae Dil Hai Mushkil, directed by Karan Johar. The Mumbai-based xenophobic political party, Maharashtra Navnirman Sena (MNS), wanted to stall the release of the film, scheduled for October 28, and threatened to vandalize movie theaters screening the film.
After Chief Minister Devendra Fadnavis' intervention, they've now called off their protests, but have asked all film producers using Pakistani actors in their films to pay 50 million Indian rupees ($748,000) to the Indian Army. The money presumably is meant to absolve them from the sin of a lack of patriotism.
Earlier, the Indian Motion Picture Producers' Association passed a resolution to disallow Pakistanis from working in Bollywood. And the Mumbai film festival cancelled the screening of the famous Pakistani 1959 film, Jago Hua Savera.
India's relations with Pakistan have hit a new low in recent times, particularly after the September 18 terror attack in Uri in India-administered Kashmir, where 18 Indian army personnel were killed. In response to the attack, India pulled out of the SAARC summit that was supposed to be held in Pakistan. The summit was later canceled. India has also claimed it conducted "surgical strikes" against terror targets across the Line of Control and it continues to work toward the international isolation of Pakistan.
But can a protest be complete without dragging in Bollywood, popular in Pakistan as well? Cricket was spared — if only because India and Pakistan have long since ceased to play bilateral games.
The major worry is not the politics of a bunch of xenophobic politicians, cheered on by their rowdy supporters; they are known to create nuisance at every opportunity. The worry is the sanction that their actions have got from the "decent," usually apolitical class, represented by the Ambanis, Gambhirs, Devgans, Patekars, and a host of other people. When such a large contingent of society backs hooligans, with the nationalistic government watching on, then Indian democracy is definitely in trouble.
"Nation comes first." Utter just this one line and you are sorted. This one line will sufficiently declare where you stand — with the jingoists or against them. There is no scope for nuance in this black-versus-white debate in our hashtag-defined, headline-dictated world.
Every season, there is some such line, or a phrase, used like a refrain, to define you, classify you. Will you or won't you chant "Bharat mata ki jai" (Hail mother India)? Do you or don't you think India is intolerant? If you think India is intolerant, please take leave of the country and head west to Pakistan — this is what they told Bollywood's biggest stars, among them Aamir Khan and Shah Rukh Khan, for expressing their worries over India's shrinking liberal space.
Controversy was guaranteed to follow anyone uttering the word "intolerant." Such was the fear that word conjured that actor Tabu once told her interviewer, "Please, no questions on intolerance." Her refusal was in itself a clear indication of the prevailing atmosphere in the country.
At some level, it looks like collective insanity has taken hold over the nation. It's almost fashionable to not make sense at all. Take the example of Mukesh Ambani. From a business leader like him, one would expect a more pro-industry remark, something that improves the business atmosphere. But he chooses to jeopardize the commerce of Karan Johar's film with his "nation comes first" remark.  And he does so in the name of the nation.
In keeping with the mood, a pusillanimous Johar surrendered to the bullies with the same phrase on his lips. He released a video, saying he loved the country and promised not to use Pakistani actors in the future. He "beseeched" viewers to flock to his film for the sake of the "blood, sweat, and tears" of the 300 Indians that were on his film crew. We can only presume that Fawad Khan does not bleed when you prick him.
While liberal society was aghast, the MNS troublemakers were not impressed. But the film didn't go to waste. Indian Home Minister Rajnath Singh promised protection to theaters screening the film and the Maharashtra chief minister facilitated a dialogue between Raj Thackeray, the MNS leader, and Johar.
For now, Johar's path looks less mushkil (difficult) and Ae Dil Hai Mushkil can be expected to hit the theaters in time for this Diwali, the Indian festival of lights, as planned.
But the fight is far from over. Because these issues are not just about one film. The film, if anything, serves as a trailer for the rather dangerous times ahead in India, with its rising right-wing extremism, an unquestioning and pliant media, and a smug and belligerent government.