North Korean 'Purge' May Not Be So Serious
Details of a recent 'purge' suggest a temporary demotion rather than permanent removal from power of a senior official.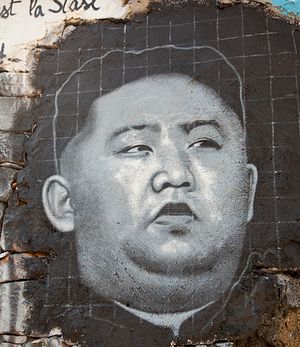 North Korean leader Kim Jong-un reportedly purged a high-ranking official over the defection of the vice ambassador to the UK, but details of the punishment suggest a temporary demotion rather than permanent removal from power.
South Korea's JoongAng Ilbo newspaper, citing an unnamed source, reported Wednesday that vice foreign minister Kung Sok-ung had been purged as punishment for the defection of Thae Yong-Ho to South Korea in July.
Kung and his family were expelled from Pyongyang to a rural farming area, the report said, adding that four other diplomatic officials in charge of European affairs were also banished from the capital.
Thae was the most high-ranking official to flee North Korea in nearly two decades, causing major embarrassment for the regime.
If true, Kung's removal would follow a string of confirmed and unconfirmed purges during Kim's five years in power, including the execution of his uncle Jang Song-thaek for alleged corruption in 2013. Just last month, South Korea's Ministry of Unification claimed that a vice premier responsible for education, Kim Yong-jin, had been killed for disrespecting the third-generation leader.
But Michael Madden, a visiting scholar at the U.S.-Korea Institute at Johns Hopkins University, said the context of Kung's alleged removal indicated a less serious punishment than suggested by media reports.
"The titles say he was 'purged' but the story itself says that he was sent away for reeducation. These are two very different things," Madden said. "Senior and mid level officials are often sent away for a few months — just last year Choe Ryong-hae (one of the country's most powerful officials) was sent for reeducation — for various infractions, including senior staff of the foreign ministry. If we look at the Workers Party of Korea Political Bureau or other central power organs, we will find that a majority of the members have been sent away for reeducation and in some cases were demoted to lower positions for several years."
Reports of purges, usually based on shadowy unverifiable sources, have turned out to be false in the past. In May, former army chief of staff Ri Yong-gil appeared at the 7th Congress of the Workers' Party of Korea, months after his supposed execution. Last year, Seoul's National Intelligence Service, the equivalent of the CIA, falsely reported the execution of another senior official, Han Kwang-san.
If Kyung has indeed been removed, his demotion could be short-lived, Madden said.
"He will attend courses at the higher party school and maybe toil at a farm, and then be back on the job at the foreign ministry," said Madden. "Mr. Kung is highly respected by his foreign interlocutors. He has a lot of friends among the diplomats and NGOs that do business with the DPRK (North Korea). He also has close ties to several core elites.  So it is highly probable he will be back fairly soon."