Political Scrambling in Hong Kong Begins
Politicians (and Beijing) are already preparing themselves for the 2017 chief executive race.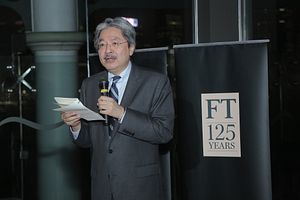 The first post-colonial leader of Hong Kong, Tung Chee-hwa, has taken the unprecedented step of inviting the roughly 200 local delegates to China's top political advisory body to discuss plans for the ­coming Hong Kong Chief Executive elections.
With less than six months to go, there has been a groundswell of support for localist movements in Hong Kong, and an increasingly vocal minority demand for self-determination. The incumbent leader, CY Leung, is a divisive figure, even within the pro-Beijing camp – the city's democrats deplore him, and he is perhaps the most unpopular leader Hong Kong has seen. China is clearly uncomfortable with the levels of disunity.
A Beijing loyalist to the core, Tung's move is a sign that China is uneasy with the current political situation in Hong Kong. Tung called the meeting, held at the Chinese liaison office in Hong Kong's Western district, to discuss the mechanisms by which 51 Beijing-friendly representatives would be selected to the 1,200-strong Election Committee on December 11. The committee ultimately votes for the next chief executive of Hong Kong, and China does not want to see their preferred selections lose out.
The unusual move comes on the back of a public endorsement for current Finance Secretary John Tsang Chun-wah to contest for the top job next year, by former Finance Secretary Antony Leung Kam-chung.
"No matter who leads Hong Kong, I hope he or she will be better able unite Hong Kongers," Leung said. "Of course, they should implement 'one country, two systems' effectively and build the economy and improve people's lives."
Leung is an adviser to Tung's think-tank and is reportedly a respected figure among the political elite. He has not been overtly opposed to the incumbent leader CY Leung (no relation), which makes his endorsement all the more significant. Tsang, Antony Leung, and another former finance minister, Henry Tang Ying-yen, posed for a photo together at the event, which was subsequently circulated on social media and has been interpreted as a poke at CY Leung. Tang was Finance Minister from 2003-2007, but is perhaps best remembered as CY Leung's bitter opponent at the last chief executive elections, which turned out to be quite a nasty contest.
Antony Leung is not the first significant administrator to not endorse the incumbent leader. Lawmaker and the city's number three official Regina Ip Lau Suk-yee, long allied to CY Leung, refused to acknowledge him as a good candidate for the upcoming elections. It was also reported that the deputy director of the State Council's Hong Kong and Macau Office, Feng Wei, met with respected democrats and spoke with middle-roader Fred Li Wah-ming.
"I broached the topic and told him that Leung should not be re-elected as chief executive as he has divided Hong Kong society; that it would be destructive for Hong Kong's future," Li told the South China Morning Post. "Basically there is no tolerance towards opposing voices now, as [CY Leung] treats all others as enemies… In terms of affinity, John Tsang is definitely doing better. It is evident from his communication skills and his tolerance of different ideas."
Feng also met Democrat Ronny Tong Ka-wah, who likewise told Feng that Beijing should consider another candidate for chief executive next year. These meetings were significant, as traditionally Beijing only ever met with pro-establishment politicians from Hong Kong. Both Li and Tong said Feng revealed nothing of Beijing's intentions, but said he had voiced concerns over the calls for independence.
It is understood that delegates at the meeting convened by Tung were asked by Beijing to "play an active role in Hong Kong affairs, and to take into account the city's big picture," according to the South China Morning Post. This was perhaps an allusion to CY Leung's unpopularity – ironic, given his public image has largely been shaped by his willingness to carry out the will of the Chinese government. While no leading candidate has been identified, Beijing now appears to be aligning its crosshairs on Leung.