Singapore Unveils New ASEAN Cyber Initiative
City-state steps up efforts to promote regional cooperation in the cyber domain.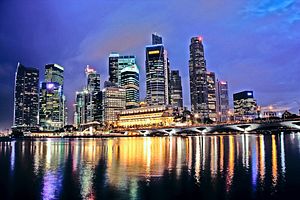 This week, Singapore hosted the inaugural ASEAN Ministerial Conference on Cybersecurity in yet another demonstration of the growing importance of the issue in the region. During the meeting, the city-state also unveiled a new initiative to boost ASEAN's capacity to tackle cyber threats that is worth noting.
As I have noted before, Singapore has been paying keen attention to the cyber domain as a developed, highly-networked country which relies on its reputation for security and stability to serve as a hub for businesses and attract talent. Part of the city-state's cybersecurity strategy, Singapore's Minister for Communications and Information Yaacob Ibrahim noted during his opening address at the ministerial conference this week, is building international partnerships. Investing in this aspect of the strategy, Ibrahim said, recognizes the reality that as countries become more interconnected, that also increases the chance that the impact of cyber attacks could spill over into other countries.
As part of this, the new ASEAN Cyber Capacity Program (ACCP) aims to fund resources, expertise and training to help nations build up their infrastructure necessary to counter cyber threats. It would include a wide variety of mechanisms including workshops, seminars and conferences, consulting efforts at forming cybersecurity legislation and strategies.
"The flexibility of the ACCP funding allows us to channel efforts to where they are most needed and can be most effective," Ibrahim said.
ACCP, Ibrahim emphasized, would complement existing bilateral and regional measures focused on incident response, confidence-building, and cyber capacity-building, including work within the ASEAN Regional Forum (ARF), the annual ASEAN CERT Incident Drill, and workshops like the U.S.-Singapore cybersecurity capacity-building workshop held in August.
Singapore would invest S$2 million a year in the initiative over five years, bringing the total to S$10 million.
ACCP was only one of several proposals that Singapore focused on during the conference. In his address, Ibrahim also highlighted the city-state's sponsorship of CyberGreen – a global initiative aimed at assessing and promoting awareness about the cyber health and potential vulnerabilities within countries – as well as the need for ASEAN to begin its own dialogue on cyber norms given ongoing global discussions on cyber norms in platforms such as the United Nations Group of Government Experts (UNGGE).