To Fend Off China, India Must Galvanize Ties With Bangladesh
India must make every effort to capitalize on her extant goodwill in Bangladesh before it's too late.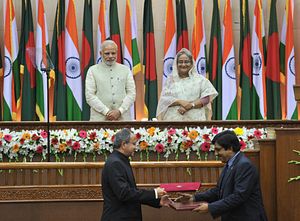 India's relationship with Bangladesh is deep-rooted, and for the most part, has been friendly. Geographically, they share a 4,096 km international border; historically, India played a prominent role in the very creation of Bangladesh; economically, the bilateral trade between them is substantial; culturally, the two unite on several counts like music, literature, language, and art; politically, the current dispensation in both countries is pragmatic and keen to enhance bilateral ties. Other shared interests are manifested by India and Bangladesh's common membership in sub-regional groupings like the South Asian Association for Regional Cooperation (SAARC) and the Bay of Bengal Initiative for Multi-Sectoral Technical and Economic Cooperation (BIMSTEC).
India has so far successfully exercised its clout over the region, and Bangladesh views India as a key player in its foreign policy discourse. Dhaka has wholeheartedly backed Delhi's position on several controversial issues. Recently, when terrorist attacks were perpetrated on Indian soil, Bangladesh unequivocally supported India in its quest to diplomatically isolate Pakistan by boycotting the SAARC meeting to be held at Islamabad. Dhaka also endorsed the "surgical strikes" that India launched across the border as retaliation against Pakistan.
Notwithstanding the bonhomie between India and Bangladesh over the years, there is now concern as China deepens its footprint in Bangladesh. Chinese President Xi Jinping's visit to Bangladesh earlier this month was considered a "milestone" as it was the first such visit in three decades. China's sphere of influence in Bangladesh cannot be underrated, considering the number of high-value agreements that were signed, all steps toward fulfilling the developmental ambitions of Bangladesh. What is of particular concern to India is that for the first time, Sino-Bangladeshi energy cooperation outstripped Indo-Bangladeshi energy cooperation. India had also extended a $2 billion line of credit to Bangladesh last year, thereby embellishing bilateral ties. But during Xi's visit, China signed off on loans worth $24 billion, leaving India far behind. China and Bangladesh agreed to elevate their relationship from a "comprehensive partnership of cooperation" to a "strategic partnership." Bangladesh is also backing China's "One Belt, One Road" (OBOR) initiative, which will boost trade and economic growth in Bangladesh.
China and Bangladesh have had a checkered history. China, much to the dismay of Bangladesh, backed Pakistan in the Bangladeshi war of independence of 1971. China was one of the last countries to recognize Bangladesh as an independent country, as late as in 1975. However, notwithstanding the fact that unlike India, there was no historical congeniality between them, Sino-Bangladeshi ties today are growing expeditiously.
Bangladesh is consciously pursuing a balanced foreign policy approach. That means Dhaka is cautiously cozying up to China without jeopardizing its intimate relationship with India. China, meanwhile, has been eyeing the Bay of Bengal region to develop naval facilities in India's backyard. Beijing had agreed to build a deep sea port at Sonadia Island, south of Chittagong, which would serve China as a crucial hub in its "string of pearls" strategy. However, earlier this year, Bangladesh canceled the project due to "lack of commercial viability" — much to India's relief.
Despite the setback, China is fastidiously making inroads into the region using its economic strength as well as astute diplomatic tactics. Prior to attending the 8th BRICS-cum-BIMSTEC outreach summit held earlier this month in Goa, India, Xi visited and impressed Bangladesh. This ingenuity on part of China served notice to the world that India is not the only lead performer within the BIMSTEC grouping.
The burgeoning relationship between China and Bangladesh thereby pressures India to proactively take steps to retain its superior position vis-à-vis Bangladesh. Besides the China factor, it is crucial for India to buck up and invigorate ties with Bangladesh for a number of reasons. First, the triumph of India's "act East" policy is substantially dependent on the relationship with Bangladesh. Second, strong ties with Bangladesh are needed to sustain India's pre-eminent clout in the South Asian region, which will further bolster its leadership status in other regional groupings like SAARC and BIMSTEC and simultaneously promote collective prosperity in the region. As a corollary, the relationship is useful for Delhi to retain strong regional support in light of India's on-and-off scuffles with Pakistan. Third, to ensure a peaceful Indian northeast and boost its economic development, Bangladesh will serve as an efficient bridge over the congested "chicken neck." Finally, a cordial Bangladesh also helps avoid anti-India operations on Bangladeshi soil, thereby ensuring regional security.
The turn of events this month is a wake-up call for India to address all unfinished business with Bangladesh. The process was kick-started last year as India entered into the historic "land boundary agreement" with Bangladesh, thereby disintegrating India's Berlin wall. This was followed by operationalizing border haats, which aimed to bring about economic prosperity to the marginalized people on both sides of the border. The agreement portrayed immense goodwill on part of India as it indicated intentions to settle long-standing disputes. This goodwill must now be taken to its logical conclusion by assiduously engaging in all other outstanding issues.
Inter alia, India must resolve to address the water disputes, the sticking thorns being the Farakka barrage dispute on the Ganges and the Teesta dispute. Being a lower riparian country, water disputes endanger Bangladesh on various fronts: food security, access to drinking water, environmental degradation (owing to reduced water to the Sundarbans mangrove forest) in turn leading to economic problems (ie, lesser timber production) and so on. It is high time India starts re-negotiating the Ganges Water Treaty and the Teesta Water Treaty and sheds the status of a hydro-hegemon in the region.
India must also expeditiously bring the Bangladesh, Bhutan, India, Nepal (BBIN) transport agreement fully into effect, recognizing the fact that China is going all-out to bring the Bangladesh, China, India, Mynamar (BCIM) project online. In light of the fact that BCIM is generally viewed as a project that will increase Chinese dominance in the region, whereas the BBIN project has earned the reputation of being more inclusive and trial runs have already seen satisfactory results, India has undoubtedly earned brownie points in the region. These early returns must incentivize Delhi to go all out and implement the project.
India, as of today, enjoys a fair amount of bona fides in the region. However, with China's increasing forays into the region, its increasing harmonization with India's all-weather strategic partner Russia, and its increasing patronage toward India's "frenemy" Pakistan, India must make every effort to capitalize on her extant goodwill. India should galvanize its relationship with Bangladesh, and consequently retain preeminence in the eastern bailiwick.
Prarthana Kashinath is a freelance lawyer based in Mysore, Karnataka, India.