US-ASEAN Defense Ministers' Meeting Kicks Off in Hawaii
Meeting expected to address key regional security challenges from terrorism to maritime security.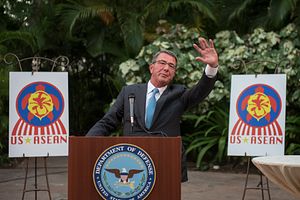 U.S. Defense Secretary Ashton Carter is set to kick off a meeting with Southeast Asian defense ministers today in Hawaii that will address a range of regional security challenges.
The U.S.-ASEAN Defense Ministers' Informal Meeting, held over the weekend, will be co-hosted by the United States and Laos, this year's ASEAN chair. It is the second such meeting ever held, with the first occurring in April 2014 when then-U.S. Defense Secretary Chuck Hagel invited his ASEAN counterparts to join him in Hawaii for informal consultations.
Obama administration officials have been emphasizing the meeting as yet another example of its commitment to Southeast Asia as well as ASEAN as part of its overall rebalance to the Asia-Pacific, much like the historic U.S.-ASEAN Sunnylands Summit held in February (See: "Why the US-ASEAN Sunnylands Summit Matters").
In remarks delivered on board the USS Carl Vinson in San Diego yesterday ahead of the meeting, Carter cast ASEAN as part of the United States' principled security network, a concept which he first publicly outlined this year's Shangri-La Dialogue in Singapore. As I mentioned in my piece after listening to his speech there, the term was a way for Washington to articulate a clear concept and vision for the region that is positive, future-oriented, inclusive, and comprehensive (See: "US Hits Right Note at Shangri-La with Principled Security Network.").
Carter said that the meeting would discuss new ways in which the United States and ASEAN can partner to address various regional challenges and ensure security and stability in the Asia-Pacific.
"This is the second such informal dialogue the United States has hosted, and we're going to reflect on our shared interests and principles and identify new ways to partner together to further realize them," Carter said.
He also added that the Pentagon was undertaking the third phase of the rebalance in terms of force posture improvements – with the first beginning five years ago and the second taking place starting last year (See: "TPP as Important as Another Aircraft Carrier: US Defense Secretary").
After the speech, Carter then moved on to Honolulu ahead of the meeting. There, he welcomed ministers arriving from ASEAN countries and delivered remarks at an opening reception.
Policy discussions will begin on Friday Pacific Standard Time, and the Southeast Asian defense ministers will be hosted aboard the USS Missouri. U.S. officials say that there will be a broad range of issues covered, including terrorism, maritime security, and humanitarian assistance and disaster relief.