What Should Australia Be Doing in the East China Sea?
Australia, with close ties to both China and Japan, should help encourage responsible diplomacy.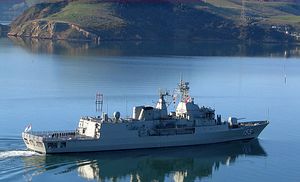 The recent animosity in the East China Sea between China and Japan over the Senkaku/Diaoyu Islands come at a time when the region is already embroiled in tensions. Similar disputes over separate islands in the South China Sea threatens relations between China and vested parties, most significantly the United States. The stakes are high – China and Japan are the world's second and third largest economies respectively, and with the United States allied to Japan, and determined to subdue a revanchist China in the region, the ramifications of conflict are calamitous. The situation demands judicious diplomacy, intelligent policy, and robust conflict prevention and resolution measures. Australia, given its status as a regional power and its close ties to both China and Japan, has an important role in facilitating this.
The situation is delicate. Australia must balance the interests of its two largest two-way trading partners with a military alliance to the United States that could be invoked if Japan is attacked, or if there's a confrontation between Chinese and U.S. naval vessels. Simultaneously, this presents a unique opportunity for Australia – no country is better placed to act as a mediator between both parties, and to manage expectations simultaneously.
Hostility regarding ownership of the Senkaku/Diaoyu Islands can be traced to the first Sino-Japanese War of 1894-1895; however, in much of the post-World War II era, both parties were relatively docile in their approach. Tensions flared in 2010, when a Chinese fishing trawler and Japanese Coast Guard vessel collided. The attitudes of both parties have been truculent ever since. Outrage in China due to the nationalization of the islands by Tokyo in 2012 led Beijing to declare an East China Sea Air Defense Identification Zone (AIDZ) the following year, which many read as an attempt to further stake China's territorial claim in the East China Sea. Since then, China has repeatedly sent fishing vessels – and more recently naval vessels – into the area to simultaneously assert its territorial claim and invalidate Japan's. Obdurate cries from both sides of "unilateral escalation" and "forceful attempts to change the status quo" have exacerbated the conflict. A recalcitrant Beijing has sparked fears in Tokyo that the recent incursions are an attempt to take advantage of a distracted international community to gain control over the Senkaku/Diaoyu Islands.
Australia has an important role to play in managing the expectations of both parties, facilitating communication and discourse, and creating robust controls around conflict prevention and resolution – all whilst ensuring it maintains maximum freedom of policy maneuver. Managing the expectations of both Beijing and Tokyo will be difficult; both parties have been stubborn about admitting that there's an actual "dispute," for fear of legitimizing the other's claim. This obduracy, combined with China's recalcitrance, will make negotiations tricky.
To do this, it is critical that Australia plays an active part in improving communication and facilitating dialogue between Tokyo and Beijing. Ensuring that both parties recognize the dispute will allow diplomatic efforts to address both sides' claim, the red lines they have in place, and the ramifications for breaching these. Australia should play an important role in managing these red lines, and ensuring such sketches are relevant and fair.
Secondly, Australia should cooperate with its allies, most significantly the United States, but also the wider regional bloc in the East China Sea, to develop robust controls around crisis management. This may include diplomatic "off-ramp" mechanisms designed to take mitigate escalation points and provide actionable methods to deal with incidents. It may also include collaborative discussions with vested regional powers on containment points and post-incident controls to ensure that, in the event of conflict, the political and economic damage felt on both sides is minimal. This is particularly important for Australia given the destabilizing economic impacts that a conflict between its two biggest two-way trading partners could have on the country.
With this in mind, there are a number of external factors that will determine the extent to which, and how, Australia operates in the region. Australia will need to take into account a number of factors when deciding on the most prudent policy: the potential economic ramifications of siding against China if a conflict does emerge, the principal aggressors of any conflict that does take place, and the likely policy response of the United States. Lastly, and perhaps most saliently, Australia must consider the extent to which any decision permits them viable further policy options and the policy maneuverability needed to diplomatically manage such a situation.
Given the delicacy of the situation and the potential economic ramifications that would emerge from an outright conflict between Japan and China, or a Chinese embargo of Australian trade, Australia's focus should be on ensuring that it remains as impartial as possible within reason, acting as a focal point and champion for legal international dispute mechanisms and maritime law (similar to Australian Defense College's recommended approach to the South China Sea disputes). Canberra must also proactively and honestly engage with all plaintiff nations, to ensure that even if their candor is unappreciated, they don't assume an impetuous position that would damage their relations with either China, Japan, or the United States.
Nick Derewlany is an International Relations and Political Economy graduate from the University of Sydney, Australia, currently working for Wikistrat, an online geopolitical risk consultancy.