Can Taiwan Build An 'Asian Silicon Valley'?
Tsai Ing-wen wants to jump-start innovation to save Taiwan's economy.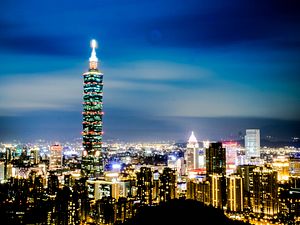 In a bid to revitalize an ailing economy dependent on manufacturing and cheap Chinese labor, Taiwan's government is pursuing reforms to foster new, innovative technologies and increase incomes to ensure that the de facto nation remains relevant in a fourth industrial world. Dubbed the Asian Silicon Valley plan, the development of internet-integrated products is a major part of President Tsai Ing-wen's economic reforms, which are meant to breathe new life into the island economy and create an environment that will utilize and benefit younger generations feeling the brunt of an economic slowdown.
Taiwan's woes are certainly shared: slowed global growth has developed nations struggling to find new economic drivers. Massive shifts in world markets from North America and Europe toward the Asia-Pacific and rapid development of disruptive technologies have made adapting difficult. High indebtedness, unemployment, and wages have also become a major concern among voters and politicians attempting to spur growth.
If Japan is any indication, remedying the high development, slow growth trap will require more drastic changes to policy than investment and interest rates. It will take more revolutionary, agile policy to address the cocktail of complications: growth, technology, and the well-being of citizens.
Reform to Escape Irrelevance
Taiwan and its 23 million people are at an economic impasse. Over-reliance on cheap Chinese labor is no longer viable — as wages increase and relations with Beijing sour, the previously profitable arrangement has become a vulnerability. Taiwan's industrial and manufacturing sectors are also feeling the pinch of competition from new markets, particularly in Southeast Asia.
All of this has hurt Taiwan's growth, which has slowed from around 3.8 percent in 2014 to 1.5 percent in 2016. The distribution of wealth has also been a point of contention. Taiwan's workforce has shouldered rigorous hours and conditions for what many citizens complain is inadequate pay. Tsai's governing Democratic Progressive Party (DPP), which has historically focused on the questions of Taiwan's identity and the rights of indigenous peoples, was elected after a wave of protest against trade deals with the mainland and unease over the plight of an underpaid younger generation.
Unable to continue to rely on mainland Chinese markets, Tsai has opted to try to upgrade Taiwan's economy along the lines of the fourth revolution, which, if successful, may provide a two-birds-with-one-stone solution for both the economy and employment issues. The Asian Silicon Valley plan is one part of Tsai's 5+2 overall economic reform plan and is designed to develop an ecosystem of start-ups focused on Internet of things (IOT) technology that can be commercialized by exploiting Taiwan's high-tech manufacturing sector.
The plan calls for the creation of a start-up ecosystem in Taoyuan, the location of many high-tech companies and also Taiwan's largest airport. The goal is to produce 100 successful start-ups over the course of seven years. With an initial budget of US$360 million for 2017, the plan will build Taiwan's R&D sector and connect it to other global innovation hubs like California.
The potential payoffs could be huge – new technologies and products to manufacture domestically for export – increasing the overall value of Taiwan's production chain. As an example, Taiwan has developed an electronic toll collection system, which is far cheaper to operate than manned toll booths, and has been exporting it to Vietnam and Philippines.
Scarce Human Capital
While Taiwan has both the capital and experience, there are a number of obstacles to overcome. For starters, Taiwan is entering a crowded field; South Korea, China, and Japan are all regional competitors of IOT innovation. Taiwan also has a smaller population than its regional rivals and a small domestic market, and is not a member of the UN, which shuts it out of many trade and financial agreements.
For a start-up owner like Spencer Cheng, of KKlabs Inc., there are definite limitations to operating in Taiwan. For starters, acquiring foreign talent is difficult under current visa regulations, and there is a definite draw to relocating to the United States or Europe, where he would have direct market access, not to mention venture capitalists with an appetite for software projects. According to Cheng, "Taiwanese investors are more focused on companies that develop hardware or equipment, and aren't as interested in software companies."
For the National Development Council, addressing the issue of attracting foreign talent is a top priority, according to Deputy Minister Kao Shien-quey of the National Development Council. "We are planning to have new regulations for attracting foreign talent within the next three months," Kao said. "Plans are to provide tax and social welfare incentives in addition to simplifying the application process."
Whether the changes will be enough to lure talent from larger markets is still unknown, but the larger issue will likely be whether Taiwan can become a member of the Trans-Pacific Partnership (TPP), an ambitious free trade pact involving 12 nations on both sides of the Pacific. Japan is currently supporting Taiwan's membership, and the United States will too once the issue of Taiwan's ban on U.S. pork is lifted. But membership is far from guaranteed, and without it, Taiwan will not be able to compete with the likes of South Korea or stem the flow of Taiwanese talent from moving to larger, unhindered markets like the United States or Europe.
Model Industry 4.0
Provided Taiwan can overcome these challenges and become a successful fourth industrial economy, it can provide a policy model. With a smaller population, optimizing the use of human resources will be imperative, a fact that the current government under Tsai recognizes.
Furthermore, Taiwan, being a small, densely populated country under immense pressure to perform, should have the agility to react with alacrity, as it has done since the Republic of China government fled to Taiwan in 1949. To put it in perspective, Taiwan has already undergone several transformations. From an agriculture-based economy in 1952, with farming accounting for 32.1 percent of the GDP, and industry and manufacturing only 21.1 percent and 14.7 percent, respectively, Taiwan morphed into a manufacturing powerhouse by 1973, with industry and manufacturing accounting for over 70 percent of GDP and agriculture just over 10 percent. Taiwan has also made the difficult leap from a authoritarian regime to a democracy.
Given the stakes for Tsai and Taiwan at large, its economic transition has global implications. Taiwan is looking to resolve the issues faced by developed countries around the world: the integration of new technologies, efficient use of limited human capital, and political reform to address changes to the economic and employment landscape. Consequently Taiwan could become the model for countries coping with the challenges of the fourth industrial revolution.
David Sutton is a Research Analyst at the NATO Association of Canada.