China and Saudi Arabia's Burgeoning Defense Ties
Tensions in the U.S.-Saudi alliance have China poised to expand its defense ties with Riyadh.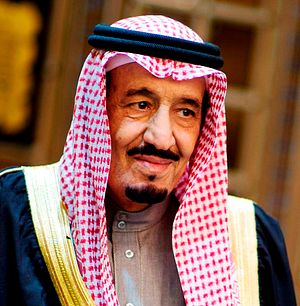 On November 7, 2016, Saudi Arabia's ruling monarch King Salman bin Abdulaziz met with Meng Jianzhu, a special envoy of Chinese President Xi Jinping, in Riyadh. After a series of talk between Chinese officials and senior members of the Saudi royal family, the Saudi government unveiled a five-year plan for Saudi Arabia-China security cooperation during Meng's visit. This plan would include counterterrorism cooperation and joint military drills, cementing Saudi Arabia's status as a vital Chinese ally in the Middle East.
Even though China has emerged as Saudi Arabia's leading economic partner in recent years, the transition toward a full-fledged defensive partnership is a new, largely unforeseen development. In contrast to the multibillion dollar annual arms contracts binding Saudi Arabia to the United States, China only sold $700 million in arms to Riyadh from 2008-2011. Low levels of Riyadh-Beijing security cooperation were attributed to China's long-standing friendship with Iran, disagreements over Bashar al-Assad's future in Syria and long-standing Chinese disdain for Saudi Arabia's sponsorship of Islamist networks.
However, the strategic calculus underlying China-Saudi Arabia security cooperation has changed markedly over the past year. Riyadh has clashed with the United States over the Iran nuclear deal and a controversial congressional bill allowing U.S. citizens to pursue legal actions against the Saudi monarchy over the September 11 attacks. Saudi Arabia's desire to reduce its security dependence on the United States and to erode Iran's international influence could cause Riyadh to form a full-fledged defense  partnership with China in the years to come.
The Importance of Chinese Military Technology to Saudi Arabia
In recent years, Saudi Arabia has increased its interest in purchasing Chinese military technology, as Beijing is willing to sell arms to Riyadh without the geopolitical strings that frequently accompany U.S. arms sales. In particular, Saudi Arabia views China as a potentially important supplier of highly sophisticated missile and offensive weapons technologies. Even though the United States has sold Saudi Arabia a wide range of weapons for use in its Yemen campaign, Washington has closely regulated its missile sales to Saudi Arabia out of fear of straining its long-standing defense partnership with Israel.
Saudi Arabia's willingness to circumvent the United States by purchasing offensive weaponry from China dates back to the last years of the Cold War. In 1985, Saudi Arabia covertly purchased 36 CSS-2 East Wind intermediate range ballistic missiles and nine missile launchers from China. Even though the Saudi monarchy sent officers to Beijing for training in the use of Chinese military technology, Saudi Arabia's defense cooperation with China was obscured from the view of U.S. policymakers until 1988.
Even though many members of the U.S. military establishment were angered by Saudi Arabia's covert arms contracts with China, U.S. concerns about a potential Saudi defection to China encouraged the Pentagon to expand its array of offensive weapons sales to Saudi Arabia. In light of this historical experience, King Salman hopes that expanded security links with China will give Saudi Arabia swift access to sophisticated missile systems and convince Washington to outbid China by exporting some of its most prized military assets to Riyadh.
Donald Trump's victory in the U.S. presidential election will likely cause Saudi Arabia to intensify its balancing strategy. Trump's scathing criticisms of Saudi Arabia's sponsorship of terrorism and open calls for a re-evaluation of U.S. military assistance to Saudi Arabia have caused alarm in Riyadh. If the U.S.-Saudi relationship deteriorates under Trump, King Salman could pivot more strongly toward China, further diluting Saudi Arabia's dependence on the United States.
On the flip side, a marked deterioration in the U.S.-Iran relationship triggered by Trump's pledge to scrap the Iran nuclear deal could ironically cause the United States to expand its military support for Saudi Arabia. As Saudi Arabia's commitment to China is still unclear, Chinese policymakers will likely ensure that the Beijing-Riyadh partnership remains a transactional relationship rather than a genuine alliance.
China-Saudi Arabia Cooperation and the Riyadh-Tehran Rivalry
In addition to gaining access to Chinese weapons, Saudi Arabia is tightening its security cooperation with China with an eye toward weakening Beijing's long-standing economic and defense partnership with Iran. Even though China recently announced its decision to coordinate with Iran in the development of a $6 billion gas deal in the Persian Gulf and Beijing shares Tehran's pro-Assad position in Syria, latent strains in the China-Iran relationship have also emerged.
In late June, the Chinese-led Shanghai Cooperation Organization (SCO) rejected Iran's calls for a swift accession to the security bloc. As Russia was a fervent supporter of Iran's SCO membership bid, many Western and Middle Eastern commentators believe that China was behind the collapse of Iran's accession talks. China's refusal to swiftly incorporate Iran in the SCO can be explained by its concerns that Iranian membership would give the SCO an unambiguously anti-Western character.
China's hesitance to embrace Iranian SCO membership, while actively supporting the incorporation of India and Pakistan, reveals a weakness in the China-Iran relationship that Saudi Arabia has been keen to exploit. To counter the lingering stereotype in Beijing that Saudi Arabia's Wahhabi brand of Islam supports extremist forces in China, King Salman has promoted Saudi Arabia as a potential counterterrorism partner for China.
Saudi Arabia's large-scale financial contributions to the reconstruction of Afghanistan and strong alliance with Pakistan make it a valuable potential counterterrorism partner for China. The Chinese government's fears of radicalization among Uyghur separatists abroad increased after August's suicide bombing of the Chinese embassy in Bishkek, Kyrgyzstan.
As extremists worldwide, including Uyghur militants, are emboldened by instability in Afghanistan and Pakistan, greater leverage over those two countries is critical for China's security. China and Saudi Arabia's landmark October counterterrorism training drill in Chongqing is a tacit recognition of Saudi Arabia's usefulness as an intermediary between Beijing, Kabul, and Islamabad.
While there is a credible case to be made that Saudi Arabia's strategic importance to China has increased relative to Iran's, King Salman faces an uphill struggle if Saudi Arabia is to supplant Iran as China's leading regional ally. China has historically maintained robust arms contracts with Saudi Arabia, Iran, and Pakistan simultaneously, and is unwilling to breach that delicate balance by pivoting too strongly toward Riyadh. Concerns about alienating its other regional allies could cause China to strengthen its ties with Saudi Arabia primarily by investing in the diversification of the Saudi economy rather than through bolstering Saudi Arabia's burgeoning military-industrial complex.
The expansion of security cooperation between Saudi Arabia and China is a highly significant and underreported geopolitical development in the Middle East. If U.S.-Saudi relations are further strained by Trump's ascension to the White House, China will become an increasingly vital security partner for Riyadh in the years to come. It remains to be seen how China meaningfully improves its relationship with Saudi Arabia without weakening its long-standing ties with Iran and other Shiite countries in the Middle East.
Samuel Ramani is a DPhil candidate in International Relations at St. Antony's College, University of Oxford. He is also a journalist who contributes regularly to the Washington Post and Huffington Post. He can be followed on Twitter at samramani2 and on Facebook at Samuel Ramani.