Pakistan Tehreek-e-Insaaf's Dharna 2.0: Winners and Losers
PTI's much-anticipated sit-in of Islamabad fizzled out before it even began.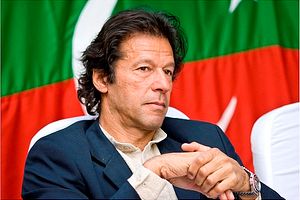 In a bid to fix its previous shortcomings and to finally rout Prime Minister Nawaz Sharif's damaged rule, Pakistan Tehreek-e-Insaf (PTI) planned to march on Islamabad yet again earlier this month. This time, per the group's claims, preparations were high and expectations therefore skyrocketed within PTI's ranks. PTI Chairman Imran Khan, banking more on his social media fame and less on realities on the ground, was more passionate than he was in 2014 — the last time PTI staged mass protects in the capital. Khan roamed around big cities and rolled the pitch, believing this was the final match between PTI and the ruling Pakistan Muslim League-Nawaz (PML-N).
One doesn't need to memorize Imran Khan's call for Sharif's resignation, since he seemingly starts and ends each day with the same demand. However, one should remember his last 'crusade' in 2014. Thousands of his men, helped by Tahir-ul-Qadri (the head of the political party Pakistan Awami Tehreek), assaulted Nawaz's legitimacy and embattled their opponent for 126 days. Imran and Qadri's supporters encamped at D-Chowk with their dances, chants, and bravado. Since the two leaders and their followers were bare-handed or meagerly equipped, they could only attack the National Assembly (NA) and Pakistan Television (PTV). Their bid to 'liberate' the people from Sharif ended without removing the prime minister, though Khan was quick to claim "success" regardless. Imran and Qadri thus packed in their dharna (sit-in).
That retreat, however, was only an end to the beginning. The duo came up with more schemes, but there was little popular appetite for more maneuvers. Earlier this year though, the Panama Papers scandal turned the tides again in favor of the two "cousins" and a ray of hope shone once more. Imran Khan once again rallied against Nawaz Sharif over the Panama Leaks story, which, ironically, was broken in Pakistan by an investigative reporter of the Jang/Geo Group, who had earlier been lambasted by Khan for being a silent supporter of the PML-N. Imran asked Sharif to step down, arguing that he and his family has been caught red-handed in evading taxes and illegally transferring money overseas to establish offshore companies. With the PTI backed by the other eight opposition parties, the Panama Leaks issue swelled to a point that now it awaits a Supreme Court verdict. The Court is hearing the case on priority basis, though it has shown discomfort over the documented proof presented by PTI.
Even ahead of Supreme Court's hearing, Khan saw the Panama Leaks as a blessing in disguise and hoped to finally bring an end to the PML-N regime. Stirred by the story, Khan summoned his followers to Islamabad once again, with the aim of shutting down the city and paralyzing the government well ahead of the declared start date of November 2. This decision, however, proved futile as the state showed its potency, unlike in 2014, and turned away small groups of protesters coming from Khyber Pakhtunkhwa (KPK) and Punjab. The motorways were blocked and other roads connecting Islamabad were also camouflaged with high numbers of police and security personnel. As a result, a minor show of wrangling between police and protesters exploded, ending in the detention of some thousand workers and tear gas shelling.
All the while, Imran Khan didn't come out of Bani Gala, his residence in the suburbs of Islamabad, which sent a damaging message to his supporters. The likelihood of people joining this second dharna grew even more remote.
Seeing the weaker public response for his lock-down-Islamabad mission, Imran decided to convert the called sit-in into Youm-e-Tashakur (Thanksgiving) and called off the dharna. PTI is back to square one. While the Pananma Leaks issue is now with the Supreme Court, it's worth looking at who gained (and who lost) after November 2.
Burning all boats behind it, the PTI jumped into Dharna 2.0 with full force, in a major gamble. PTI believed a massive crowd would join Imran Khan's call and history would eventually mark their names in the list of those who conquered Islamabad politically. This didn't happen. The government shrewdly defused burgeoning political tensions with the smart use of police. As a result, a wave of disappointment rippled through PTI lines and many supporters didn't endorse Khan's choice to call off the sit-in. The PTI, like always, left itself too few choices and thus its political future was at stake yet again. If it fails to present conclusive evidence in the Supreme Court, and Nawaz Sharif escapes the Panama crisis, the 2018 polls would not even be a contest. The next elections will be nothing more than a formality, with PML-N stealing the show.
Imran Khan is supported less by parliamentary parties and more by those who have little political stakes and little representation. As an example, PAT, which doesn't hold single seat in either the federal or provincial assemblies, announced it would join PTI's protests again and there were reports about madrassa (religious school) students also joining the aborted sit-in. At a time when the government is shrinking extremist voices by arresting and putting them on the Exit Control List (ECL), seeking their help would replenish their energy — raising serious questions about PTI's political tactics.
Timing is crucial in in any political scenario. Imran Khan has not yet learned this art. Pushing elected governments into a corner requires the assistance of opposition parties as well. Here again the PTI seems deserted. Moreover, an accountability drive against Nawaz Sharif becomes ironic when PTI ranks are also full of figures holding off-shore companies. Inspired by Khan's social media backing, PTI decided to go for its Dharna 2.0 gamble and lost.
Muhammad Daim Fazil is Lecturer of International Relations at University of Gujrat, Sialkot Campus, Pakistan. He was July 2016 Visiting Fellow at the Henry L. Stimson Center Washington D.C. He tweets @DaimFazil.