'The Mother of All Deals': Abe Could Gift Trump a Trade Pact
A bilateral trade deal between the U.S. and Japan would leave other would-be TPP members behind.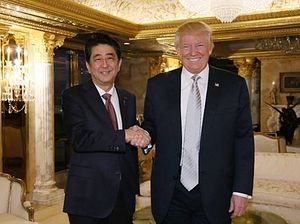 Never mind golf clubs: the next present Japan's Prime Minister Shinzo Abe delivers to U.S. President-elect Donald Trump could be a bilateral trade deal.
It might be good news for U.S. farmers and Japanese automakers, but Australian and other potential Trans-Pacific Partnership signatories are already having nightmares over the threat of being cut out by the partnership's two biggest economies.
Speaking Wednesday evening to the Australian Institute of International Affairs (AIIA) in Brisbane, former Australian Ambassador to the United States Kim Beazley said a bilateral deal between the two allies could threaten to cut Australian exports out of their second-largest Asian market.
"There's a movement by some sections of the American business lobby to do a bilateral [trade] agreement with the Japanese [and] it's quite likely this option will be presented to Trump," the former Australian deputy prime minister said.
"The Japanese may not particularly like it… but they put on a magnificent performance of retreating from their sacred positions to ensure the TPP got up… and Trump does believe in bilateral agreements, so if he gets what was there in the TPP, he'll get a mother of all bilaterals.
"And the people screaming loudest when that occurs will be the Queensland [cattle] grazers when we find ourselves out of the Japanese market for beef, and a few other things besides."
Beazley's speculation follows Abe's comment at the Lima gathering of TPP leaders that the 12-nation grouping is "meaningless" without the United States. The newly elected U.S. leader has pledged to withdraw the United States from the pact on his first day in office in January, having described it as a "potential disaster."
Both Abe and Australian Prime Minister Malcolm Turnbull have reportedly attempted to convince Trump to stick to the pact, which took over a decade to negotiate and encompasses some 40 percent of global gross domestic product (GDP). Abe was the first foreign leader to meet the new U.S. president-in-waiting after his upset election victory, presenting him with a set of golf clubs, with some suggesting that Trump could enlist Abe as his "man in Asia."
"I think they both have a track record of pragmatism. Pragmatism on both sides is going to make their relationship somewhat productive," Stephen Nagy, associate professor of politics and international affairs at the International Christian University in Tokyo, told Australia's ABC News.
Despite Trump's pledge, Abe's ruling Liberal Democratic Party has vowed to have the TPP ratified by Japan's parliament by mid-December, underscoring the nation's support for the pact. According to Japan's Nikkei, Japanese public opinion on the TPP is evenly split, with 37 percent in favor and 37 percent against, although Abe's Cabinet has retained a high public approval rating of 58 percent.
Australia's leader also spoke to Trump soon after the U.S. presidential elections, saying he was confident the president-elect would maintain his nation's influence in the Asia-Pacific region.
"That commitment, I am certain, will continue," Turnbull said. Both leaders entered into politics after making their fortunes in business – a similarity noted by the center-right Australian leader.
"I suppose as both being businessmen who found our way into politics, somewhat later in life, we come to the problems of our own nations and indeed world problems with a pragmatic approach," Turnbull said.
The Australian leader has also noted the "strong support among the other 11 parties to the TPP to ratify it and to seek to bring it into force."
However, the pact's rules stipulate it cannot become legally binding unless it has the support of countries making up 85 percent of its GDP. This effectively gives the United States and Japan veto power over the agreement, which also includes Australia, Brunei, Canada, Chile, Malaysia, Mexico, New Zealand, Peru, Singapore, and Vietnam.
New Stimulus
Yet after pledging to grow Japan's GDP by 20 percent by 2020 to 600 trillion yen, Abe is under pressure to gain a new stimulus for the third arrow of "Abenomics." A deal between the two security allies and the world's biggest and third-largest economies, respectively, could still deliver a growth boost, albeit not at the same magnitude as the region-wide TPP, which was expected to increase Japan's GDP by as much as 2 percent.
According to the U.S. State Department, Japan represents a major market for U.S. agricultural products, aircraft, chemicals, films, medical supplies, and machinery, while U.S. imports from Japan include vehicles, medical instruments, and chemicals.
A bilateral Japan-U.S. deal could give Japanese auto and car-parts makers preferential access to the U.S. market, although it would face lobbying from the U.S. Big Three in the face of criticism over Japan's barriers to U.S. vehicles.
Meanwhile, U.S. beef, dairy, and other agricultural products could expect improved access to the Japanese market, despite intense pressure on Abe from his domestic farming sector. For Trump, any deal that helped to reduce the $69 billion trade deficit with Japan would represent a political victory for his protectionist constituency.
Earlier estimates suggested the TPP would deliver a major boost to U.S. agriculture and services, but weigh on manufacturing. The U.S. International Trade Commission estimated an $11.6 billion gain for U.S. business services, a $10 billion boost for agriculture, and $7.4 billion for retailers and wholesalers, although manufacturing could lose $10.8 billion by 2032.
Even bigger benefits could flow to both nations should such a bilateral deal incorporate the TPP's pro-investment measures, which could help increase U.S. investment in Japan, stimulate productivity, and make markets "more competitive and more closely connected," according to Newsweek Japan.
Yet the rest of the TPP grouping could be losers from any bilateral U.S.-Japan deal. According to Australia's recent trade pact with Japan, any superior agreement negotiated through the TPP would have been incorporated into the Australia-Japan deal. Such a provision would be unlikely to form part of a deal between Washington and Tokyo.
Australia's Beazley said the Turnbull government could be forced to use its influence as a close U.S. ally to ensure the region gained Trump's attention, amid concerns over U.S. policy following the end of the "pivot."
"Asians are very nervous about the direction of American policy – and they have expectations of us. And those expectations are not that we disappear, but that we get to work, and we prepare to spend some of our political capital in Washington on their behalf… and that will be the challenge for Mr. Turnbull and his government," he said.
While Beazley described Trump's move on the TPP as akin to "putting out his foot and shooting it," he said the pact "isn't dead – it will emerge in other ways and other forms."
Japan's ambassador to Canada has stated that Tokyo is not interested in pursuing direct trade talks with Canada while there is still hope of salvaging the TPP, saying, "It's not the right time to talk about bilaterals."
Yet Trump is a deal-maker, and "pragmatist" Abe needs a deal. The odds might be little better than scoring a hole-in-one on the golf course, but that should be enough to keep the region sweating right through to January.