Type 075 Watch: China's Navy May Soon Be Second to the US Navy in Amphibious Assault
It looks as if China will shortly join the Big Amphib Club.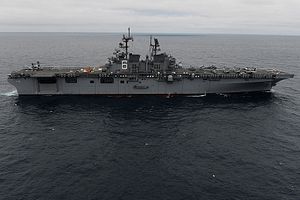 Navy Recognition has reported that China has begun construction of a 36,000 ton, flat-decked amphibious assault ship, similar in size to the largest American amphibs. Rumors of this development have persisted for some time, but the latest reports indicate that the cutting of steel has begun.
If estimates of the size of the Type 075 ships are correct, these ships will give the PLAN an amphibious assault capability second only to that of the U.S. Navy. Expeditionary warfare vessels extend the reach of an entire military, enabling distant deployments by concentrating helicopters, landing craft, troops, and command and control facilities in a single platform. Globally, the construction of large, flat-decked amphibious ships has ticked up in the 21st century, with states such as Egypt, Australia, and South Korea getting themselves into the game. It's worth noting that the United States regularly uses such vessels as light aircraft carriers, taking advantage of the STOVL capabilities of the AV-8B Harrier and the F-35B Joint Strike Fighter.
Assuming that China does not intend to go to the trouble of building a STOVL aircraft from scratch (or even from specs acquired from Russia or the United States), the Type 075 can fulfill several different roles for the PLAN. Most obviously, these ships can support amphibious assaults with helicopters, landing craft, and hovercraft, presumably while supplying the command and control facilities necessary to manage a complex, multi-medium operation. Much like their American counterparts, they could also provide humanitarian assistance and disaster relief around the East Asian littoral. Finally, the U.S. Navy has used amphibious assault ships in an anti-submarine role, which would enhance the ability of the PLAN to operate expeditionary forces in hostile areas.
The inherent flexibility of the large, flat-decked type explains its appeal to many navies around the world.  Even if China stays away from a STOVL fighter (which is probably a good idea), it's not difficult to imagine a Chinese answer to the MV-22, which has given U.S. Navy amphibs a greatly extended reach. We can also imagine the deployment of a variety of unmanned aerial vehicles that would not require catapult launches from larger carriers. All told, the Type 075 can contribute both to expeditionary ops, and to conventional blue-water fleet operations.
Finally, it's worth noting that the Type 075 make very little contribution (or at least little cost-effective contribution) to the A2/AD mission. The construction of these ships is yet another indicator that the PLAN has broad ambitions, both regionally and potentially globally.