US Group to Boost ASEAN Disaster Relief Capabilities
A nonprofit has inked an agreement with the regional grouping to help it in the HADR realm.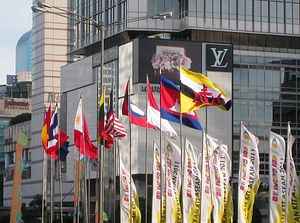 Last Thursday, a U.S.-based nonprofit inked an agreement with ASEAN to help boost its disaster relief capabilities.
As one of the world's most disaster-prone subregions, Southeast Asia has been working on setting up new institutions to strengthen regional capabilities to respond to natural disasters. Following the ratification of the ASEAN Agreement on Disaster Management and Emergency Response (AADMER) in 2009, Southeast Asian states set up an ASEAN Coordinating Center for Humanitarian Assistance on Disaster Management (the AHA Center) in 2011 in Jakarta to facilitate regional and international collaboration, with the Emergency Rapid Assessment Team (ERAT) brought to bear to provide dozens of rapidly deployable experts as well.
But ASEAN states continue to look for additional opportunities to boost disaster relief capabilities. At the 28th ASEAN Summit held in Vientiane in September, ASEAN leaders signed an ASEAN Declaration on One ASEAN, One Response to achieve a faster and collective response to disasters, which ASEAN Secretary-General Le Luong Minh called "a major step" for the development of the ASEAN Community. Other countries and organizations, including the United States, have helped the organization with this undertaking as well.
Last week saw another useful, if under noticed step in this direction. Direct Relief, a humanitarian aid organization active in all 50 U.S. states and 70 countries worldwide, inked a memorandum of intent with the AHA Center to provide prepositioned emergency medical supplies for ASEAN's collective response to regional disasters.
The agreement would see the group preposition emergency supplies in ASEAN's three regional logistics hubs: Malaysia, the Philippines, and Thailand, beginning with the Malaysian hub in Subang in 2017. Prepositioning relief supplies is important because it speeds up the disbursement of aid to victims during emergencies, where delays and bottlenecks are all too common.
According to Direct Relief, the supplies themselves will include Direct Relief's Emergency Health Kits – each being a pre-packed module containing essential medications and supplies recommended by the World Health Organization to care for 1,000 patients for up to a month – as well as Emergency Medical Packs, the approved standard for California's Medical Reserve Corps now used routinely in global emergencies.
For Direct Relief, this is another one of the various efforts the group is undertaking to foster better humanitarian assistance in the United States and around the world. For ASEAN, this is one of several steps to building momentum for One ASEAN One Response.
"2016 is the year when the AHA Center began to realize the spirit of One ASEAN One Response," Said Faisal, executive director of the AHA Center, said according to a release by Direct Relief.
"This year we have partnered with various stakeholders from the academy, think-tank, private sector, and civil society organizations. The signing of this Memorandum of Intent with Direct Relief is one of the embodiments of this spirit, and we look forward to this new partnership," he added.
Within the realm of humanitarian assistance and disaster relief, it is often either crises – be it Cyclone Nargis in Myanmar in 2008 or Typhoon Haiyan in 2013 – or government and defense-related exercises or initiatives like the new Singapore-based Changi Regional HADR Coordination Center (RHCC) that often get the most attention.
With respect to the United States role in prepositioning more specifically, much attention was devoted to U.S. Army announced plans to stockpile equipment in several Asia-Pacific countries including Vietnam and Cambodia for HADR purposes, and, less so, to efforts by the United States to provide ASEAN with advice as well as software and hardware to improve the capabilities of the AHA Center.
These developments and efforts are certainly important. But equal attention should be paid to efforts by non-governmental agencies, be it NGOs, healthcare companies, think tanks, or universities that also play a critical role in building the infrastructure required for them.
Last week's agreement was an important reminder of this.