Capital Punishment: New Delhi's Deadly Smog
Unprecedented pollution in the capital speaks to the severity of India's air pollution crisis.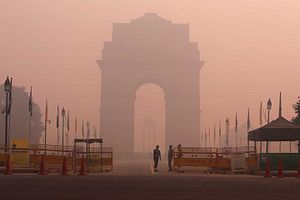 NEW DELHI – On October 31, New Delhi woke up to find it had become a gas chamber.
The celebratory week of Diwali had ended and despite a 20 percent drop in firecracker sales, toxic pollutants hung heavy in the air, leading to the worst smog in the last 17 years. Several media reports compared the Delhi pollution with the infamous London smog.
The Great London Smog of 1952 lasted for five days. Government medical reports estimated that 4,000 people died as a direct result of the smog and 100,000 more fell ill due to the smog's effects.
In New Delhi, however, when it was perhaps appropriate to conduct government surveys about the health impact of the smog, locals, including members of medical bodies and health workers, were forced to queue up in front of banks and ATMs because the government had demonetized the two most-circulated banknotes in India.
Standing in long queues for an average of six hours, everybody forgot about the smog that lasted in Delhi for about five days, stinging the eyes and irritating the respiratory tracts of almost the entire population of 18.6 million, multiple times the population of London in 1952.
The worst came when the air pollution levels spiked post-Diwali on November 2, due to weather conditions over the region. Two days after Diwali night, pollution levels reached alarming heights, with PM10 levels reaching a massive 999, more than 10 times higher than the permissible limit.
The Indian Meteorological Department termed this the worst smog in 17 years. The Indira Gandhi International Airport in Delhi recorded the worst levels of smog on November 2, with visibility as low as 300-400 meters.
New Delhi became a smokehouse with a thick veil of smog over it for five continuous days, imperiling the health of the residents who had too little time to react and too little information to brace against the catastrophe.