China's 'Arab Pivot' Signals the End of Non-Intervention
China's interests in the Middle East may lead Beijing to assume a military role in the affairs of Arab states.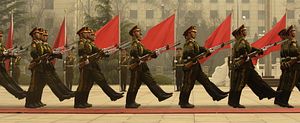 China's 2016 initiatives in the Middle East began with a three-state tour by Prime Minister Xi Jinping to Egypt, Saudi Arabia, and Iran, the debut of a new "Arab Policy Paper," efforts to establish and deepen economic engagement within the region, the construction of China's first foreign (albeit experimental) military base in Djibouti, and the posting of a high-ranking military envoy in Syria. It was an ambitious year for China with Xi's visits having coincided with the Saudi government's execution of 47 people, including Shia cleric Sheikh Nimr Baqir al-Nimr, mounting tensions between Sunni and Shiite countries, and the cutting of diplomatic ties between Iran and a handful of Sunni governments.
Beijing's Middle East Policy can be characterized as a strong willingness for economic cooperation, while at the same time seeking to adhere to its longstanding policy of non-intervention and respect for sovereignty. China's growing international activities, specifically those attached to the Middle East are part and parcel to a new era of "internationalization" for China – a phenomenon inherently contradicting China's non-intervention policy but one discussed at length for decades. Beijing's ventures in the Middle East this past year have rocketed China out of its era of non-intervention. China will be challenged in maintaining its close and comfortable relationships with numerous Middle East states, and showing its military and security interests in the region while facing the reality that closer ties with some states will come at the expense of relations with others.
China is now part of the complex geopolitical mire of the Middle East and with its increasingly dependence on oil, disengaging from the region even willingly will be a daunting task. Beijing's economic and energy interests will come at a cost, one of which will be supplementing its political existence with a relatively conspicuous military presence. In the short term, Beijing may have been able to get away with a discreet military present, but that will not work over the long term. Whereas since the early 2000s, China has been openly vocal about its interests in building ties with Middle East states, predominantly as a way to probe for opportunities to satisfy China's burgeoning energy needs, China's publication of its Arab policy and Xi's tour has in effect opened two doors: the first leading to political and economic cooperation, the second leading to military cooperation and potential military conflict.
Beijing's initial efforts in building political, economic, and commercial ties with states abroad are easily lauded, though the prospect – a rather unfeasible one – of doing so and moving forward without consenting to the necessity of military capabilities to defend those interest is omnipresent. Such consent can surface in various forms; one being the establishment of its first military base on foreign soil. Another is the formulation and implementation of humanitarian assistance programs, which can easily act as coverage for establishing the presence of a conflict-ready military force. China is aiming to offer military training and humanitarian supplies in conflict-torn Syria. Beijing's presence in Syria brings it in closer alignment with Russia. Both countries stand firm against the threat of international terrorism and have staunchly defended their right to defend national interest and national security against asymmetric threats like militant Islamic extremists. China's relatively new anti-terrorism law also provides Beijing with a great deal of flexibility to conduct counterterrorism missions overseas. These factors, among other provides China with a firm foundation on which to begin establishing a potent and non-discreet military capacity in the Middle East, even if this happens in different locations.
During this past summer, China's Rear Admiral Guan Youfei, directing the Office for International Military Cooperation operating under the direction of the Central Military Commission (CMC), liaised with Syrian Defense Minister Lt. General Fahd Jassem al-Freij and Russian Lt. General Sergei Chvarkov, leader of Russia's reconciliation center established in 2016. Deeper cooperation and military assistance in Syria shows an increasing awareness by China for an even stronger military presence. Its assistance and cooperation with Russia and Syria's ruling Shia minority has aligned Beijing, at least in the interim, politically and ideologically, with one side of the broader Middle Eastern tensions. But Beijing has a rosy track record of walking the diplomatic tight rope. Its major challenge in the coming years will be the continued sourcing of vast amounts of oil and gas from a part of the Middle East spanning the Sunni-Shia divide and centering on some of the most volatile political, cultural, and religious cleavages of the Middle East. China is standing at the epicenter of instability in the region.
Syria represents just one case in the broader Middle East, but is an instructive example of the complexities ahead. China entered the Syrian war on several fronts. Government involvement is one source of involvement. Chinese Muslim Uyghur militants fighting in the war with their Syrian counterparts is another. Their presence ensures Beijing's presence in the war with the aim of either eliminating them in battle or bringing them back to China. The Islamic State (ISIS) has reached out in major propaganda efforts to attract Uyghur extremists to Syria. Although the flow of foreign fighters from China has not reached anywhere close to that of Europe's flow, ISIS efforts have not shown sign of abating. Uyghur presence and an enduring insurgency in Syria and Iraq presents the great instability and a challenge to China's "One Belt, One Road" (OBOR) project.
China and Russia are devoted to saving Syria's economy and rebuilding its infrastructure. China's investments and extended contracts in Syria are worth billions, with further contracts still being written. Those contracts are part of China's "Silk Road" initiative, which includes a high-speed railway aimed at connecting Xinjiang and Tehran, valued at nearly a trillion dollars. Investments on such a scale should be considered alongside the time required to rebuild the Syrian economy, which would likely take two decades or more if it is to be restored to pre-war levels. Restoration of the Syrian economy is necessary for China to open another vital energy front, particularly in the area of oil and hydrocarbons.
China's relationship with the African continent serves as an example of Beijing's involvement and approach to conflict abroad. There too, China sought to become engaged solely economically, without interfering in any political tribulations. However, its non-interference policy has been largely replaced by a policy of active involvement in order to protect economic interests and investment. China has received much praise from African leaders in the past decade for its role in conflict in Africa. China's peacekeeping contributions began in the early 1990s, and troop deployments continued with significant contributions reaching nearly 2,000 troops by 2009. Africa has been a positive testing ground, with 75 percent of China's peacekeepers serving across the continent. Major General Zhao Jingmin was the first Chinese in command of a United Nations (UN) peacekeeping mission called MINURSO, which took place in the Western Sahara. China also committed two destroyers to the continent, including the Type 052B/Guangzhou-class destroyer Wuhan, one of China's most technologically advanced warships. China's risk-taking in Africa has so far paid-off, but edges Beijing closer to military imbroglio from which reversing might prove an impossibly maneuver.
This raises questions about how China will seek to navigate the complicated, and at times confusing web of Middle East political, social, ethnic, and religious relations and conflicts. Since China can hardly revert back to its long-standing policy of non-intervention and respect for state sovereignty, it will face growing pressure to assume a more active role. China will be hard-pressed to secure its economic interests in the Middle East and Central Asia without budging on its willingness to become involved militarily. Beijing will need to turn to the pressing issues of how to operate now that its has vacated its longstanding positions of non-alignment and non-intervention.
Just as the growth of American interests abroad eventually required the United States to depart from its position of non-interventionism, Beijing will find itself running a similar path in the 21st century. Latent expectations of alignment by Beijing with specific Middle East states already exist, having been established decades prior to its present-day interaction.
Scott N. Romaniuk is a Doctoral Student at the School of International Studies, University of Trento and a Research Associate at the Center for the Study of Targeted Killing, University of Massachusetts (Dartmouth), United States.
Tobias Burgers is a Doctoral Student at Otto-Suhr-Institute, Free University Berlin and formerly a Visiting Researcher at CSS, NCCU, Taipei, Taiwan.