Farewell Amma: Chennai Mourns Jayalalithaa
Grief rocked the capital of Tamil Nadu after the death of the state's long-time chief minister.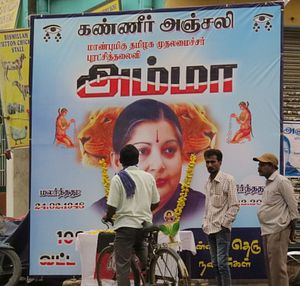 With an overcast sky and the sun going down in Chennai, it appeared as if people were preparing themselves for an impending doom. The announcement that the ailing chief minister of Tamil Nadu J. Jayalalithaa – popularly known as amma or mother – was in critical condition was received with trepidation. Provision stores and vegetable shops had milling crowds. Supplies just flew off the shelves. Petrol stations had winding queues. People hurried as if they would be spared any bad news if they were ensconced in the safety of their homes.
The reverse played out outside the hospital where Jayalalithaa was being treated. In a somber mood, men waited outside with hope, oblivious to the chill in the December air. As the hospital remained a bastion of secrecy for all the 75 days that the chief minister was there, Jayalalithaa's followers waited apprehensively for any news of revival. A heavy posse of police personnel guarded the entry points of all roads leading to the hospital. Harried shop-keepers could not turn away their customers and hence pulled their shutters halfway down, fearing a backlash, as had happened at the demise of Jayalalithaa's mentor and chief minister M. G. Ramachandran. Hotels closed their gates while super markets and cinema halls downed their shutters.
While life appeared to have come to a standstill in Chennai, it did move, in slow motion though. When the hospital announced that their doctors were doing their best, a hush fell over the crowd. With stoic silence, they waited for "the announcement." When it did come after midnight, the followers were too numb to react. Fearing a rampage, police personnel manned all strategic and sensitive points throughout the night. But much to the relief of everyone, the supporters and party cadres took it with a quiet resolve.
The somber mood spilled over to the next day too. With offices and educational and commercial establishments closed, the absence of the city's teeming millions was conspicuous. The city mourned in silence.