How Chinese Policies Affect Property Prices Across the World
Chinese demand for real estate is contributing to skyrocketing housing prices on 3 continents.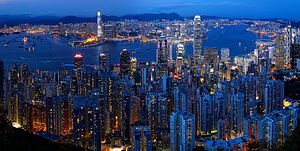 In early 2016, Demographia released its 12th International Housing Affordability Survey. Hong Kong came in as the world's most unaffordable, with housing priced at 19 times the median income. Sydney came in second with a multiple of 12.2, and Vancouver was the third most unaffordable at 10.8 times. Interestingly, all three cities suffer from the same core drivers — a combination of lack of land supply, speculative buying, and demand from foreign investors, in particular, Chinese money.
As the Chinese have become richer, they have sought to stow their money in foreign jurisdictions. The results have been felt globally, with cities such as Sydney in Australia and Vancouver in Canada seeing their property prices hitting astronomical levels in the past decade. But this outflow of Chinese cash began with Hong Kong, and it continues to this day in Hong Kong's infamously expensive residential property market. The result is a trickle-down effect, pushing the poor further down the ladder and making home ownership all but a pipe dream for the lower middle-class and below.
Overseas governments have acknowledged the impact of foreign cash in their respective property industries. The Canadian government announced in October that it will make amendments to tax legislation that will effectively target foreign buyers. British Columbia, the province containing Vancouver, independently introduced a 15 percent tax on foreign buyers; it has also pledged to impose a 15 percent tax on vacant homes in an attempt to halt overseas speculative buying. Australia has been attempting to make housing more affordable for almost two decades, with measures including grants for first-time home buying citizens, and capital gains tax on investment properties. In November, the Hong Kong government raised stamp duties on non first-time buyers to 15 percent. However, these polices have had only minimal impact in all three jurisdictions.
But increasing pressure on the renminbi, China's currency, means Beijing has had to take steps to stop money flowing out of the country. Chinese banks that once looked away when investors transferred money outside of China are now applying strict rules on such transfers of capital overseas. This means fewer Chinese buyers can get enough money out of the country to buy expensive real estate in places such as Australia and Canada.
Only time will tell if this is enough to contain the desire of Chinese citizens to plant their cash elsewhere, but the measures appear to be making small dents. Sydney's property price growth slowed to just 3.2 percent this year, after two years of double digit growth, according to Bloomberg data. The Canadian housing market has softened, with a decrease in new projects, signaling declining demand.