In Australia, Defense Industry Goes Local
The move represents a shift for Australia: private industry has not had a central role in defense supplies.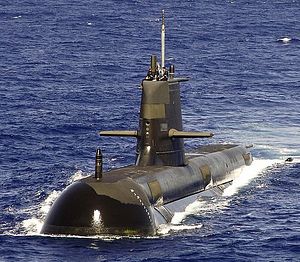 Australia is going to spend A$195 billion (US$146 billion) upgrading its defense force over the next decade. This is not news; the announcement was made in February when the Defense White Paper — so long awaited — was released. As has been reported, A$50 billion of that sum will be spent on submarines.
However, what is new is a strong role for Australian industry — former Prime Ministers Tony Abbott preferred an off-the-rack submarine choice. A new defense industry hub and a Center for Defense Industry Capability have been announced. The government is betting hard on Aussie innovation, rather than simply spending the dollars on off-the-rack purchases. Remember that former Defense Minister David Johnson said only a few years ago that he wouldn't trust the Australian Submarine Corporation to "build a canoe," a comment he lost his job over.
The defense industry, however, is not just government work and shipyards, but private industry. Companies like Austal have had great success building more than canoes.
I wrote last year that Australia had had ten defense ministers since 2006. It now has two at once: Marise Payne, the first woman to hold the job, and Christopher Pyne, the newly appointed minister for defense industry. He spoke last week in South Australia and Western Australia to launch the Center for Defence Industry Capability. You can see his launch speech here at the Committee for Economic Development Australia (CEDA). It was a positivist, excitable thing full of ideas about capability, growth, innovation, and jobs (all words the stymied and maligned government has been repeating this year).
He gave a similar speech the next day at a defense industry convention in Perth, an event organized by the Chamber of Commerce and Industry Western Australia. For those in WA, suffering the effects of the mining downturn, the possibility of a move to be part of the defense industry supply chain is a welcome one.
This move represents a shift for Australia: private industry has not had a central role in defense supplies. Kim Beazley (a former defense minister then nicknamed "Bomber" Beazley) noted in a speech, speaking as a non-executive director of Lockheed Martin, that the Western Australian shipbuilding industry, always a strong one, had avoided supplying the government in favor of industry. This may now change as Australia's ship and submarine building will largely be sovereign and local and opportunities may be plenty, thanks in part due to heavy campaigning from South Australia to keep the shipbuilding local.
The message has been reiterated: Industry is central to capability. What sort of benefit will this have for industry and for the Australian economy more generally? More generally, most of the talks given at this conference suggested grand things and plenty of opportunity were businesses willing to jump on things. At the same time one speaker from BAE systems suggested that becoming part of a global supply chain or breaking into the United States (possibly via projects involving F-35 fighters) can be very difficult.
Even more specifically Dr. Andrew Davies, from the Australian Strategic Policy Institute based in Canberra, said in his presentation that such an increase in funding would present difficulties in actually getting the money spent on schedule (hard when there is a three-pass stage to approval of projects, for example). He predicted that "doubling defense industry revenue will add 2 percent to the wider manufacturing sector and 0.2 percent to the industry total – and less to GDP."
That's less than the positivist spirit might imply, but beats not trusting the ASC to build canoes.