In Vietnam, the Ghost of Agent Orange Still Looms Large
50 years after the herbicide was used by the U.S. during the Vietnam War, Agent Orange continues to wreak havoc.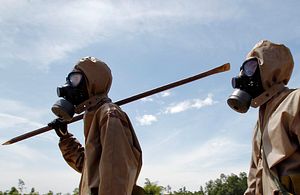 Some nights, the illuminated oval-shaped building hovering over a thick row of trees keeps Trinh Bui Kokkoris, 48, restless. Each time she looks out of the window from her apartment in Brooklyn Heights, the sight of the U.S. District Court reminds Trinh of the lawsuit she and her husband lost more than a decade ago with other Vietnamese victims of Agent Orange.
The year was 2004. Trinh's husband, Constantine Kokkoris, was an attorney in an unprecedented civil suit that sought compensation from 31 U.S. chemical companies for hundreds of thousands of Vietnamese victims exposed to the Agent Orange defoliant.
The tension was high, the enthusiasm stirring. "We were setting something unprecedented," said Trinh in a strangled, hoarse voice. Years of studying opera caused her to develop spasmodic dysphonia immediately after giving birth to her only child in 1997.
On Trinh's 37th birthday, while attending an Agent Orange conference in Paris, her family received the news that the District Court for the Eastern District of New York had dismissed the case, concluding that the herbicide manufacturers were government contractors during the Vietnam War and were, therefore, protected from liability.
Not deterred, the plaintiffs continued to petition all the way up to the U.S. Supreme Court. But in March 2009, the Supreme Court announced it would not review the case, effectively ending the lawsuit.
"It was devastating," said Trinh. Later that year, she was diagnosed with uterine cancer. She had been exposed to Agent Orange as a child.
Eight years after the lawsuit was dismissed, Trinh has overcome her battle against cancer. The international community has increased its humanitarian efforts to address the issue of Agent Orange, and the U.S. government, while still denying any legal liability, has begun assisting in healing the painful legacy of war. But Trinh believes not enough has been done and the plight of Vietnamese Agent Orange victims remains her life's mission. The view of the courthouse from her apartment is a daily reminder of that struggle.
"At least I'm body-abled, I can walk, I can speak," said Trinh. "We have to be their voices." In 2013, she co-founded the Vietnam Learning, Arts & Cultural Center, which supports Agent Orange victims in Vietnam.
Between 1961 and 1971, the U.S. Air Force sprayed over 19 million gallons of herbicide combinations across South Vietnam to defoliate thick jungles that provided enemy cover. According to Professor Jeanne Mager Stellman of Columbia University, an expert on health management, as many as 4.8 million people may have been sprayed. Four decades after the war, the dioxin-contaminated areas still pose threat to local communities. The Vietnamese Red Cross further estimates that up to 3 million Vietnamese spanning three generations have medical conditions that have been tied to exposure to Agent Orange, including several types of cancer, heart disease, skin conditions, and birth defects.
One of the reasons Trinh's husband first became involved with the lawsuit was because he suspected his wife had been exposed to Agent Orange. Trinh was born in 1968 and lived in Saigon until 1975, when she migrated to the United States together with her parents and two sisters.
Since childhood, Trinh has suffered from asthma and a multitude of allergies. "My doctors said, 'I've never seen anybody with these many allergies,'" said Trinh. The rolled up sleeves of her shirt revealed brown patches scarred from severe eczema.
The Vietnam War ended in 1975, yet no large-scale scientific study on the effects of herbicides on human health has been carried out. The U.S. Department of Veteran Affairs (VA) recognizes 14 illnesses as being caused by wartime herbicides, including cancers of the respiratory system, prostate cancer, Hodgkin lymphoma, chloracne, chronic lymphocytic leukemia, ischemic heart disease, Type 2 diabetes, and spina bifida in the children of exposed families. The department has paid billions in disability benefits to U.S. veterans for ailments related to herbicides exposure.
Since 2007, the U.S. Congress had appropriated over $125 million to fund the cleanup of severely dioxin-contaminated areas in Vietnam and provide assistance for people with disabilities that are most likely a result of exposure to Agent Orange. The program has almost finished cleaning up the contamination at the Da Nang airbase and is slated to launch a similar environmental remediation program at the Bien Hoa airbase outside of Ho Chi Minh City.
Last month, Trinh traveled to Vietnam with a group of international reporters. While conceding that the environmental remediation programs have generally been progressing well, Trinh says not enough has been done to assist Vietnamese with health defects and their families.
According to Michael F. Martin, specialist in Asian affairs for the Congressional Research Service, Congress appropriated over $82 million for environmental remediation and a little over $27 million for health related activities between 2007 and 2015.
"The money that the U.S. is giving is such a drop in the bucket to the huge need. It's more symbolic in some ways," said Susan Hammond, executive director of the War Legacies Project, an NGO that supports Agent Orange victims in Vietnam. Hammond's organization annually collects $20,000 to $30,000 to support about 40 victims and their families.
According to Hammond, an affected family requires at minimum $1,000 a year to survive, not including medical needs and care. "So ten million doesn't go very far when you got hundreds of thousand of people who need assistance," she said.
But according to Tim Rieser, the senior Democratic staff member for the Appropriations Subcommittee on the Department of State and Foreign Operations, the amount of U.S. funding dedicated to assist Agent Orange victims reflects the ability to spend and monitor the use of funds effectively, and the priorities of the Vietnamese government, which prefers spending the U.S. funding on cleanups rather than assistance to affected individuals.
"Their highest priority is the airbases, and destroying dioxin is a very technologically complex, expensive process," said Rieser about Vietnamese officials.
The United States is slated to appropriate hundreds of millions of dollars over ten years for the Bien Hoa airbase cleanup project.
"The dioxin contamination does need to be cleaned up.  These sites pose grave risks to the surrounding population," said Rieser, who is also U.S. Senator Patrick Leahy's foreign policy aide. "But Senator Leahy, without whom these programs would not exist, prefers that more of the funds are spent to help people who have been severely disabled," he added.
But with Donald J. Trump to be sworn in as president in January and a Republican majority in both houses of Congress, Agent Orange activists are skeptical about the prospect of U.S. funding for Agent Orange related issues.
"I don't think the funding will be there, even for the cleanups," said Trinh.
However, Rieser said that even if Trump's administration doesn't support the funding, Senator Leahy would still fight for money to address the legacy of Agent Orange. "He will do everything he can to make sure that those funds are in the budget and are used to continue this program," said Rieser.  "He believes we have a moral responsibility, and that it is in our national interest."
For the 2017 fiscal year, Senate Appropriations Committee recommends $20 million for environmental cleanup and $10 million to assist people with disabilities.
Lucy Ha is a graduate student at Columbia Graduate School of Journalism. View more of her work here: https://medium.com/@lucyha93