Independent Journalism in China Struggles to Survive
2016 has been a particularly bad year for non-state controlled media outlets in China.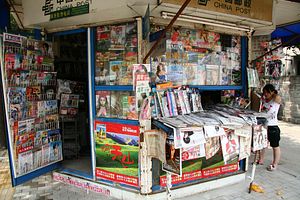 Chinese journalists have long operated in one of the world's most restrictive media environments, but conditions for investigative journalism and liberal commentary have especially deteriorated since 2013. During 2016, this multiyear decline accelerated, contributing to a privileged market position for more tightly controlled and state-affiliated outlets.
First, a number of publications and an online forum that had survived previous rounds of repression were shuttered or severely penalized. Yanhuang Chunqiu, a journal founded in 1991 and run by party cadres, was known as an unusually moderate voice within the party, but it was dissolved in July. The Beijing Times, once admired for its hard-hitting investigative reporting, will reportedly be shut down and integrated into the tamer Beijing Morning Post. In October, Consensus Net (www.21ccom.net), one of China's few neutral platforms for public debate among intellectuals, journalists, and officials, was suddenly closed. Ten days later, Chinese media regulators issued a directive that significantly narrowed the distribution channels for the website of respected business publication Caixin by barring others from reposting its content for two months.
Second, commercial web portals — like Tencent, Sina, and Netease — were put under increased pressure to refrain from producing their own news content, even via aggregations, a change that particularly affects the hundreds of millions of Chinese internet users who turn to these sites as a first stop for information. In a series of announcements over the summer, the Cyberspace Administration of China declared that the portals had "seriously violated laws and regulations" and would be fined for producing their own news content, that their editors would henceforth be personally responsible for slip-ups, and that gathering news from social media without approval was no longer allowed.
Third, limits on the political and commercial space for independent journalism, along with several high-profile prison sentences for professional journalists in recent years, have affected the personal career decisions of individual reporters. Many of the country's top investigative journalists — such as Wang Keqin and Luo Changping — whose past muckraking has made national and international headlines have left the profession in favor of safer, although often still socially meaningful, occupations.
The result of these changes, writes Ying Chan, founding director of the University of Hong Kong's Journalism and Media Studies Center, is that "investigative journalism in China … is struggling to survive today."
Having marginalized independent content, the Communist Party is attempting to fill the vacuum by promoting digital outlets like The Paper as appealing news sources. Launched in Shanghai in 2015, The Paper is supervised by censors and funded by the state, but it is given leeway to make its product attractive to readers. According to former journalist Fang Kecheng, it features "the face of commercial media, and the heart of Party media."
In 2016, the publication's owners rolled out an English-language affiliate called Sixth Tone. Bethany Allen-Ebrahimian of Foreign Policy described it as "Vox … acquired by the Chinese Communist Party." It has a smooth web interface with snappy headlines, and stories that try to reveal something of the everyday life of Chinese people, but many of its articles ultimately avoid key contextual information that would reflect negatively on China's political system. Separately, given these political and market dynamics, the independent English-language website The Nanfang announced its closure in December after nearly seven years in operation, citing a lack of profitability. The result is one more state-controlled voice, and one less independent voice, in the English-language Chinese news sector.
Although media scholars like Zhan Jiang say there is little left of professional watchdog journalism in China, some Chinese reporters are still serving society by upholding the standards of their profession. A speech by President Xi Jinping in February urging greater media loyalty was met with a flurry of pushback. Among other actions, former Xinhua journalist Zhou Fang released an open letter that called for an investigation of officials involved in censorship, Caixin published a censorship exposé, and three quasi-official writers resigned in protest. Meanwhile, The Paper has run into its own challenges, with its founding chief executive and a group of senior reporters departing in May to launch a new online news video company in which they are permitted to own shares.
News organizations based outside of China are also working to fill some of the voids left by the decline of investigative reporting in the country. Over the past year, foreign news companies, cross-border networks like the International Consortium of Investigative Journalists, and overseas outlets with grassroots contacts like Radio Free Asia and New Tang Dynasty Television have uncovered cases of financial mismanagement, repression in ethnic minority areas, and a range of human rights abuses.
Still, there is no substitute for dedicated Chinese reporters who can expose corruption in university admissions processes, take deep dives into the troubled vaccine industry, or document abuses in the labor camp system, as some journalists had done in previous years. Looking ahead to 2017, the international community should work more closely with Chinese journalists' to find new, creative ways to enable such stories to reach the light of day.
Sarah Cook is a senior research analyst for East Asia at Freedom House and director of its China Media Bulletin.