Japan-Thailand Defense Relations in the Spotlight
In light of news of a potential radar deal, it is worth putting things in broader perspective.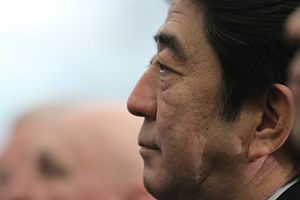 On December 22, Reuters reported that Japan is seeking to win a contract to supply Thailand with an air defense radar system. Though reports of potential Asian defense deals are far from rare, this one would constitute quite a breakthrough if realized. But to truly understand its significance as well as the likelihood of it coming into fruition, we need to put things into perspective by both understanding how this fits in with broader trends underway in the Asia-Pacific as well as contextualizing a burgeoning relationship that is often only sporadically given the spotlight.
Japan's growing defense relationship with Thailand is not an isolated event. Tokyo has had longstanding relationships with Southeast Asian states and with ASEAN as a whole as one of the subregion's oldest and most important dialogue partners, with decades of cooperation stretching across economics, business, culture, and even the security realm from humanitarian assistance and disaster relief to maritime security.
But since Prime Minister Shinzo Abe's return to office in December 2012, Japan has invested more in the defense side of its relationships in Southeast Asia, making inroads with several individual countries like Vietnam and the Philippines but also with ASEAN as a bloc with the convening of the inaugural ASEAN-Japan Defense Ministers' Informal Meeting back in December 2014. At the second meeting earlier this month in the Lao capital of Vientiane, Japanese Defense Minister Tomomi Inada unveiled what officials say is Japan's first comprehensive regionwide initiative for defense cooperation, called the Vientiane Vision (See: "Japan Reveals First ASEAN Defense Initiative with Vientiane Vision").
Amongst Japan's partners in Southeast Asia, the Philippines and Vietnam have seen the most progress of late, even though inroads are also being made with others like Malaysia and Indonesia as well. It is no coincidence that maritime security has been a focus and that these countries are all major players in the South China Sea: one of the drivers of growing ASEAN-Japan security cooperation is shared anxiety about China's assertiveness in the East China Sea and South China Sea.
That said, Thailand has not been overlooked, and Tokyo and Bangkok have been looking to deepen their security ties. In June for instance, Japan's then-defense minister Gen Nakatani visited Thailand and both sides agreed to several substantive steps that constituted significant advances for bilateral ties, primarily in terms of exchanges, exercises, and training. These included establishing staff talks between the Royal Thai Army (RTA) and the Japan Ground Self-Defense Force; dispatching observers from the RTA to Japan's "Nankai Rescue" exercise for the first time; and conducting a multilateral engagement under the ASEAN Defense Ministers Meeting Plus (ADMM-Plus).
Discussions have also taken place in other more ambitious aspects of mil-to-mil relations like defense industry cooperation and potential transfers of defense equipment, even though tangible progress has often lagged behind speculation. Thailand has been said to be interested in specific equipment like the Japan Maritime Self Defense Force's P-1 patrol aircraft and US-2 large amphibious rescue aircraft, and Bangkok has had no shortage of discussions with countries on other systems as well like air defense radar.
But while getting past these issues and concluding a deal would no doubt be a boost for bilateral security ties from a strategic perspective, there are also broader considerations as well as narrow technical details that need to be worked out as well. Japan is hardly the only country that Thailand is seeking closer defense ties with. Indeed, Bangkok has been working out deals with other countries like Russia and China following its May 2014 coup, which has complicated its alliance relationship with the United States (See: "Exclusive: Managing the Strained US-Thailand Alliance"). The contract awarded to Beijing to build Thailand's first submarines is only one example of this.
Furthermore, Japan is a newcomer in the defense market relatively speaking, with the overturning of a ban on arms exports in April 2014 paving the way for defense equipment and technology cooperation and transfers. Some of these deals will require agreement by both Tokyo and Bangkok on a defense equipment and technology agreement, as Japan did with the Philippines earlier this year. More specific issues will also need to be worked out that might affect the competitiveness of Japanese equipment relative to those of other countries and have precluded previously mooted deals, including fit and price.
These considerations are worth keeping in mind as both sides mull future deals and more headlines sporadically appear with the sensationalism that almost inevitably follows. With respect to the air defense radar, for example, Japan is reportedly proposing a deal for Thailand that is a variant on Mitsubishi Electric's fixed-position FSP-3 radar, an older generation system used by Japan's Self Defense Forces to detect air threats. But Thailand's defense ministry spokesman Kongcheep Tantravich is quoted as saying that many countries have expressed interest in providing such systems to Thailand, of which Japan is only one, and that Bangkok would have to consider "fit."
And though the Reuters report indicates that the system Tokyo would offer would be in the lower range, we still have no indicator of the specifics of the deal, including its price and how it compares to other bids. That is important since Thailand's recent economic woes have limited the amount it can spend on its military. As I have noted previously, for all the talk of a "hike" in the 2017 defense budget, the 2 percent increase constitute the lowest level of increase since the coup in May 2014 relative to numbers seen in 2015 (5 percent) and 2016 (7 percent) (See: "The Truth About Thailand's 2017 Defense Budget Hike").
All this is not to pour cold water over warming defense ties between Japan and Thailand, which is a trend worth watching and holds promise, especially when viewed from a strategic perspective. But as with most defense relationships, analyzing future prospects ought to combine both an understanding of the broader trends driving cooperation as well as the specific factors that can facilitate or inhibit inroads.