Kazakh Shuffles: 2 Ministers Dismissed, 1 Reportedly Under Investigation
Idrissov is headed back to London, as Astana gears up to host Syria talks and takes up a seat on the UN Security Council.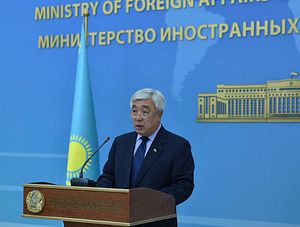 In an oddly timed shuffle, Erlan Idrissov, Kazakhstan's foreign minister since 2012, was replaced with Kairat Abdrakhmanov, who was previously the country's' permanent representative to the United Nations. Idrissov will be headed back to a previous post as Kazakh Ambassador to the United Kingdom, which he held from 2002 to 2007. He was then ambassador to the United States from 2007 to 2012. Idrissov also served as foreign minister from 1999 to 2002 and is by far one of Kazakhstan's best-known diplomats.
The timing of the shuffle — just as Astana prepares to host talks orchestrated by Russia between representatives of the Syrian government and the opposition and two days before Kazakhstan takes up its much-coveted nonpermanent seat on the UN Security Council — feeds into the perception that the shuffle is a demotion. Idrissov has been at the center of Kazakh diplomatic outreach over the past four years, as Astana rebranded itself as a global player. Just as the fruits of his labor were coming home to roost, Idrissov is being shipped off to London.
Then again, Idrissov has walked this path before. As noted above, his resume bounces from heading the foreign ministry, to London, to Washington and back to the diplomatic top-spot in Astana. London is far from diplomatic exile.
Idrissov's replacement — Kairat Abdrakhmanov — served as the country's representative to the UN since 2014. While Idrissov's resume demonstrates a specialty in relations with Western powers, Abdrakhmanov's background is rooted in international organizations. He was Kazakhstan's Ambassador to Austria, where several major international organizations are based, from 2011 to 2014, as well as from 2007 to 2008. Between his stints in Austria, Abdrakhmanov was Kazakhstan's representative to the OSCE from 2008 to 2011, including Kazakhstan's prized turn as chair in 2010.
It may be that the switch reflects Kazakhstan's emphasis on international organizations, rather than Western graces, to carry the country onward toward Nazarbayev's lofty goals. Abdrakhmanov's twin successes — scoring Astana the OSCE chairmanship in 2010 and the UNSC seat for 2017 — have elevated the country's global standing.
In the meantime, few could be better prepared to defend Astana to the West than Idrissov in London.
There was another dismissal this week that necessitates attention as well, that of Kuandyk Bishimbayev, who was dismissed from his post as economy minister and replaced with Timur Suleymenov.
President Nursultan Nazarbayev said, according to Kazinform, the state news agency, that Bishimbayev was dismissed "after his activity in Baiterek holding was challenged." Nazarbayev reportedly confirmed that an investigation of Bishimbayev is ongoing.
Baiterek holding is the country's state-owned national holding management company, established in 2013 to focus on non-oil industry development. Before being appointed economy minister in May 2016, Bishimbayev was CEO of Baiterek. His previous jobs include a post on the board of the National Welfare Fund Samruk-Kazyna and a turn as a vice-minister of industry and trade.
Bishimbayev could be in hot water if talk of investigations turn into an arrest.
Speaking of arrests, as EurasiaNet reports, Nartay Dutbayev, who headed the state National Security Committee (KNB), from late 2001 to early 2006 was detained on December 26, "on suspicion of leaking state secrets and abuse of office." The arrest was, "nothing short of startling," EurasiaNet writes, but details are thin and speculation rampant.
In September, there were a number of notable shuffles within the upper ranks of the Kazakh government, including the sudden reassignment of Karim Massimov from the prime minister's seat to head of the chairman of the KNB. But as I noted then, there aren't any new faces — just old faces in slightly different places.