Kazakhstan's Zhanaozen Syndrome
Astana is taking harsh moves against freedom of assembly and international community is raising concerns.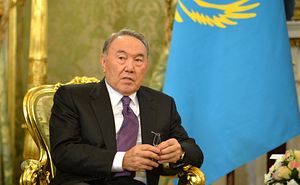 GENEVA — On December 7, three UN human rights experts urged Kazakh authorities to immediately release two human rights defenders, Max Bokayev and Talgat Ayan.
Bokayev and Ayan were jailed for participating in and organizing peaceful protests in Almaty, where thousands protested against a bill on land privatization and land leasing to foreigners. The court charged them with "inciting social discord," "disseminating information known to be false," and "violating the procedure for holding assemblies." They were each sentenced to five years in prison.
Three UN experts, Michel Forst, UN special rapporteur on the situation of human rights defenders;  Maina Kiai, UN special rapporteur on the rights to freedom of peaceful assembly and of association; and David Kaye, UN special rapporteur on the promotion and protection of the right to freedom of opinion and expression, issued a statement saying that "free and peaceful exercise of universally guaranteed human rights should never be criminalized."
"Not only has the legal process against Mr. Bokayev and Mr. Ayan raised serious questions about its fairness, but also the charges brought against them essentially criminalized their rights to peaceful assembly and free expression of dissenting views," the UN experts said.
The experts further called on the Kazakh authorities to review the legal proceedings that convicted Bokayev and Ayan and ensure full compliance with international standards. They highlighted that the prosecution of peaceful protesters runs counter to Kazakhstan's international commitments on human rights, including the International Covenant on Civil and Political Rights.
However, Kazakhstan has long ignored the right to free assembly and severely punished those who organize peaceful actions. In 2011, law enforcement officers opened fire on workers and other protesters in Zhanaozen, killing at least 12 people. Since this tragedy Kazakh authorities have taken harsh actions against labor strikes at companies operating in the petroleum sector in western Kazakhstan.
Human Rights Watch's recent report called "We Are Not the Enemy" concludes that Kazakhstan "fails to guarantee workers' rights to freedom of association and to fully protect their interests in the workplace."
Mihra Rittmann, Central Asia researcher at the HRW, notes repression in Kazakhstan, with crackdowns on freedom of speech and freedom of assembly. Now it is tightening the work of trade unions. "Legislative changes in recent years have made it more difficult for workers to freely form unions and bargain collectively, and have introduced criminal sanctions for leading or participating in illegal strikes. Outspoken trade leaders and worker activists face harassment, surveillance, and in some cases dismissal because of their labor activism," writes Rittmann.
Yevgeniy Zhovtis, head of the Kazakhstan International Bureau for Human Rights and Rule of Law, said that those who participated in the Zhanaozen protests were either already members of trade unions or created trade unions. "This frightened the government and they decided it was necessary to adopt new trade union legislation to better control the unions," said Zhovtis.
On December 1, 2016, the International Trade Union Confederation sent a letter to Kazakh President Nursultan Nazarbaev, urging him to respect freedom of association and to "ensure that workers have the right to establish trade unions without previous authorization."
On December 7, Human Rights Watch made a new statement where they call on Kazakh authorities to revise restrictive laws against trade unions and immediately stop legal moves to liquidate an independent trade union confederation.
"Kazakhstan should be allowing workers to organize freely in compliance with its international obligations, not trying to shut down a major workers' organization," said Hugh Williamson, Europe and Central Asia director at Human Rights Watch. "Trampling on basic labor rights is both wrong in principle and in the signal it sends to Kazakhstan's partners."