Philippines' Duterte Continues ASEAN Tour with Singapore, Cambodia Visits
Trip comes before Manila officially begins its chairmanship of the regional grouping.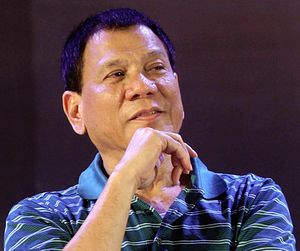 Philippine President Rodrigo Duterte will continue his regional tour of Southeast Asian states ahead of his country's ASEAN chairmanship next year with trips to Cambodia and Singapore next week.
Since coming to office in June, Duterte has visited six of the nine other ASEAN states – Laos, where he was for the ASEAN Summit, along with Indonesia, Brunei, Vietnam, Thailand, and Malaysia. Ahead of Duterte's visit to Malaysia from November 9-10, he had said that trip would end the list of countries that matter to him. This comes just as the Philippines is about to officially begin its ASEAN chairmanship in 2017, an annually rotating position that now lies with Laos.
On Friday, Department of Foreign Affairs spokesman Charles Jose told a news conference at the presidential palace Friday that Duterte would visit Cambodia on December 13 and 14 and head to Singapore on December 15 and 16. Assuming these visits do end up taking place next week, it would mean Duterte would have visited all ASEAN states except Myanmar.
Few specifics were revealed about both trips. In Cambodia, Jose said Duterte would have a royal audience with King Norodom Sihamoni, a state banquet, a bilateral meeting with Prime Minister Hun Sen, and an engagement with the 5,000 Filipinos living in Cambodia. But in terms of deliverables, the only thing mentioned was a memorandum of agreement on sports cooperation, along with a rather vague suggestion that the South China Sea issue could be raised. Though the Philippines had been one the most forward-leaning of the four ASEAN South China Sea claimants – the other being Brunei, Malaysia, and Vietnam – under Benigno Aquino III, since taking office in June, Duterte has downplayed the issue as he seeks to improve ties with China.
Duterte will then move on to Singapore, which will be taking over as the annually-rotating ASEAN chair in 2018 once the Philippines finishes its year. Duterte will meet Singapore Prime Minister Lee Hsien Loong, have a state banquet hosted by President Tony Tan, and meet the Filipino community. Lee was one of the first heads of state to meet with Duterte on the sidelines of the ASEAN Summit in Vientiane, Laos.
In terms of issues, Jose only said the two sides would discuss ways to both boost bilateral trade and investment and strengthen defense and security cooperation. Singapore and the Philippines will commemorate the 50th anniversary of their diplomatic relations – or the golden jubilee – in 2019 which will happen during Duterte's single six-year term.