Rex Americana: ExxonMobil CEO Tapped for Secretary of State
Rex Tillerson comes burdened with conflicts of interests and close Russian ties.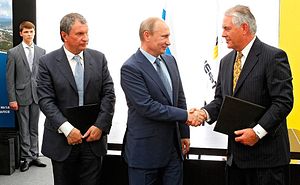 After weeks of speculation, President-elect Donald Trump announced he would tap ExxonMobil's chairman and CEO, Rex Tillerson, as his pick for secretary of state. Trump called Tillerson "one of the truly great business leaders of the world," and said on Twitter, "The thing I like best about Rex Tillerson is that he has vast experience at dealing successfully with all types of foreign governments."
If confirmed, Tillerson would be the first secretary of state without traditional diplomatic experience in modern memory. Tillerson joined Exxon in 1975 as a production engineer and by 2006 had become chairman and CEO. He is listed as 25th on Forbes' 2015 "most powerful people" list and joins several other million and billionaires on the emerging Trump cabinet.
Tillerson would come with significant conflict of interest baggage as his company, ExxonMobil, has business operations around the globe. Most concerning, however, is Tillerson's history of cozy relations with Russia.
A generous view is that no oil executive could run a successful company without dealing with Russia. ExxonMobil has suffered by proxy due to the present sanctions on Russia and Tillerson has argued against the utility of sanctions. Steven Coll, who penned a 2012 book about ExxonMobil's global empire, wrote in the New Yorker recently that, "If Tillerson is confirmed, he would be in a position to benefit the corporation where he spent his career, by, for example, advocating for the easing of Russian sanctions."
Coll has also said that "ExxonMobil is one of the few American oil companies that has managed to stay in Russia through all kinds of political weather." In 2013, Tillerson was awarded the Order of Friendship by Russian President Vladimir Putin. (Though as the Washington Post points out, "You don't have to be a close personal friend of President Vladimir Putin to be awarded Russia's Order of Friendship…"). In April, the Washington Post reported that Tillerson had about $218 million in ExxonMobil stock. 
In the days before the Tillerson announcement, the New York Times reported that Central Intelligence Agency had concluded that Russia had intervened in the U.S. election, "with the primary aim of helping make Donald J. Trump president." Although the CIA has not made such a statement publicly, it would seem to be confirmed by the fact that other U.S. intelligence agencies are dickering over the phrasing. In a Reuters report this morning, one of three unnamed officials, presumably from the Office of the Director of National Intelligence, said, "ODNI is not arguing that the agency (CIA) is wrong, only that they can't prove intent… Of course they can't, absent agents in on the decision-making in Moscow."
Russian hacking and interference had been a feature of discussion in the months ahead of the election, but the conversation (and conflict between intelligence agencies) has seemingly moved beyond deciding whether the Russians interfered to what they were trying to accomplish.
Moving focus back to Tillerson, critics say his long history of dealing with the Russians is cause for concerns while supporters would argue he'll be better at managing Moscow than anyone else. Indeed, Tillerson has received supporting statements from former secretaries of state Robert Gates and Condoleezza Rice. Gates remarked on his "vast knowledge, experience and success in dealing… with governments and leaders in every corner of the world." Rice similarly complemented Tillerson's international experience and " belief in America's special role in the world."
Gates and Rice, however, are partners in an "international strategic consulting firm" (RiceHadleyGates LLC) which reportedly counts ExxonMobil as one of its clients. Coincidentally, in October, candidate Trump released a five-point plan for government ethics reform which included, as point number three, "I am going to expand the definition of lobbyist so we close all the loopholes that former government officials use by labeling themselves consultants and advisors when we all know they are lobbyists."
Another potential conflict and worrying aside is the fact that ExxonMobil is currently under investigation by the U.S. Securities and Exchange Commission (SEC) relating to the company's research and response to climate change science. As the Wall Street Journal reported in November 2015, when the New York attorney general's' office issued a subpoena, "The probe is focused on potential consumer and securities fraud stemming from Exxon's public statements on global warming." The investigation is ongoing and seems to have expanded, while nonetheless remaining focused on ExxonMobil (as opposed to widening to include other oil companies.)
After Trump's election, I asked whether it meant a reset of relations with Russia. That looks more and more likely each day. "Improved relations between the United States and Russia would be a boon for some and a disaster for others," I noted, listing among the losers the citizens of Syria and Ukraine:
"The losers are harder to define because they are the people who will fall between the cracks when big states decide to turn a blind eye to the domestic sins of their foreign partners…While many admire Trump's "pragmatism" and have raged against American interventions, the consequences of Washington receding to the sidelines and conducting international relations like cold business transactions could be devastating around the world as leaders see success in abandoning the language of hope and progress."