Shinzo Abe's Visit to Pearl Harbor: What to Expect
What to watch for during the Japanese prime minister's historic trip.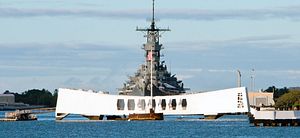 Japanese Prime Minister Shinzo Abe announced in his press conference on December 5 that he would visit Hawaii from December 26 to 27  for his last summit meeting with U.S. President Barack Obama. Abe also said that he would visit Pearl Harbor with Obama "to offer our prayers for the repose of the souls of those who perished there."
Similarly to Abe's visit to Washington in April 2015 and Obama's visit to Hiroshima in June 2016, Abe's visit to Pearl Harbor will focus more on "reconciliation" and "reflection" rather than offering an "apology." The statements not only by Abe but also by the White House prove that point. Both statements emphasize the significance of the joint visit to Pearl Harbor by the two leaders as a powerful example of reconciliation between the two countries, whose relationship has dramatically transformed from being enemies during World War II to being the closest allies.
There is no doubt that Abe's Pearl Harbor visit is historic. First and foremost, he is the first Japanese prime minister to visit there. In addition to his very successful visit to Washington D.C., which included his address to a joint session of Congress, the Pearl Harbor visit is another significant diplomatic achievement for Abe. As the prospect for major progress on the Northern Territories issue during the upcoming visit by Russian President Vladimir Putin to Abe's hometown next week looks less likely, having another "historic" visit lined up will go a long way to buttress Abe's diplomatic legacy.
Moreover, his decision to go to Pearl Harbor and meet with Obama for their final bilateral summit may be Abe's way of honoring the extremely good relationship he has come to develop with Obama. What started off as an awkward partnership — particularly for the months that followed Abe's visit to Yasukuni Shrine in December 2013 — has turned into a very close and strong working relationship between the two leaders, who share a deep appreciation for pragmatism in policy decisions. After Abe's meeting with President-elect Donald Trump, the first by any foreign leader, visiting Pearl Harbor and meeting with Obama when he has less than a month left in office may be Abe's way of expressing his appreciation for their partnership over the last four years.
Finally, his visit can serve as a U.S.-Japan joint message to neighbors with whom Japan continues to struggle over history issues, particularly South Korea given the current political turmoil. South Korean President Park Geun-hye faces the prospect of stepping down early, thereby energizing contenders for the presidency to differentiate themselves from her. This will be most dramatically displayed in their criticism of her foreign policy approaches, including her efforts to forge a closer relationship with Japan in the face of more threatening North Korea. The joint visit to Pearl Harbor can serve as a message to Seoul not to walk back on the important bilateral agreements that were reached between Japan and South Korea in the last 12 months.
To be sure, Abe's visit will be put under great scrutiny. His remarks, if he chooses to make any, will be parsed and interpreted and over-interpreted. Abe may face criticism from his own supporters in the conservative wing of the Liberal Democratic Party. Still, the image of U.S. and Japanese leaders, standing together to pay respect for the lives that were lost at the Pearl Harbor, will nonetheless be a powerful symbol of war and reconciliation, bringing Japan closer to moving beyond the legacy of World War II — one of Abe's aspirations during his tenure as prime minister.