South Korea's Ruling Party Splits
Does the breakaway party herald South Korea's new conservatism or simply a cosmetic defection?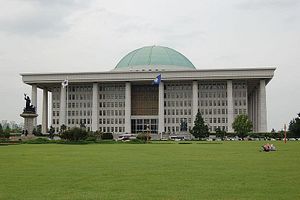 The defection of 29 lawmakers from South Korea's conservative party was historic in size, but the public will eventually decide whether the breakaways are any different from those who stayed behind.
The group abandoned President Park Geun-hye's Saenuri Party this week, repulsed by the party's leadership, which remains loyal to Park amid a scandal that led to her impeachment.
"Whether the people can accept that kind defection as a sign of reformation, that actually depends on what the defectors do in the near future," said Han Jeong-hun, a professor of Korean politics at Seoul National University.
The tentatively named New Conservative Party for Reform (NCPR), which is scheduled to launch on January 24, claims to be the true conservatives. In modern Korean politics, said Han, three major areas define conservatism: North Korea policy, economic policy, and policy on social issues.
Han said the NCPR won't waver on Saenuri's hardline approach to North Korea. Conservative policy on social issues, such as anti-gay marriage and pro-death penalty, will also remain the same, he said.
But on the economy, there are already signs the NCPR may break from traditional conservative values.
According to the Korea JoongAng Daily, the policy ideas of the forming party's de facto co-leader, Yoo Seong-min, are believed to be at least partly responsible for driving away half a dozen lawmakers from defection.
JoongAng reported Yoo has expressed support for progressive economic policies, including raising the corporate tax rate. The daily also wrote Yoo believes it would be impossible to expand welfare without raising taxes.
Han said he sees the defection and signs of progressive policy as a hopeful turning point in Korean politics. He believes the defectors may be "taking responsibility" for the scandal and making an attempt to uphold the "ideals" now being expressed in mass demonstrations. A more equitable society would be one such ideal.
Others say it's too soon to tell.
Jong Kun Choi, a professor of political science at Yonsei University, said the defection could be argued as a "cosmetic change."
"These [Saenuri defectors] may not be really happy with the way that [Park Geun-hye] handled her presidency over the last four years, but they're still beneficiaries of Park," said Choi.
Yoo Seong-min, Choi added, was Park's chief of staff while she was a lawmaker and the leader of the then-main opposition party.
"They may differ on economic policy, but I don't see much of a dramatic breakup of ideology from the mainstream Saenuri Party," said Choi.
The decision to leave the ruling party, or stay, was likely strategic for many of the lawmakers.
Those who stayed, Han said, avoid running the risk of having to rebuild connections with their constituents, especially in areas familiar with the Saenuri Party. The Yeongnam region (North and South Gyeongsang Provinces) are traditional conservative support bases. Park and her father, former president Park Chung-hee, came from North Gyeongsang.
Han also said the defectors are walking away from vast financial support party members enjoy.
Choi agreed the defectors took a risk, but called it a very "rational risk."
"These so-called defectors, they mainly come from the Seoul Metro area and Gyeonggi Province," he said. "Their regional interests are different but their ideology remains similar in the areas of national security and social welfare."
So then why jump ship?
"It's getting a lot more clear that the ruling party would lose the upcoming presidential election no matter what," said Choi.
Which, Han said, aligns with a risk conservatives have never taken before — the risk of losing an election.
"They're [conservatives] usually the winners because many people in our society favor a conservative ideal rather than a progressive one," said Han.
Then again, because the ship appears to be sinking, the greater risk may be staying on board.
Choi said one wildcard may be retiring UN Secretary General Ban Ki-moon, who is likely preparing for a presidential run, according to local media.
If Ban endorses the NCPR, more lawmakers, especially those from Ban's native Chungcheong Province, would come to the new conservative party, said Choi.
President Park Geun-hye may or may not regain her powers pending the outcome of the Constitutional Court's ruling on her impeachment. If she's ousted, a special election would be held much earlier than the scheduled December presidential election.
In the past, it has often been the opposition in a state of disarray ahead of an election. For once, the shoe may be on the other foot.